Chevrolet is changing its large SUV series in terms of drives and chassis. Tahoe and Suburban will be bigger again.
Right now there's a lot to celebrate at Chevrolet. And the manufacturer has its large SUV to thank for that. On the one hand, there is an anniversary: ​​Tahoe, introduced in the 1995 model year, is celebrating its 25th birthday. And its older brother, Suburban, recently received a star on the famous Hollywood Walk of Fame. In recognition of appearing in more than 2,500 films and television shows in which it and its sister model Tahoe have appeared over the course of 67 years, mainly as government vehicles such as those used by the FBI and CIA.
Three-liter Duramax diesel in Chevy SUVs
The timing could not be better, after all, the GM brand is now introducing new generations of its large SUVs. The fifth Tahoe and the twelfth Suburban have been completely redesigned for the 2021 model year. Central design: The three-liter direct turbo diesel known from the Silverado pickup is now also used in the SUV with 281 hp and a maximum range of 623 meters Newton. The engine trio is completed by two V8 petrol engines with different cylinder displacements: the 5.3-liter version has 360 hp and a maximum of 519 Nm, the 6.2-liter version produces 426 hp and a maximum of 623 Nm. All engines are mated to a ten-speed automatic.
The Tahoe and Suburban chassis have also been completely redesigned. Just like the chassis, which now works all-round with independent wheel suspension and can be optionally upgraded with adjustable air suspension. The latter can not only cope with the condition of the road (road), but also vary the ground clearance by more than ten centimeters. The new chassis should improve the driving dynamics and comfort of both SUVs drastically.
Tahoe and Suburban grow in size
Off-road vehicles with generous dimensions increase in size again when the model changes. Tahoe grows in length from 5.18 to 5.35 meters, with only the wheelbase increasing from 2.95 to 3.07 meters. The payoff for all this is more space, which passengers and cargo benefit from. Behind the third row, the trunk grows from 433 to 722 liters, while the maximum load capacity increases from 2,682 to 3,481 liters.
Chevrolet Suburban, which is already known as a thick ship, now turns into a colossus. It extends from 5.70 to 5.73, and the wheelbase grows disproportionately from 3.30 to 3.41 meters. Its loading volume: 1,164 instead of 1,113 liters behind the third row or 4,098 instead of 3,447 liters with a top load. But Chevrolet not only increased the interior, but also made it more different. For the first time, the Suburban and Tahoe have extended sliding rear seats that increase or decrease legroom by more than 25 centimeters.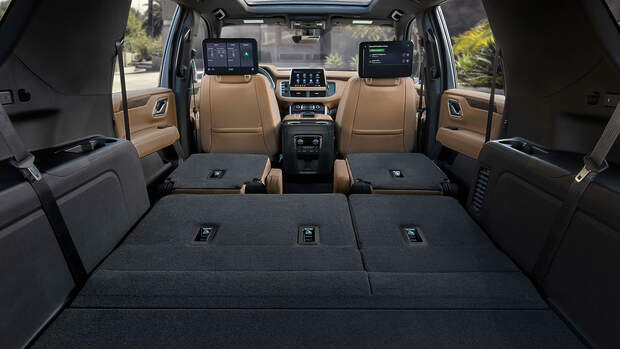 More digital and connected
Following the general trend, Chevy SUVs are also becoming more digital. As an option, the instruments can be displayed on an eight-inch screen and complemented by a 15-inch head-up display. The ten-inch infotainment screen, on the other hand, is free on board. Integrated WLAN, Apple Carplay and Android Auto create a connection to the Internet. There are also various USB ports, an optional rear entertainment system with two 12.6-inch touchscreens and the option of wireless smartphone charging. According to Chevrolet, the package of electronic assistance systems includes 30 individual technologies, many of which have to be paid for separately.
Chevrolet will offer the Tahoe and Suburban in six trim levels. The role of the base model is played by the LS variant, and the LT versions are placed on top of it. Like the RST, both SUVs are more focused on the street, while the Z71 trim level is aimed at buyers who occasionally drive off-road. In Premier trim, the cars bring many new technology features at no extra cost, while the new High Country line, which can only be combined with the 6.2-liter V8, represents the top trim level. Production will begin in mid-2020 in Arlington, Texas, prices are yet to be determined.
opinion poll
Great. Cars have become what customers want them to be.
Terrible. Too big, too unfashionable – too American.


Read more
Conclusion
Chevrolet is giving its large SUV a model change that has something revolutionary about it. But the Tahoe and Suburban should benefit greatly from the moves, which focus on a diesel engine, new chassis and progressive digitalization. You have to be critical of the fact that both cars have gotten bigger. After all, this is accompanied by a much improved position.