Excluding famous brands like Jaguar and Alfa Romeo, theInfiniti QX50 it is currently the best luxury small SUV in Canada.
What to do to increase the popularity of QX50? Want to add an engine to the list? A performance version, perhaps? There aren't any of these answers, as a new compact SUV is coming, the QX55, basically a QX50 with more badass styling and a revised transmission.
New Infiniti QX55 Will it be a good horse to bet on to climb the sales charts? Infiniti seems to believe so. The team of Car Guide was able to put this new model to the test to find out for sure.
Unique style and success
From the first look we put on the QX55, we appreciate the efforts that have been made by the designers of the Japanese brand. The QX55 is beautiful, stylish, and unlike anything other manufacturers offer.
Inside, it's the same thing. The people at Infiniti have masterfully succeeded in creating a unique living space, while respecting modern conventions. If you can, choose the red leather version, which is especially elegant.
The center of the dashboard is dominated by two large screens with a modern infotainment system, which seamlessly integrates Apple CarPlay and Android Auto. However, the top screen, used to display a navigation map or your phone, may have a better view.
Speaking of the cabin, we have to mention how spacious it is… for a small coupe SUV, of course. You see, when you compress the roofline in style, you often compress the rear seats for headroom, as well as trunk space.
However, it's not so bad with the QX55, which can comfortably carry four adults and their luggage. Note, however, that trunk space has been reduced by 13% compared to the regular QX50, with capacity dropping from 880 to 761 litres.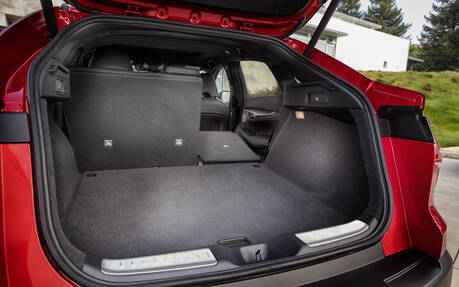 Very pleased with his appearance
Under the hood of the QX55, there is a single engine, similar to that of the QX50. So we're dealing with a 2.0-liter turbocharged four-cylinder block that develops 268 horsepower and 289 lb-ft of torque.
This engine is the first of its kind, to be able to adjust the air compression in its cylinders to increase fuel economy or performance. This allows the QX55 to boast a low city/highway fuel rating of 9.5 L/100 km.
The QX55 sends its power to all four wheels using a CVT transmission that is said to be improved over that of the QX50.
How are things going? When pushed hard, the Infiniti QX55 accelerates well. On the other hand, its performance is hindered by the CVT transmission, whose behavior is normal: it behaves generally well, but sometimes it seems to hesitate or "simulate" gear changes at the wrong time.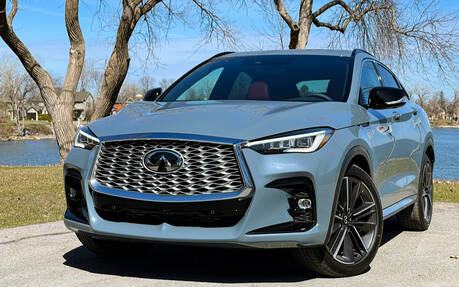 Apart from this feature, the car's steering wheel is so separated from the road that it becomes difficult to appreciate the power of its engine.
That's not to say the QX55 isn't fun, quite the contrary. Only, the SUV offers more comfort than sports behavior, despite what its exterior may suggest.
Power steering and comfortable seats reduce fatigue on long journeys.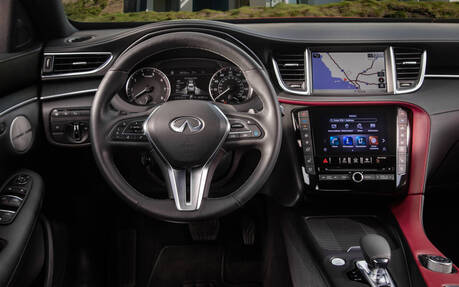 In addition, the QX55 is available with several safety technologies that are among the best. Even if you're not supposed to let go of the steering wheel when they're engaged, you find that the QX55 can take pronounced turns without human intervention.
So, the QX55 lacks power, but it makes up for it with great comfort and a spacious interior. It is up to you to see what you are looking for in a luxury SUV. That said, with looks like its, it's a shame it doesn't get more performance. Maybe we will have rights, one day, to a version of the games that will correct this deficiency!
Starting at $54,205, the 2022 Infiniti QX55 is available in three trims that simply change the level of luxury on board. This new SUV is arriving at Quebec dealers this spring.