400k gone after 11,600km, 1/3 the price after 3 years. The drop in value of electric cars is real.
Even Petr Fiala no longer trusts statistics when they don't suit him, but they rarely lie. The data on the very high loss of value of electric cars compared to petrol and diesel cars is not fiction, the Corsa-e being further proof of this.
At the end of 2014, the fifth generation of Opel Corsa came to European markets. And it was sold at a price that today would be considered incredible. At that time, it was enough for 219,900 Czech crowns to buy a three-door hatchback with a four-cylinder engine with 68 hp. Now, however, the sixth-generation Corsa is on the market, with a price increase seen on almost every other brand. If it is true that the Corsa currently has only five doors, with a 75 hp engine, you will have to prepare at least 369,990 Czech crowns.
But that's nothing compared to what Opel will charge you for the electric version. The latter is indirectly financed on many levels, but even so, you won't be able to get by without 909,990 CZK. For almost a million CZK you get a 4,060 mm long car with a 50 kWh battery and a 136 hp electric motor. It takes 8.7 seconds to reach 60 km/h, which is a very impressive figure. However, the maximum speed is limited to 150 km / h and the theoretical freedom is only 353 km, not to mention the practical freedom.
If politicians didn't pave the way for electric cars, not only through subsidies, but also by banning electric cars from entering the city center, there wouldn't be a good reason to buy one. However, common sense left the old continent for a few years at least. So more and more people are turning to car dealerships instead of new car showrooms. There they can meet a four-meter-long electric hatchback from Opel. And it is only then that one realizes how much buying an electric car today is financial suicide.
Last week we talked about how electric cars are losing value today, from a general category perspective. Not surprisingly, special electric vehicles are not the best priced. And Corsa-e is no exception to the rule, it completely copies the current trends.
So this car can be bought second-hand at a price comparable to the amount required for a new gasoline variant on a complete basis, we are talking about a total of around 400 thousand CZK. The depreciation is therefore very large, especially considering that sales started late compared to the original plans, only in the second quarter of 2020. We have at least three-year-old cars, which can still count on a five-year factory warranty. on the battery. However, they are available for an amount that varies – depending on the price of the purchased version – between half and a third of the amount paid by customers previously, and few people bought the car in the basic version.
What is behind all this? Concerns are already known about the cost of keeping the electric power train alive; nothing else to say. As for reliability in general, you will not look for a reason, after all Opel has not issued a single recall so far. And the owners themselves have not received any major accusations. So they are the only ones who could damage the car – due to its limited range, the Corsa-e rarely leaves urban areas. So it's important to look for possible scratches on the bodywork or dented steel rims. These can also cause the geometry to differ, but these are minor.
The price drop is highlighted by our colleagues at Auto Bild, who reviewed a white model first registered in November 2021, whose first and only owner has driven just 11,611 miles, without missing a single scheduled inspection. Its excellent condition is not surprising, and its price has dropped to 22,990 euros (about 544,000 CZK). It's not really a bargain, but if you add the second highest level of equipment (from CZK 949,990), which includes navigation, climate or parking sensors, it turns again into a point of great depreciation instead of almost zero consumption. The car lost 405,000 CZK in less than 12,000 km, that's crazy money. However, it is the owners of high-end limousines who pay 35,000 euros per kilometer for the loss of value, not the buyers of the standard mini city car.
Once again, one wonders why anyone thinks that electromobility will be a viable solution for individual citizen mobility. It is impossible, ordinary people cannot and do not want to afford it. And those who start this journey will only realize in a few years the mistake they made and will certainly not repeat it again.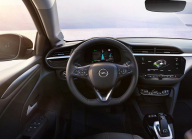 An 18-month-old Corsa-e can cost you around half the price of a new car from the dealer. And if you choose an early production model, the price can be several hundred thousand euros lower. And we are talking about a car that is exactly three years old. And electric mobility forever and ever… Photo: Opel
Auto Bild, TÜV, Mobile.de
All articles on Autoforum.cz are opinions that reflect the opinion of the editor or author. Except for articles marked as advertising, the content is not sponsored or influenced in any way by third parties.