Abitibi Greenstone Gold Mine: Canada's largest gold district with Maple Gold Mines right in the middle! The support from the international company Agnico Eagle in the JV means a lot of work and we hope for good results in 2023
There are many large gold districts in Canada, but none come close to the Abitibi Greenstone Belt. With more than 200 million ounces of gold produced since 1901, the Abitibi Belt has earned its place as Canada's largest gold district. Today the area is full of exploration activities and is home to three of the largest gold mines in the country.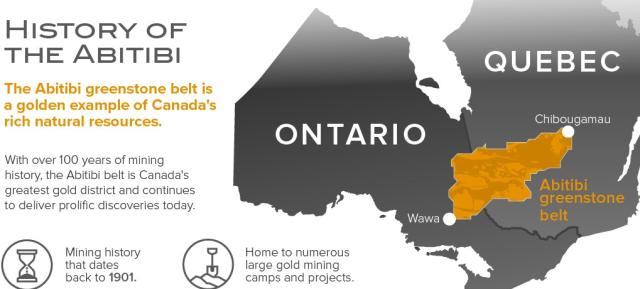 Source: Maple Gold Mines
The Abitibi Greenstone Belt: Geology and Remarkable History
Over 2.6 billion years ago, Earth's natural processes of creation and destruction led to the formation of metal-rich volcanic rocks and deformation zones that make up the Abitibi Greenstone Belt.
The Abitibi Belt hosts several commercial deposits of gold, silver, zinc, iron, copper and other base metals. The deposits found there include gold-bearing quartz-carbonate veins, copper porphyries and volcanic massive sulfur (VMS) deposits.
Since mining began in the early 1900s, more than 124 mines have been established in the Abitibi region, at least 15 of which have produced more than 3.5 million ounces of gold. In addition, the total gold grade of the zone, including past production and current reserves and resources, totals 300 million ounces.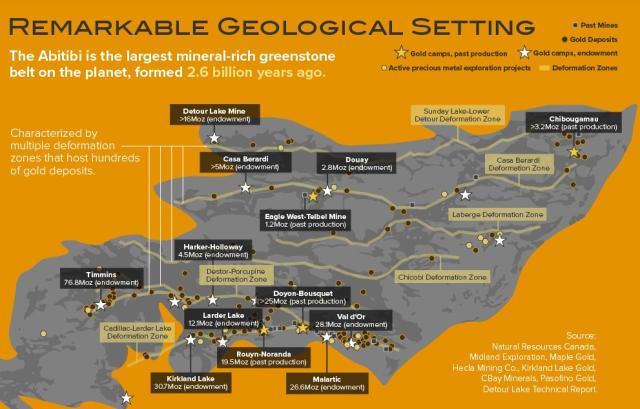 Source: Maple Gold Mines
Most of the high-grade gold fields in Abitibi are located along fault lines in major deformation zones such as the Cadillac-Larder Lake Zone and the Destor-Porcupine Zone. These deposits form the basis of gold deposits that boast historical production figures in excess of 10 million ounces of gold.
Despite having more than 100 years of mining history, the Abitibi Belt remains a mining area with great potential for new discoveries.
The Canadian provinces of Ontario and Quebec are two of Canada's most important mining regions with exploration expenditures in the hundreds of millions of dollars per year. Mining companies in the Abitibi region not only benefit from abundant resources, but also from infrastructure, skilled workers and mining-friendly regional policies.
Here, in the Abitibi Greenstone Belt, it is Maple Gold Mines and its joint venture partner Agnico Eagle Mines to jointly develop the Douay and Joutel gold projects in Québec. Benefiting from exceptional access to infrastructure, the projects cover approximately 400km² of prospective area, including the established gold resource in Douay (SLR 2022) with high potential, and the past producing Eagle, Telbel and West Eagle mines in Joutel. In addition, the Company has an exclusive option to acquire 100% of the Eagle Mine assets.
The year has started in impressive fashion with Maple Gold Mines reporting additional test results from its last year's drilling program on January 9, 2023 on the 100% controlled Eagle Mine property.
The Company's recent drilling in the northern extension of the main mine horizon has returned the best timing of the program to date! The highlight is the intersection of 10.3 g/t gold over 7.8 meters including 41.1 g/t gold over 1 meter!
Source: Maple Gold Mines
Drilling results continue to support the Company's view that a limited gold zone exists beyond what has been historically mined at Eagle and expands the target areas into a broad mineralized belt over a stratum width that is now more than 100 meters wide.
Therefore, there is an apparent concentration exceeding 10 g/t gold starting near the surface and extending at depth to the junction of EM-22-015 along the North Mine Horizon in the area of ​​small-scale mining that continues at a depth still open. This is just one of several follow-up goals that Maple Gold Mines is excited to pursue in 2023.
Prospects for further exploration at Eagle-Telbel
The Company's next steps include a comprehensive review of all data available at Eagle, including the integration of results from the 2022 program into its 3D geological model, and the establishment of priority targets for Follow-up drilling in the first half of 2023.
The Company also believes that continued drilling at Eagle will be beneficial to ongoing exploration work for the joint venture property at Telbel and throughout the Joutel Deformation area.
In a private conversation, Matthew Honor announced the expansion of the resource to 5 million ounces of gold later this year!
This video is made for you Privacy Settings it has not been played. If you want to watch this video, please show it here consent that we can show you YouTube videos.
Conclusion:
There was a lot going on at Maple Gold Mines last year and this year will certainly not be quiet. Practices keep turning, so interesting news is possible again this year. The company is well capitalized and currently focused on conducting exploration and drilling programs to expand resources and make new discoveries to create an exciting new gold district in the heart of Abitibi. According to a personal statement from Matthew Hornor, CEO of Maple Gold Mines, resource expansion to 5 million ounces of gold is expected this year. That would make everyone happy!
My team and/or myself are or may be shareholders in the companies presented and these are or may be part of the SRC Special Mining Conditions Certificate. Thanks for watching and goodbye from Switzerland.
This is not investment advice or a solicitation to buy or sell any stock. Everyone should know for himself what kind of risk he can take and dare to take. Everyone is responsible for himself.
Attention conflict of interest: I own the shares discussed in the article or included in the SRC Mining Special Status certificate.
Good luck and warm greetings from Switzerland.
Yours, Jochen Staiger and Marc Ollinger
Swiss Resource Capital AG
NEW! SRC Special Mining Conditions Certificate: http://www.wikifolio.com/de/ch/w/wf0srcplus
The disclaimer of SRC AG applies: https://www.resource-capital.ch/de/disclaimer-agb/
List of invitations to register for virtual roadshows: http://eepurl.com/bScRBX
All SRC special reports for download: https://www.resource-capital.ch/de/reports/
Use our free newsletter in German: ►: http://eepurl.com/08pAn
Subscribe to our YouTube channel ►: https://www.youtube.com/user/ResourceCapitalAG?sub_confirmation=1
Notice: ARIVA.DE publishes analysis, columns and news from various sources in this section. ARIVA.DE AG is not responsible for the content that is published by third parties in the "News" area of ​​this website and does not endorse it as its own. This content can be specifically identified by the corresponding "from" tag under the article title and/or by the link "To read the full article, please click here."; The third party mentioned is solely responsible for this content.
Disclaimer: The articles provided here are for informational purposes only and do not represent any recommendation to buy or sell. They should not be understood as an express guarantee or statement of the formation of a specific price of the financial instruments mentioned or as a call to action. The acquisition of securities involves risks that may result in the loss of the total capital invested. The information is not a substitute for professional investment advice tailored to individual needs. Liability or guarantee for the content, accuracy, suitability and completeness of the information provided and also for financial losses is not assumed in an express or implied way.
ARIVA.DE has no influence on the published content and has no knowledge of the content and subject matter of contributions prior to publication. Annotated contributions are published independently by authors such as guest commentators, news organizations and companies. Therefore, the content of the publications cannot be determined by the investment interests of ARIVA.de and/or its employees or organizations. Invited commentators, news organizations and companies are not part of the editorial team of ARIVA.de. Your views do not necessarily reflect the views and opinions of ARIVA.de and its employees.