Will the Volkswagen lineup name the Beetle again in the future? If it's about boss Herbert Diess, yes. After ID.Buzz, it does not reject the second retro model in terms of electrical architecture.
Like the modern interpretation of the Bulli alias Sambabus, the Beetle is powered by electricity. The basis is the MEB platform, which means that the semicircular hatchback is not long in coming, as the architecture will be replaced in 2025. The bottom part of the MEB has rear-wheel drive, just like the original Beetle.
Herbie says yes
"If anyone's going to bring Beetle back, it should be someone named Herbie!" Diess jokes, referring to his first name and the cult beetle Herbie from the Disney movies of the same name. Diess shows that the id. The Buzz is "the most emotional car in VW's history", which is why he introduced the bus. He continues: "Much more emotional cars are possible on our common MEB platform."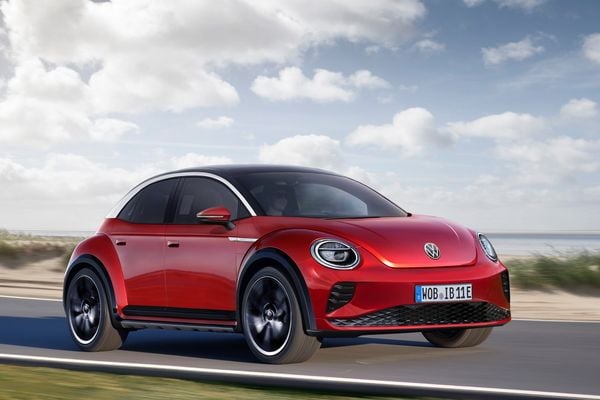 retro design
For ID.Buzz, the design department was led by the so-called Bulli, which Volkswagen will finally go next week. This design is based on the Microbus concept model, which was introduced two decades ago. After a little play about production plans, the model did not bear fruit. Until Volkswagen decided to use an electric platform for the bus. With the ID.Buzz, Volkswagen presents the first model with a rear design. Still, it remains to be seen if id.Beetle will follow. In any case, another retro version has been cancelled, ID.Buggy.
The modern Bulli is back, this is Volkswagen's identity. buzz
Volkswagen buggy possibly in production
Scrap Volkswagen ID.Buggy
ID. Buggy
For example, Volkswagen went back to the 1970s, when such open models were very popular. Volkswagen itself did not launch any, but small manufacturers use it for their creations Rear-wheel drive as a technical basis. The Germans set an example of study. The car was completely designed and built with series production in mind. In addition, it meets almost all type approval requirements. However, Volkswagen did not dare to give an ID. Buggy. The brand gives priority to volume models. Maybe in twenty years…
Did you see the mistake? Send us an email. We thank you.
var deniedConsent = tc_vars.didomiPurposesConsentDenied; if(deniedConsent.indexOf('cookies') == -1){
//SETTING VARIABLES var wpk_tags = dataLayer[0].Tags; if (wpk_tags != undefined) { var wpk_tags_array = wpk_tags.split(','); }else{ var wpk_tags_array = []; }
var sales_keywords = dataLayer[0].sales_keywords; if(sales_keywords == undefined){ sales_keywords=""; }else{ sales_keywords = sales_keywords.replace(/_/g, ''); sales_keywords = sales_keywords.replace(/&/g, '_'); sales_keywords = sales_keywords.replace(/&/g, '_'); }
if (typeof dataLayer[0].Site !== 'undefined') { var site_name = dataLayer[0].Site.toLowerCase(); }else{ var site_name=""; }
site_name = site_name.split(".");
//SETTING VARIABLES
var script = document.createElement("script"); script.src = "https://shared.mediahuis.be/cxense/cxense.autovisie.min.js"; script.type = "didomi/javascript"; script.setAttribute('data-vendor','iab:412');
console.log('ads: '+deniedConsent.indexOf('create_ads_profile')); console.log('content: '+deniedConsent.indexOf('select_personalized_content'));
if(deniedConsent.indexOf('create_ads_profile') < 0 && deniedConsent.indexOf('select_personalized_content') < 0){ document.head.appendChild(script); console.log('load cxense!!!'); }else{ console.log('NOT load cxense!!'); } if (dataLayer[0].show_banners == 1) { // console.log('fillSlots'); setTimeout(function(){ fillSlots(); }, 1000); } if(deniedConsent.indexOf('social_media') < 0){ var y = document.getElementsByClassName("social-media-no-consent-box"); var i; for (i = 0; i < y.length; i++) { y[i].style.display = "none"; } var x_fb_post = document.getElementsByClassName("fb-post-no-consent"); while(x_fb_post.length > 0) { x_fb_post[0].className = "fb-post"; }
var x_fb_video = document.getElementsByClassName("fb-video-no-consent"); var i; while(x_fb_video.length > 0) { x_fb_video[0].className = "fb-video"; }
var x_twitter = document.getElementsByClassName("twitter-tweet-no-consent"); while(x_twitter.length > 0) { x_twitter[0].className = "twitter-tweet"; }
var xi = document.getElementsByClassName("instagram-media-no-consent"); while(xi.length > 0) { xi[0].className = "instagram-media"; }
var script = document.createElement("script"); script.src = "https://platform.twitter.com/widgets.js"; document.head.appendChild(script);
var script = document.createElement("script"); script.src = "https://www.instagram.com/embed.js"; document.head.appendChild(script);
var script = document.createElement("script"); script.innerHTML = "window.instgrm.Embeds.process();"; document.head.appendChild(script);
var script = document.createElement("script"); script.src = "https://connect.facebook.net/nl_NL/sdk.js#xfbml=1&version=v8.0";
var facebookDiv = document.createElement('script'); facebookDiv.innerHTML =`window.fbAsyncInit = function() {FB.init({ xfbml : true, version : 'v5.0' });}; `; document.head.appendChild(facebookDiv);
var my_awesome_script = document.createElement('script'); my_awesome_script.setAttribute('src','https://connect.facebook.net/en_US/sdk.js'); my_awesome_script.async="true"; my_awesome_script.defer="true"; document.head.appendChild(my_awesome_script);
}
} }
if (navigator.userAgent.toLowerCase().indexOf('cxensebot') != -1) {
loadAllScripts();
}