This article was originally published on 6/18/2014.
In the new version of the Alfa Romeo Giulietta being introduced "Quadrifoglio Verde"The manufacturer has installed the 1,750cc, aluminum-block, direct injection turbocharged petrol engine known from the 4C model. It will have 240hp at 5,750rpm.
Alfa Romeo Giulietta "Quadrifoglio Verde" – performance

340 Nm of maximum torque in the range of 2,100-4,000 rpm, of which 80 percent. is available at 1800 rpm, will not let us get tired when we want to test the Giulietta's ability on the road or highway without limit. By the way, the so-called turbo-laps. Alfa Romeo Giulietta "Quadrifoglio Verde" with this engine accelerates to more than 240 km / h and accelerates from 0 to 100 km / h in just 6 seconds.
Alfa Romeo Giulietta "Quadrifoglio Verde"

The new 1750 Turbo petrol engine is mated to an Alfa TCT 6-speed dual dry clutch transmission. The solution is almost perfect, but with deeper gas, you can feel the changes and jerks. But that's only on the track where the accelerator pedal was 0 – 1.
What is Alfa Romeo Giulietta "Quadrifoglio Verde" inside and out

Everyone can see from the outside "Czterolistna Julka" is like. A typical sports profile is decorated with a clover above the fender. Anthracite finish on the side mirrors, front grille, door handles and lamp holders. The Alfa Romeo Giulietta "Quadrifoglio Verde" rides on 17- or 18-inch wheels and Brembo brakes.
Inside, complete Italian precision, although it is made of low-quality plastic, which can discourage buyers at first glance. Later, the eye gets used to it and we pay more and more attention to the sports design – seats covered with Alcantara, deep and stable.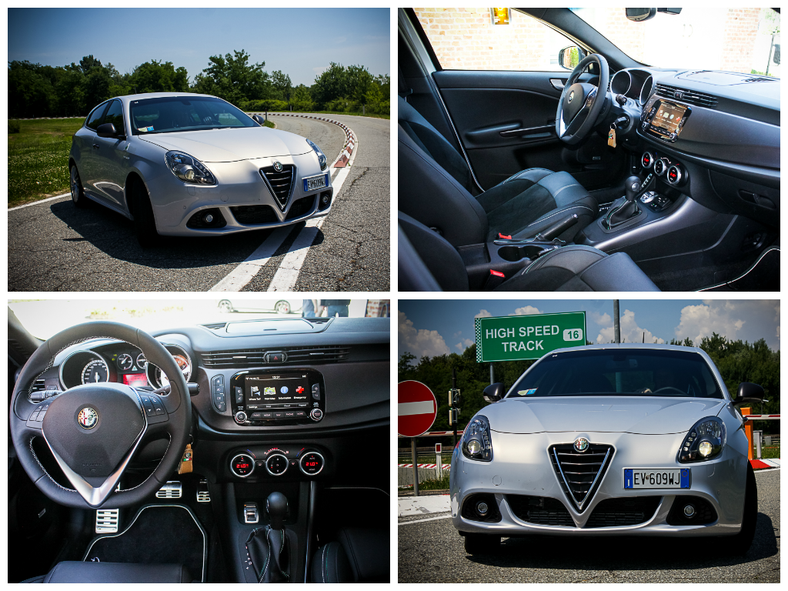 Alfa Romeo Giulietta "Quadrifoglio Verde"

The new, contoured steering wheel is also worth noting, although in our opinion it's too big for a sports car. The gear lever and handbrake lever are leather covered with white and green (or red) stitching. The aluminum sports pedals and special edge covers with the QV logo also attract attention.
Alfa Romeo Giulietta "Quadrifoglio Verde": what else is worth knowing

Currently, depending on the country, the Alfa Romeo Giulietta is available in five trim levels – Impression, Progression, Distinctive, Exclusive and the new Quadrifoglio Verde. Available 2.0 JTDJet2 150hp, 2.0 JTDMJet2 175hp (with TCT automatic transmission) and a powerful 1750cc petrol engine with 240hp. The offer is completed by: 1.6 JTDM turbodiesel with 105 HP and 1.4 Turbo 105 HP and 120 HP petrol units and 1.4 MultiAir 170 HP (also available with Alfa TCT transmission).
In our tests on the test track, leaving the car completely, we burned 16.5 liters per 100 km, and the prices for the 1750 TBi 16v 240 KM TCT Quadrifoglio Verde version start at PLN 121,700.