How about now – so many colorful Audis in one picture, no comparison test with points gauge, handling time and ten emergency stops at 130 km/h? Right, that is it. We also keep up with the times and observe the market; since Audi (after BMW and Mercedes) now also sells compact SUVs with four different drive concepts, it is also important to test and advise within the brand. The focus here is on the Stromer Q4 e-tron launched last year and its traditional Q3, which was relaunched in 2018. It may not be a four-ring superstar, but it's the most popular Audi SUV in 2021, behind the A3, A4, and A6 in the overall ranking.
And for good reason. Because of the combination of affordable price, mostly respectable quality, high seating position, easy handling and class-friendly space, sliding rear seats and a 530-litre load capacity. The same applies to a wide range of drives from petrol engines with 1.5- or 2-liter displacement and powerful diesel engines, manual and dual-clutch transmissions, and front- and all-wheel drive. More recently, the 45 TFSI e joined the plug-in hybrid, a part-time electric car with a system output of 245 hp.
Q4 is more modern and better?
The first "true" electric car is now the Q4 e-tron. Based on the MEB platform, the good brother of the Volkswagen ID.4 has little in common technically with the Q3, but the same format creates difficulties. At 4.59 meters in length, it offers more legroom especially for rear passengers and can transport a similar amount of luggage with a capacity of 520 to 1490 liters.
At the same time, it is technically superior to the Q3, as currently only the e-tron can offer a few features: a head-up display that also masters augmented reality, sophisticated infotainment with touch surfaces, for example, competent voice control or three Zone automatic climate control. However, thanks to the knobs and buttons in the Q3, it's easier to operate.
Choosing the best electric drive is also a bit tricky. In the base 35 e-tron model (from €41,900), a permanent magnet synchronous motor (125 kW/310 Nm) on the rear axle provides propulsion, and a 350 kg battery with a capacity of 51.5 kWh (net) must suffice. The 40 e-tron (150 kW/310 Nm) tested here ranks higher – also with rear-wheel drive, but with four additional battery modules increasing the curb weight by 150kg. From our perspective, this is the most balanced option. The top models 45 and 50 e-tron Quattro with two electric motors (195 and 220 kW maximum power) and the same battery belong to the heavyweight racers with less range and are not relevant here.
Audi Q3 40 TDI Quattro: Reason and Cost
400 Nm of torque for 1900 trips, eco consumption of just 5.8 litres, which increases to 7.2 litres in the test average and a range of around 800 km – these facts are likely to delight every diesel connoisseur and say a lot of simultaneous sparks Glowing clean self-igniter. Despite the low emissions, the fact that the 200 hp 2-liter diesel powers strongly to over 200 km/h only makes it more appealing. It also has nothing to do with plug-in hybrid-style traction issues, as its standard all-wheel drive and electronically controlled hydraulic multi-plate clutch on the rear axle ensure slip-free driving. The proven seven-speed dual-clutch transmission allows for quick and accurate shifting.
The only things you can blame the diesel Q3 for is its somewhat growling sound and high cost. Its base price of €46,850 is €1,000 cheaper than the more powerful petrol engine (45 TFSI Quattro), but it is known to be charged by the state. At the end of the day, this extremely balanced Q3 is just the ideal companion for long-distance drivers.
Audi Q3 45 TFSI e: two engines, all right?

Hans Dieter Suffert

The plug-in variant is designed to reduce fleet emissions with plenty of power (245 hp and 400 Nm) and clever pricing. Despite the sophisticated hybrid technology, Audi leaves it with a base price of 46,000 euros. After subsidies, the starting price is reduced to 38,822 euros.
The PHEV is powered by a 150 hp 1.4 TSI and 85 kW and 330 Nm electric motors integrated into the transmission housing, which gives the nearly 1.8-tonne SUV a run for its money. However, you shouldn't press hard on the gas pedal, as front-wheel-drive vehicles can be troubled by steering pull and severe traction problems when the load is high — not just from standing.
After all, the suspension comfort on offer is still acceptable compared to an equally powerful petrol engine, albeit with tighter tuning and the plug-in masters electric-only driving as well. Using a full battery (10.8 kWh net), the PHEV can travel 42 kilometers and reach a top speed of 140 kilometers per hour. After draining, an average of 7.5 liters of Super flowed through the injectors. Therefore, it is better to be patient enough to tap the power. 3.6 kilowatts of charging power is definitely enough.
Audi Q3 45 TFSI Quattro: fast and smooth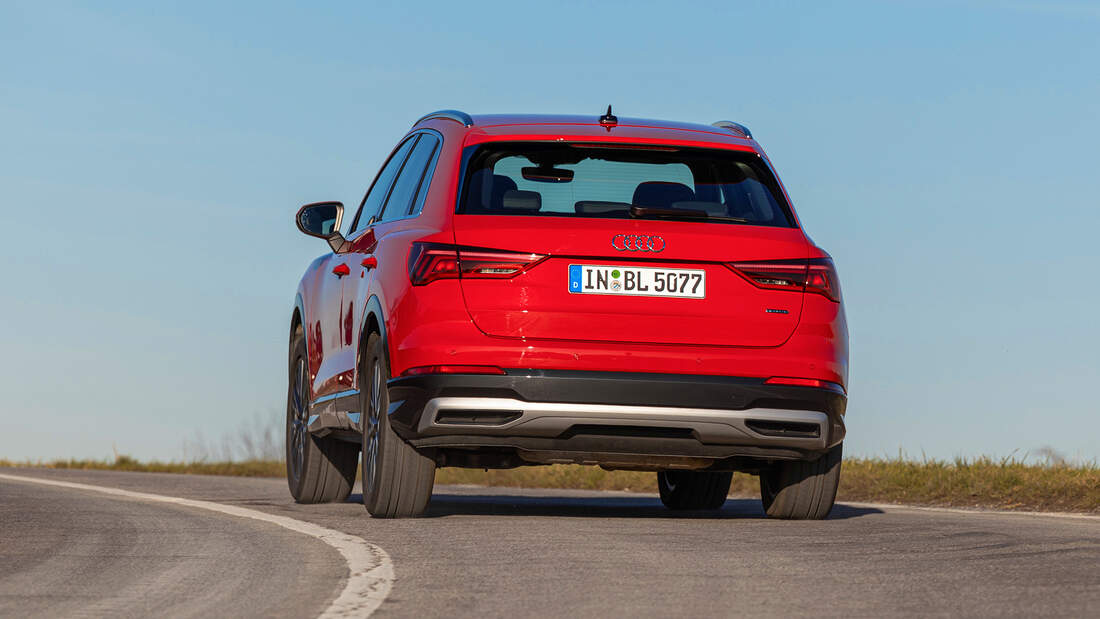 Hans Dieter Suffert

Aside from the high-performance RS, the 45 TFSI Quattro is the most powerful Q3 in the portfolio. Under the hood is a two-litre turbo petrol engine with 245 hp and already an impressive 370 Nm at 1600 rpm – hardly less than the mighty TDI torque. Plus, a quick seven-speed S tronic, permanent all-wheel drive, and adaptive dampers and responsive progressive steering for an extra fee. This makes such a lightweight Q3 a true sporty companion – it's quick and safe to steer, whether on the straights (it easily hits almost 240 km/h) or in the corners.
But the 45 TFSI is not only sporty, it also offers the highest driving comfort of the Q4. Because the artificial petrol engine burns fuel subjectively more quietly than the two-liter diesel engine, produces a more powerful sound from the speakers only when necessary, and is just as resilient.
Of course, all the fun doesn't come cheap. Tested fuel consumption is a 9.6-liter Super with a base price of 47,850 euros, and the petrol engine is more expensive than the diesel Q3. But if you're looking for a compact and nimble SUV that follows Audi's heritage entirely, you can invest with confidence.
Audi Q4 40 E-Tron: Power in calm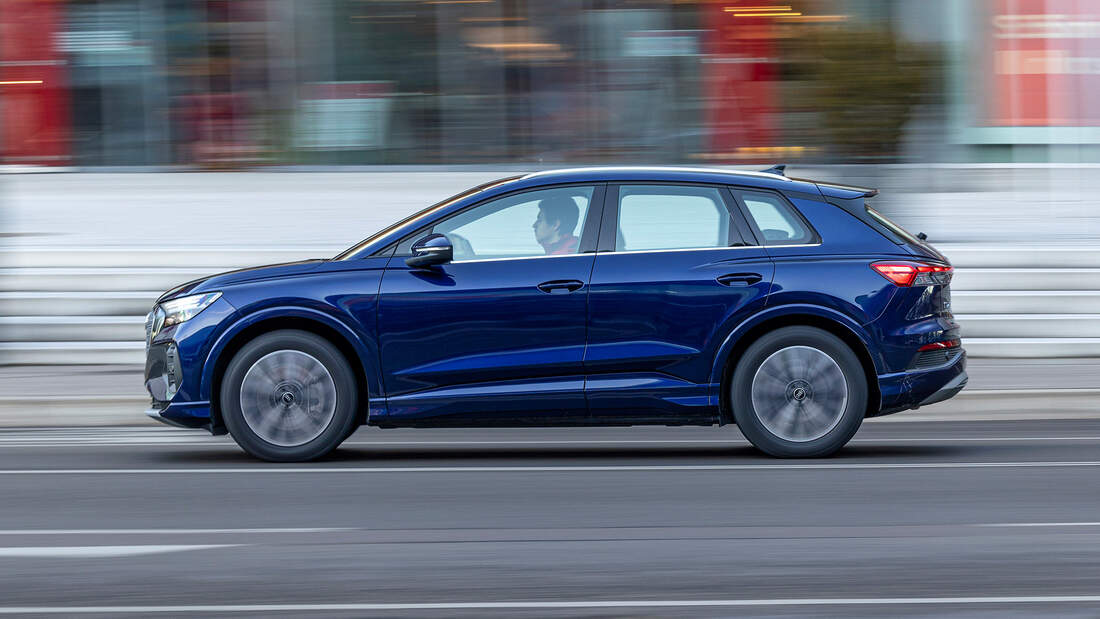 Hans Dieter Suffert

The well-tuned Q4 e-tron rolled off the assembly line in Zwickau alongside its MEB platform siblings, the ID.4 and Cupra Born, but aimed to please high-end customers. Thanks to typical Audi materials, a refined infotainment system, nice trim, and chic sports seats, it's done well, but not better than the Q3, which has softer springs by the way.
However, the Q4 40 e-tron isn't for fans of typical EV sprint fun. In the 40 variant, it features a large battery (77 kWh net) under the body, but only a 150 kW electric motor on the rear axle. Not a luxury for a 2.15-ton SUV. As a result, the Q4 accelerates comfortably (0-100 km/h: 9.0 seconds), but is in harmony with low wind noise, a consumption of 29.5 kWh and – thanks to the large battery – a good range of 271 km (single digits) Outside temperature).. After emptying, the batteries on the HPC column are quickly recharged thanks to the 125 kW charging power.
Finally, the price is welcome: 47,500 euros – without the possible 9,570 euro subsidy. Even the 195 kW Q4 will be cheaper than an internal combustion engine. To ask?
polls
read more

in conclusion
Audi's chance to deliberately sabotage the internal combustion engine
Driving pleasure or saving money – this is the question everyone interested in a Q3 or Q4 must ask themselves. Because the classic Q3 with internal combustion engine is noticeably better than the 45 TFSI e and the road-sluggish Q4 40 e-tron, but very expensive – buy and spend. Fast and thirsty petrol engines can't keep up by any means; but not even an economical, basically perfect long-distance runner TDI can handle, and even with a fictitious 40,000 km annual mileage, it's still $20 more per month than the Q4 e-tron around the euro without losing value.
So what's left is tuning the comfortable plug-in hybrid with its jarring drive, the very cheap Q4 e-tron considering its large load space and very acceptable range, even for a car with a lot of It is also a good choice for long trips. luggage. The only downside? Average suspension comfort.
Technical Specifications
| | | | | |
| --- | --- | --- | --- | --- |
| | Audi Q3 40 TDI Quattro Advanced | Audi Q3 45 TFSI Quattro Advanced | Audi Q3 45 TFSI e S series | Audi Q4 40 e-tron |
| base price | EUR 48,150 | EUR 49,150 | EUR 48,200 | 47,500 euros |
| Dimensions | 4484x1849x1616mm | 4484x1849x1616mm | 4484x1849x1616mm | 4588x1865x1632mm |
| luggage volume | 530 to 1525L | 530 to 1525L | 380 to 1375L | 520 to 1490L |
| Displacement/Engine | 1968 cc / 4 cylinders | 1984 cc / 4 cylinder | 1395 cm3 / 4 cylinders | |
| Performance | 147 kW/200 hp at 3600 rpm | 180 kW/245 hp at 5000 rpm | 110 kW / 150 hp at 5000 rpm | |
| top speed | 225 km/h | 238 km/h | 210 km/h | 160 km/h |
| 0-100km/h | 7.4s | 6.0s | 7.0s | 9.0s |
| Consumption | 5.1L/100km | 7.2L/100km | 0.0kWh/100km | 0.0kWh/100km |
| test consumption | 7.2L/100km | 9.6L/100km | 7.5kWh/100km | 29.5kWh/100km |
| | | | | |
| --- | --- | --- | --- | --- |
| | Audi Q3 40 TDI Quattro Advanced | Audi Q3 45 TFSI Quattro Advanced | Audi Q3 45 TFSI e S series | Audi Q4 40 e-tron |
| base price | EUR 48,150 | EUR 49,150 | EUR 48,200 | 47,500 euros |
| Dimensions | 4484x1849x1616mm | 4484x1849x1616mm | 4484x1849x1616mm | 4588x1865x1632mm |
| luggage volume | 530 to 1525L | 530 to 1525L | 380 to 1375L | 520 to 1490L |
| Displacement/Engine | 1968 cc / 4 cylinders | 1984 cc / 4 cylinder | 1395 cm3 / 4 cylinders | |
| Performance | 147 kW/200 hp at 3600 rpm | 180 kW/245 hp at 5000 rpm | 110 kW / 150 hp at 5000 rpm | |
| top speed | 225 km/h | 238 km/h | 210 km/h | 160 km/h |
| 0-100km/h | 7.4s | 6.0s | 7.0s | 9.0s |
| Consumption | 5.1L/100km | 7.2L/100km | 0.0kWh/100km | 0.0kWh/100km |
| test consumption | 7.2L/100km | 9.6L/100km | 7.5kWh/100km | 29.5kWh/100km |
Show all technical data