In the wake of the successful tuning of the Audi RS 3 Sedan and the RS 3 Sportback, the formidable Audi RS Q3 now comes under the discerning purview of MANHART, a renowned industry player. This high-end SUV has received a conspicuous exterior upgrade and an even more impressive mechanical transformation, courtesy of the meticulous workmanship of CARbone Performance Parts, a prominent Polish tuning firm.
It is noteworthy that CARbone Performance Parts has opted to capitalize on the enhancements made by the German-based MANHART Performance to the already fearsome sports SUV of the four-ringed marque, instead of racking their brains to concoct an entirely novel and radical proposition. This approach is far from being an exception for the accomplished German tuner but rather a noteworthy departure from the norm, executed by their Polish counterparts.
CARbone Performance Parts has undertaken a singular mission to showcase their expertise in the realm of mechanics. To achieve this end, they have acquired one of the Audi RS Q3 Sportback units that have been previously modified by them. As evident from the striking gloss black paintwork, gold lettering, and decorative decals, the vehicle is an elegant and imposing spectacle, further accentuated by the larger elliptical exhausts.
MANHART puts more ingredients in the Audi RS Q3 Sportback
The enhancements executed by CARbone exhibit the potential for augmenting the gains derived from the already acclaimed 2.5-liter twin-turbo five-cylinder engine developed by MANHART. This engine boasts an impressive peak output of 400 CV, propelling the RS Q3 to become the most athletic compact SUV capable of attaining 100 km/h in under 5 seconds. Carbone offers two packages named "RQ 460" and "RQ 550", respectively, which testify to the raw performance of this RS Q3.
The "RQ 460" package requires only a minor alteration to the engine control unit, "Manhart MHtronik", which enables the engine to deliver an impressive 460 CV. On the other hand, the "RQ 550" package offers an even more substantial increase in power output of 90 CV, surging to a remarkable 550 CV. This second package involves additional modifications, such as new intercoolers, two turbos with higher boost pressure, and new intake, and exhaust ducts.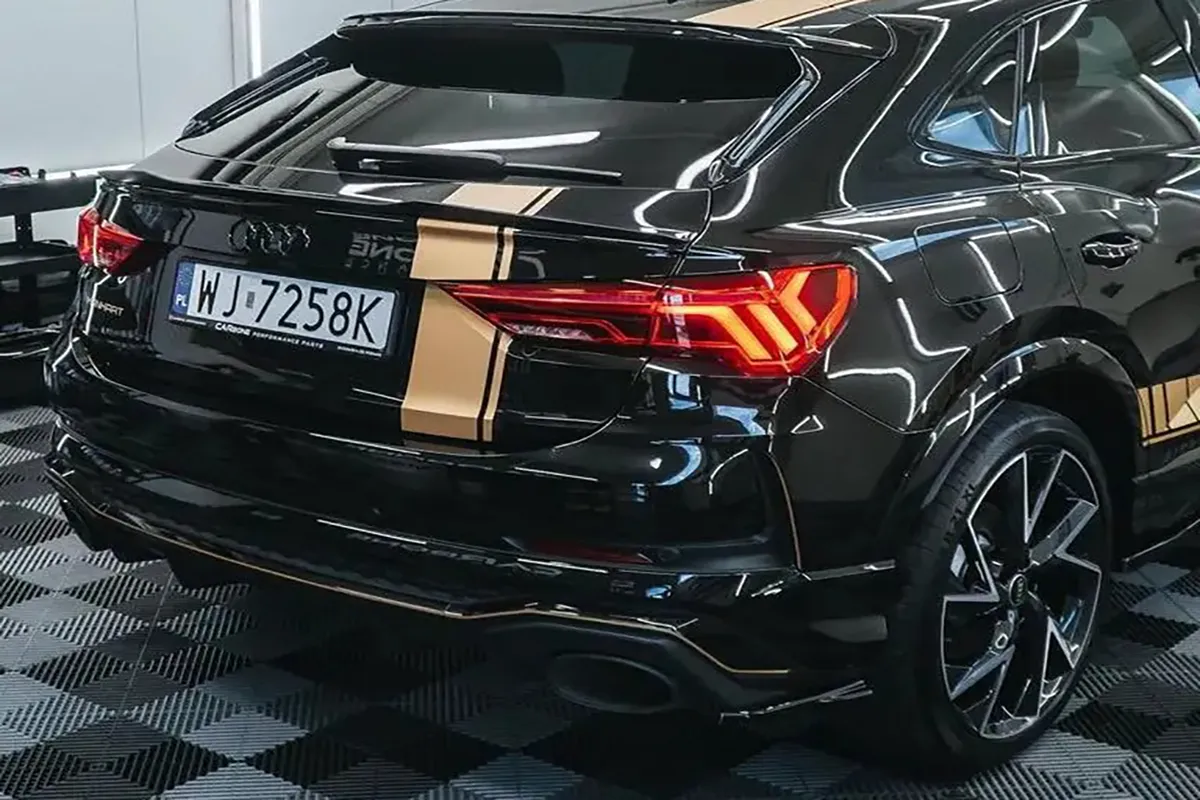 These modifications translate into astounding performance, culminating in the RQ 460 package lowering the acceleration time from zero to 100 km/h from 4.5 to 4.2 seconds. The second package's extraordinary output is expected to further reduce this time to approximately 3.8 seconds. Excluding the distinct MANHART finish, the RS Q3 modified with either of these two packages may appear inconspicuous; however, their true potential will undoubtedly not go unnoticed on the road.