More China, less classic cars – that's roughly the direction the new 2023 releases are headed. However, the share of electric cars is still at a very low level, even if the rates at which they are competing for market share with conventional cars are increasing dramatically. In terms of subsidies, plug-in hybrid models have fallen by the wayside, at least when they are purchased, but politicians have not dared to use the lever related to the tax company car market. Battery electric vehicles will continue to be developed the federal government wants to bring at least 15 million battery-powered vehicles to German roads by 2030. There are currently around one million electric vehicles.
The range of models is uneven due to supply constraints and tends to be "expensive". The style and supercars are very old and this trend seems to be unbroken. However, low-priced entry-level models or small electric cars are not or very limited in the range. Volatility in the used car market provides sellers with windfalls. Upcoming models have not yet been able to fix this widely, but it is becoming "bigger and bigger – more and more expensive" not to hold for a long time. The auto industry will have to come up with something. All this was already evident in the first part of this path. The second part of the 2023 vision begins here.
BYD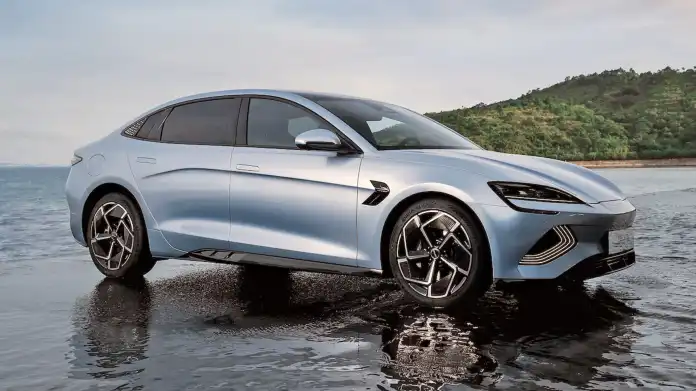 The new top model from BYD is called the Seal and is intended to compete with the Tesla Model 3 in Europe from mid-2023 – first in Germany and Sweden. As the entry-level model with rear-wheel drive, the Seal has 150 kW and is said to have a range of up to 550 km with a 61.4 kWh battery pack. With all wheels (160 kW front, 230 rear) it has a total output of 390 kW with a specific range of around 650 km and a storage unit of 82.5 kWh. The value comes from measurements in the Chinese driving cycle, which measures a longer range than the WLTP. The long-range variant has a 230 kW rear-wheel drive and a larger battery. The maximum charging power is limited to 150 kW.
Thanks to Cell-to-Body ("CTB") technology, the battery, as a body part with high torsional stability, should improve handling, driving dynamics and comfort, and the crash design should also benefit from this. The battery cells are connected in the so-called blades, which should make temperature control easier. The chemistry of the lithium iron phosphate (LFP) cell avoids the use of cobalt.
fiat
Fiat is one of the brands that currently sells the largest number of electric vehicles. Fiat managed to sell 29,635 units of the 500e in this country last year, despite the very high price. As a rough guide: That's more than Opel and Peugeot have sold together for the Corsa-e and e-208. But success is fragile, because Fiat currently only has one electric car on offer. That's set to change in 2023, though not much is known other than the fact that it might be sold as the Fiat 600e. A possible date of presentation could be the third quarter.
Porsche
Porsche will launch the new Panamera in 2023. Despite the long model cycles, only mild changes in design and more powerful engines can be expected. Mild hybrids are becoming more common, so to speak, plug-in hybrids remain in the lineup, as does the station wagon, which is also sold here as a bullet brake. It is not yet known when the new Panamera will be available from dealers, but it cannot be expected before the end of the year.
It should be just as long before the electric Macan makes its debut. Porsche promised that it should be at the top of its segment in terms of driving dynamics. At its peak, this should translate to at least 500 kW. As with the Taycan, the voltage level will be 800 volts here, which promises fast charging times. Nothing has been revealed about the battery's energy content, but here too we expect that the Porsche will deliver at least 100 kWh. After all, the E-Macan will sit in a price segment where you no longer have to fight for every kilowatt hour.
Renault
Renault Clio has been on the market since 2019 – time for a revision. It will change the small car, especially in the front. What's uncertain is whether Renault will take the big – and expensive – step of converting the Clio's infotainment system to Android Automotive. He would be the leader in his class. On the other hand, it is certain that a hybrid car with a multimode transmission and a system output of 103 kW will continue to be available on the Clio.
Citroën
Stellantis has to revise the Citroën C3 minivan for 2023 however. He will keep his proven 1.2 liter cylinder, but lose the diesel engine. Visually, the ë-C3 is said to be inspired by "Oli" research, which probably sounds more exciting than it is.
On the technical basis "e-CMP" C3 will also be built in a variant as an electric car ë-C3. The Opel Corsa-e and Peugeot e-208 models from the same group have so far used a technical platform with an output of 100 kW and a range of around 360 km thanks to a 50 kWh battery. The upgrade brought a slightly larger battery with the same charging capacity and slightly increased engine performance. The ë-C3 should start with 115 kW and a 51 kWh battery from the start. It is not yet known if the ë-C3 will still be sold in 2023.
wey
Wey is one of the few Chinese brands that will still be offering a model with a combustion engine when it launches in Europe. In Coffee 01, it is only offered as part of a plug-in mix, Wey going beyond the usual limits. The driver can draw up to 350 kW, which the combustion engine and two electric motors provide together. The manufacturer promises five seconds in a normal sprint. A battery of around 40 kWh, which can also be charged with direct current, is unusual for a plug-in hybrid. In WLTP, an electric range of 146 km should be possible. A large SUV should cost around 56,000 euros including standard equipment – a good price.
The Coffee 02, which is about the same size as the VW Tiguan, should be cheaper. It also comes as a plug-in combo, but it's not quite as powerful. The battery will also be small, with a promised electric range of 126 km indicating that this PHEV also has above-average storage. The start should be in the first half of the year, the price is less than 40,000 euros.
Noo
With EC7, Nio presents a luxury SUV in the dimensions of Audi Q8 e-tron, BMW iX and Mercedes EQE SUV. The two electric motors have an output of 480 kW, the range should be around 509 km. And the 75 kWh (range of 391 km) costs 74,850 euros plus the battery rental of 169 euros per month, otherwise 86,850 euros. And 100 kWh (509 km range) is 74,850 euros plus tax of 289 euros or 95,850 euros for the complete purchase.
Cat Ora
The Ora cat was introduced a year and a half ago, but the introduction will not start until this year. A basic model of around 30,000 euros was announced at the time. The way to the top turned out to be unusually generous, because the 4.24-meter long Ora Cat will not be available for less than 38,990 euros. The basic model provides 48 kWh in the battery, the top version 63. The DC charging capacity of a maximum of 67 kW is poor – Ora will have to improve in this regard if they want to be sound in this class for a long time. .
Dacia
From March 2023, Dacia will also be offering its Jogger family station wagon and a hybrid vehicle with a system output of around 103 kW. According to Dacia, WLTP consumption is 4.9 to 4.8 l/100 km. This increases the range to more than 900 km in the combined WLTP. Driving with a four-speed manual gearbox and an electric motor as a starting device comes – like combustion engines – from Renault, where it is called "E-Tech" and was launched in the Renault Clio at the end of 2020. .
Thanks to the recovery (with its one-pedal driving mode), energy can also be stored in the 1.2 kWh battery during standstill. The Jogger Hybrid 140, which will be available from dealers from March 2023 at a starting price of 23,800 euros without transmission, can already be ordered. Dacia offers an eight-year or 160,000 km warranty on the Jogger Hybrid 140 battery.
The Spring electric car should have a second motor, with up to 48 kW instead of 33. A slightly bigger battery might be more important for some, but nothing has changed at this point.
fisherman
The American-Austrian Fisker Ocean E-SUV will also be sold in Europe in 2023 and will cost between 41,600 and 70,000 euros there. As for drive options, the all-wheel drive version with 405 kW will be available from autumn 2023, the rear-wheel drive version offers 202 kW, the range according to WLTP is 440 and the maximum range is 630 km depending on the version and equipment. , the optional sunroof should contribute extra kilometers. You should not expect much from it, in the best case it is enough for a small increase in range or stagnant weather.
Honda
Along with the model changes, the Honda Civic Type R gets an update to the snappy VTEC turbo four-cylinder, which now has an output of 242 kW, i.e. almost 14 kW more. He retains his rear wing and should cost from 55,500 euros. Good work on the drivetrain and chassis should translate into better driving performance than the performance increase would suggest.
land rover
Land Rover is expanding its Defender range with a third body variant, the 130. At 5.36 meters, it is 34 centimeters longer than the 110 and offers up to eight seats. However, since the wheelbase does not grow with it, but remains the same as that of the 110, the space gained primarily benefits the cargo. With three rows of seats, there is still 389 liters of luggage space. The P400 is powered by a three-litre hybrid petrol and 294 kW, six-cylinder diesel as the D250 delivers 183 kW or as the D300 221 kW. The entry-level V8 petrol and diesel engine (D200) is not offered.
The numbers "130" and smaller referred to the wheelbase in inches in the original Defender range, so the modern 130 labels are fraudulent. However, it costs at least 87,300 euros. Land Rover considers itself to be a premium brand and often places this document at a great price. So far, the target group has been following.
Rolls-Royces
"The electric car is quiet and clean. There is no smell or vibration. They should be very useful if permanent charging stations can be installed," said Sir Charles Stewart Rolls, co-founder of Rolls-Royce, as early as 1900. Autumn 2023 will be Rolls Royce Specter using the first battery with prices expected to start around 400,000 euros.
With more than 100 kWh, the electric range of the almost three-ton colossus is 520 kilometers. The typical consumption of the car from two electric machines with a combined output of more than 430 kW and 900 Nm of torque is 21.5 kWh per kilometer 100 according to WLTP. From a standing start, the Rolls Royce Specter accelerates to 100 km/h in less than 4.5 seconds and is electronically limited to 250 km/h.

(mfz)