The Hyundai Bayon represents the epitome of the compact SUV category within the esteemed Hyundai lineup. It captivates discerning customers seeking exceptional value for their investments. In this comprehensive analysis, we delve into Bayon's notable attributes.
Within the Hyundai portfolio, an extensive array of models spans across conventional segments and the coveted realm of modern SUVs. As the smallest member of this triumphant family, the Bayon harmoniously coexists with esteemed counterparts such as the Hyundai Tucson and the Hyundai KONA, each indisputable benchmark within their respective categories.
The B-SUV segment has experienced exponential growth in recent years. Driven by its appealing price point, numerous drivers gravitate towards these vehicles, which ingeniously amalgamate practicality for urban settings with unwavering performance for venturing beyond city limits. Amidst formidable competition from formidable contenders such as the Volkswagen T-Cross, the Toyota Yaris Cross, the Renault Captur, and the SEAT Arona, the Bayon stands tall, poised to outshine its rivals.
The Bayon's initial allure lies in its striking aesthetics. The front fascia demands attention with its distinctive split headlights, an expansive grille, and the customary protective elements emblematic of top-tier SUVs. Hyundai meticulously crafted a design intended to captivate onlookers, evident in the meticulous attention to detail throughout the body.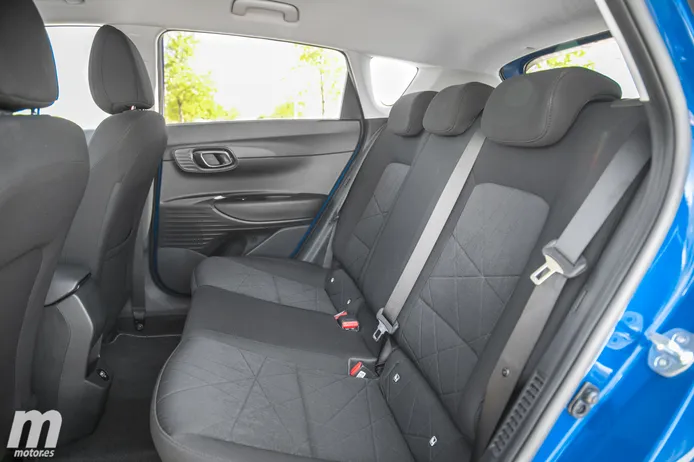 Prominent 17-inch wheels, the strategic implementation of black plastic cladding to safeguard vulnerable areas, and the contemporary two-tone paint scheme with a contrasting black roof converge to create a floating, exuberant ambiance. Notably, the rear of the Bayon boasts a commanding C-pillar that imbues an aura of robustness, complemented by arrow-shaped taillights unified by a distinctive crimson strip.
Despite initial appearances, the Bayon boasts a remarkably compact design, featuring dimensions of 4.18 meters in length, 1.77 meters in width, and 1.49 meters in height, with a wheelbase measuring 2.58 meters. Notably, its weight is equally impressive, surpassing a mere 1,000 kilograms, making it one of the lightest models available in the market—a noteworthy deviation from the statistics presented by contemporary SUVs.
Remarkably, despite its modest size, the Bayon manages to provide a trunk with a commendable minimum capacity of 411 liters, showcasing its exceptional volume. Moreover, the space incorporates practical details such as a false bottom and a convenient aperture to stow the rear tray behind the seats when transporting taller or bulkier objects. By folding down the rear seatbacks, the capacity expands to a remarkable 1,205 liters. Therefore, any space constraints are effectively mitigated.
Internally, the Bayon presents an array of essential features and more. As expected from any modern and high-quality automobile, the vehicle encompasses multiple screens. The first is situated behind the wheel, serving as the instrument panel, boasting a sizable 10.25-inch display that facilitates rapid and effortless reading of all projected information. Notably, users can personalize the designs either through the available driving modes or by configuring it to suit their preferences.
The primary screen, also measuring 10.25 inches, serves as the central interface, allowing users to operate nearly all car functionalities through its tactile interface, with the exception of the air conditioning controls, which are housed in a separate module. The screen showcases superb quality and is supported by a fast and intuitive operating system. Furthermore, it boasts several technologies typically found in higher-end segments, including keyless entry and ignition, LED headlights, parking cameras and sensors, climate control, GPS navigation, Wi-Fi connectivity, a sunroof, and compatibility with both Android and Apple mobile devices. Naturally, it also features level 2 autonomous driving capabilities.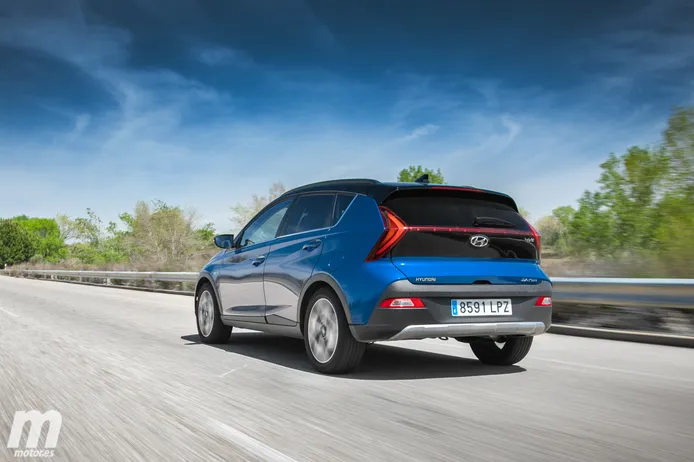 The compactness of a car should not imply discomfort or limited space. The manufacturers have ingeniously maximized every centimeter of the Bayon's wheelbase, resulting in excellent rear seat habitability, even for adult passengers. As an individual standing at 1.75 meters tall, I can confidently attest to the ample space afforded to rear passengers. However, it is worth noting that the central seat is comparatively narrower and less comfortable, making it more suitable for shorter distances or urban travel when accommodating five adults.
Hyundai presents two distinct powertrain options within the Bayon lineup, exclusively featuring gasoline engines and front-wheel drive. The entry-level choice comprises an 84 CV four-cylinder naturally aspirated engine, seamlessly paired with a five-speed manual transmission, catering primarily to urban driving scenarios. Positioned above it are the turbocharged three-cylinder variants, equipped with a micro-hybrid system and holding the prestigious DGT ECO certification. These advanced models deliver power outputs of 100 and 120 horsepower, available with either a six-speed manual gearbox or a seven-speed dual-clutch automatic transmission.
When considering the prospect of purchasing an SUV like the Hyundai Bayon instead of a car like the Hyundai i20, it is crucial to note several key advantages. Firstly, the elevated ride height empowers you with enhanced environmental awareness and a broader perspective of your surroundings. This heightened vantage point enables improved visibility, not only of nearby vehicles but also of potential hazards ahead, facilitating a proactive response. Additionally, the increased accessibility offered by an SUV proves particularly beneficial for elderly individuals or those with limited mobility, as ingress and egress become significantly easier compared to a conventional car.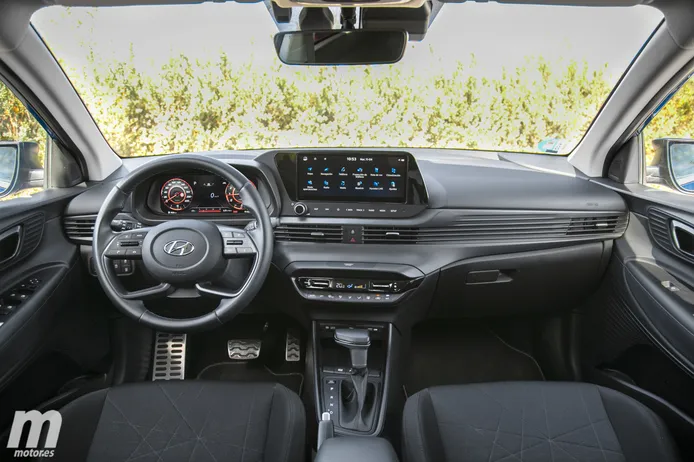 Above all, the Bayon offers unparalleled ride comfort, owing to its elevated height. With extended suspension travel, it effectively absorbs road irregularities, ensuring a remarkably comfortable and tranquil driving experience. This small crossover boasts a seamless and effortless ride, accompanied by more than satisfactory performance. Notably, its exceptional ground clearance of 18 cm, a remarkable figure in this segment, eliminates any concerns of underbody damage when venturing off-road.
The Bayon not only excels in various settings but also does so economically. Its modest engine sizes contribute to remarkably frugal fuel consumption. Throughout our rigorous tests, the average fuel cost has remained at an impressive 5.5 liters. In fact, with a slight moderation of acceleration, one can surpass official fuel efficiency figures. Furthermore, with a 40-liter fuel tank, the Bayon provides an approximate range of 700 kilometers, all for the meager sum of 65 euros.
As previously mentioned, the Bayon achieves its ECO certification through an advanced mild-hybrid system. Crucially, drivers need not concern themselves with the intricate workings of this technology, as the vehicle expertly handles all aspects. Harnessing the power of a supplementary battery, the system efficiently stores energy during various phases, including braking, subsequently releasing it during accelerations when it is most needed. Moreover, it optimizes fuel-saving features such as sail mode and Start&Stop. Consequently, the Bayon attains impressive fuel efficiency levels, as earlier highlighted.
In conclusion, it is evident that Bayon stands as one of the most captivating choices within its category. It sets itself apart through its captivating design, extensive equipment, ample interior space, well-balanced driving dynamics, notable ECO credentials, and affordable price point. For a mere 15,800 euros, inclusive of available offers or promotions, one cannot expect more from this exceptional vehicle.