Cars from this shelf are not seen very often, even when working as a car journalist. That is why it is an experience and pure joy. Driving a Bentley is not just another day at work, but an adventure and an amazing experience. After all, it's not uncommon to see such unique cars on the road.
More articles about the automotive industry can be found on the main website of gazety.pl
Luxury cars can be big
And that's how I've always approached cars of this type. Like curiosity and adventure. Take a ride for a while, get to know the engine, feel in your own skin where the border between premium class and luxury products is, and then put the car down and forget about it. It's turned off. Another item from the list has been successfully deleted.
I admit that cars like this just scare me. I don't feel good knowing that everyone is looking at me because I drive a million zloty car. Which, of course, I can't afford. The luxuries around me weigh me down and some trickery bothers me. An example? Parking on the curb with a car with 22-inch rims, which are part of a package of more than 12,000 euros …
This is how I approached, among others, the Rolls-Royce or early Bentley cars that I drove, so the Flying Spur limousines. Good punishment, but one long trip will do.
Bentley Continental GTC The V8 is a different story
However, I did not want to get out of the Bentley Continental, and when I was going to return it to Po³czyñska Street in Warsaw, in the 25 minutes that it takes from my house, I seriously considered hijacking the GTC V8.
He stole my heart the first time.
The configuration of the tested unit is quite good. The elegant combination of purple varnish (inspired by the cricket ball) with black accents and the aforementioned rings is an interesting combination. In addition, it is not flashy at all, but full of classes. The same colors were placed inside, which created a coherent whole.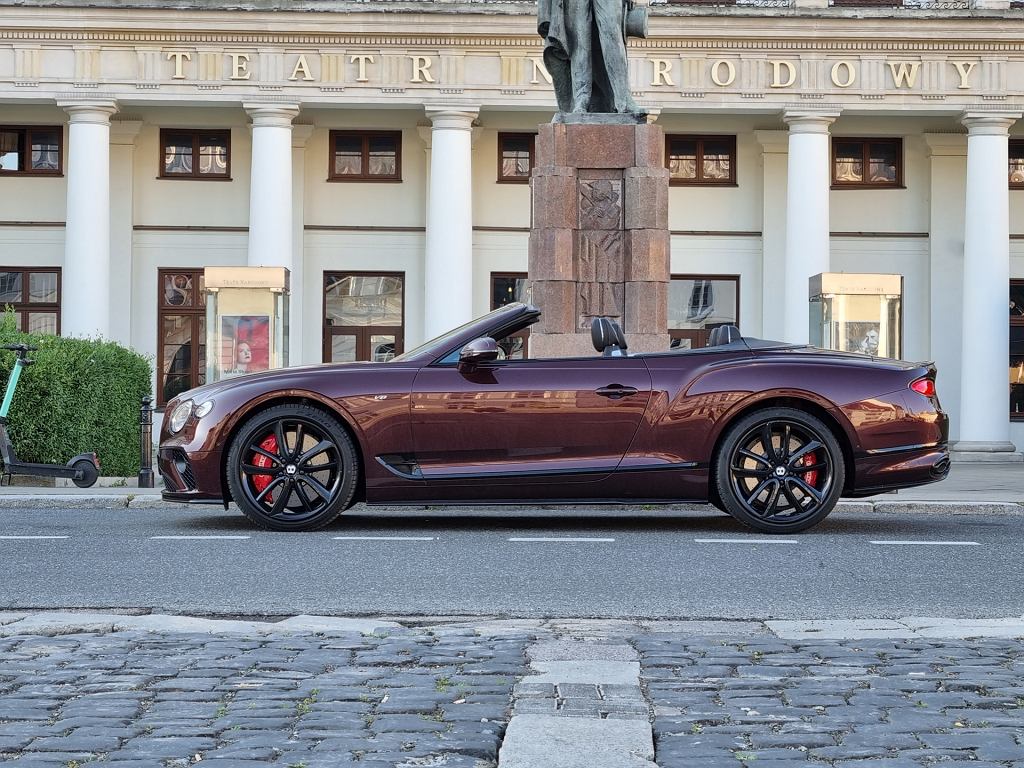 Bentley Continental GTC V8 photo by Filip Trusz
Bentley Continental GTC V8 photo by Filip Trusz
Full GT. You want to go everywhere
Bentley Continental is an exemplary representative of the GT class. Luxury, powerful cars designed to drive comfortably on the most beautiful roads in Europe.
It's not really about performance, but it's also interesting. The GTC V8 is the base offering in the Continental range with a folding roof. In the world of Bentley, the "core" is a 550hp four-liter V8 engine with 770Nm of peak torque that provides four seconds from 0-100 km / h and 318 km / h top speed. Too slow? The offer also includes the S and W12 versions.
The performance of the V8 engine itself is impressive. As befits a British brand, it enjoys culture and something that can be called elegance. The V-eight at every stage shows that it is very fast, but develops power equally, with unmistakable silence and without any jerks. In order for it to show its second, wild nature, you must turn a special knob to the "Sport" mode, or press the gas on the floor. Just behind the wheel of a Bentley you don't want to do this at all. You don't have to prove anything to anyone.
Bentley Continental GTC V8 photo by Filip Trusz
Kilometers are lost and you don't know when
The sports mode is here for some fun in the small curves of the mountain road or listening to the breath. More than kilometers, however, you will definitely cover with the default "B" or my favorite "Comfort".
Then you swim forward and soak up all that Bentley has to offer. You drive in complete silence, listen to music from the sound system of a company you don't know at all (because it is very expensive) and you are happy with the comfort, the equipment used and attention to the smallest details. The sight of armchairs encourages us to sit in them, and when we do, we never want to get out. On the deck, we will also be preserved for a long time with tastes like an analog clock, a rotating central screen that can be hidden and replaced by other analog indicators, a stylish "B" on the gear selector or characteristic switches in the sky. holes. We feel at every turn that this is an amazing car. Look at the door panels…
Bentley Continental GTC V8 photo by Filip Trusz
Bentley Continental GTC V8 photo by Filip Trusz
Bentley Continental GTC V8 photo by Filip Trusz
Bentley Continental GTC V8 photo by Filip Trusz
I like that in the Continental we are happily stuck with a central station. It gives the impression that GTC is targeting us. Drivers and passengers.
Maybe that's why I liked it so much. With a length of about 4.8 meters, it does not exceed the dimensions, which means that it is also not tiring during normal city driving, which is often the case with large models of luxury products. Moreover, in tighter corners it is also pleasant and can be a lot of fun to drive.
Bentley Continental GTC V8 photo by Filip Trusz
If you don't understand GT cars, the Continental GTC V8 will definitely convince you. Especially when the sun is shining and you can hide under the roof and run quietly straight away. It doesn't matter where. The Continental feels just as good in Poland as it does on the Alpine passes or the Cote d'Azur. Everywhere attracts and attracts.
Although in Poland I got one mistake. 22-inch rims are not only a problem when parking, sometimes it seemed to me that the car was too hard on roads full of potholes on roads that were burned by winter.
Bentley Continental GTC V8 photo by Filip Trusz
Bentley Continental GTC V8 – reviews, overview.
Bentley Continental GTC V8 for EUR 275,860 scared me with the price of the world, but immediately made me forget about it. For the first time behind the wheel of a car on this shelf, I thought "I would really like to have one!" And I reluctantly returned the keys.
I'd like to hijack a purple Continental and drive it west and south in search of the best roads in Europe.
But then I looked at the current prices gasoline and average fuel consumption from my short test and I thought it was wiser to take it back to the salon. Maybe we'll meet again sometime.