The first BMW iX5 Hydrogen cars were in the Netherlands and can be driven. We did not leave that chance. The scene of the battle was the opening of Fountain Fuel in Amersfoort. An energy station where you can fill up with hydrogen and fast charge through Allego HPCs. Four BMW iX5 Hydrogens were present, and three are available for test driving. But before we can drive, first of all, the necessary introductions.
Of course there are shows. Where, well, the concept of Fountain Fuel explained it becomes Basically: 'hydrogen and fast charging go together!' Filling up with hydrogen and charging quickly in one place, but in a way that matches what people are used to at a petrol station. A maximum charging speed of 300 kW, but also 150 kW for EVs with a lower charging speed. Interestingly, charging stations are also convenient for trucks and buses all the time.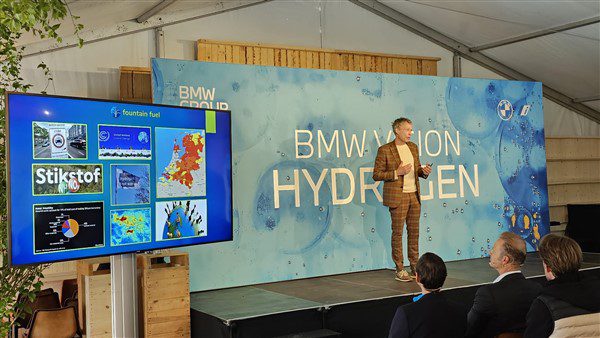 BMW presented its iX5 Hydrogen at the opening of the first Fountain Fuel in Amersfoort. This is not about the hydrogen version of the X5, but about introducing hydrogen technology at BMW. To clarify, BMW indicates that a hydrogen BMW will be released this decade. In what form is not yet clear.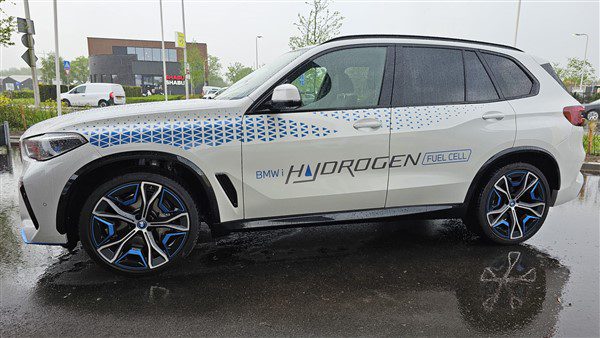 At BMW's hydrogen presentation, the divide between fully electric cars and hydrogen cars became very clear. BMW already has a good past with BEVs. Starting with the BMW i3 which saw the light of day in 2013. Especially in recent years it has gone fast and now we have the i4 (test drive), i7, iX1, iX3 and iX (test drive). And know that, among other things, the i5 is still coming. And although the hydrogen car is also an electric car, there is often still an Ajax – Feyenoord connection between the two. You belong to one or the other.
BMW also seems to have a hard time with that in its presentation. Because of the controversy of hydrogen, you can not always avoid mentioning the disadvantages of the electric car fully. And that is the swearing in church of BMW.
How is BMW trying to convince the hydrogen drivers of the future? Through a focus group approach! Hydrogen drivers are people for whom an EV is not suitable or not very suitable. Four factors are created for choosing H2.
No easy access to payment facilities,
If you do a lot of kilometers and want a lot of flexibility,
If you live in a 'cold country'. There is no truncated column,
Frequent use of towbar.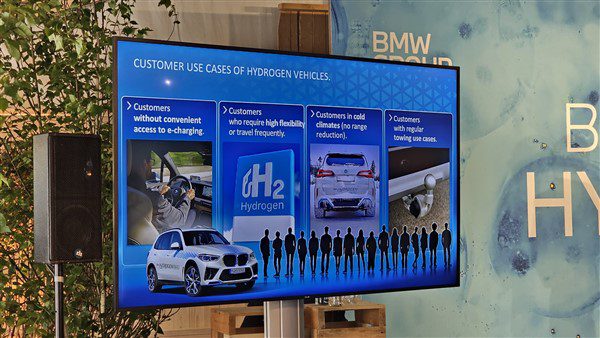 A seasoned EV driver will laugh at this, because solutions can be devised in all situations, but as an electric driver in some situations you will have to squeeze yourself into certain corners. It's true what BMW says, for some people a hydrogen car is the best transportation solution in terms of convenience. A hydrogen car is also more attractive to the environment. It also depends on which side you look at it.
From an environmental perspective, BMW also emphasizes the benefits of hydrogen. You need 100 kg less raw materials. You need 90% of less important raw materials such as Lithium carbonate and third. A few tens of grams of platinum are used for a hydrogen car. This is reusable and can be obtained from two catalysts. Another advantage of the hydrogen car.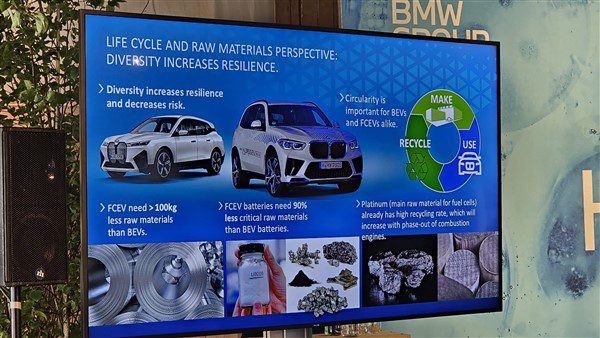 The opposite is hydrogen production. BMW admits that this process requires more power than an electric car. In his presentation, the solar panel generating kWhs for an EV is compared to that of a hydrogen car. A solar panel in Germany is compared to a solar panel in the Middle East. It is clear that the Middle East panel is more effective, but it must be. You have to face greater losses in transportation and hydrogen production, among other things. So the Tank to Wheel loss is greater. The advantage of hydrogen is that you can ship it by sea, just like gasoline. And its production can often be done at night when there is a lot of energy production by wind turbines and this electricity cannot be stored. Then make hydrogen from it.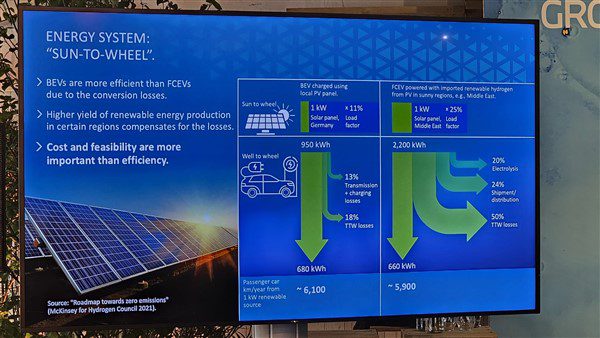 Hydrogen is almost as old as the road to Rome, but it now appears to be on the road to mass deployment. Registration figures for hydrogen vehicles should confirm this in the coming years.
How does the BMW iX5 Hydrogen drive?
Like an electric BMW should drive. Where almost every electric car suffers from battery obesity, you won't hear the iX5 Hydrogen complaining about it. This is because it has 600 kg less to carry than a comparable electric car, and you will see that! Already at the first corner. The agility that BMW shows at the start gives you the impression of driving a sports car. Although I myself have been bothered by driving a lot of electric cars, very few kilos result in sporty handling. And then I also have to deal with BMW, which takes Freude am Fahren very seriously. In summary, you can easily roll the iX5 into a corner. For the BMW, the heavy battery pack hinders BMW-worthy handling. With a hydrogen car they can turn it into a real BMW.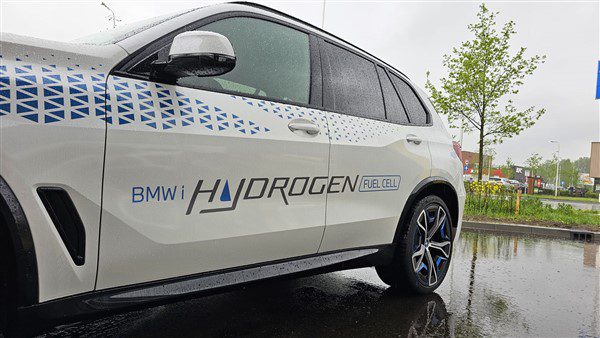 In terms of interior, you won't notice the fact that the iX5 has a different power. The transmission line has been slightly widened for the rear passenger to accommodate the hydrogen tank. The cargo area is the same size as the PHEV variant of the X5, the xDrive 50e. That is 500 liters. Still more than enough, although it saves 150 liters with the variant without an electric train. Fortunately, the infotainment system has been changed for the H2 powertrain. In a short test drive, the BMW iX5 Hydrogen showed where the nearest hydrogen filling stations can be found. So BMW hasn't done half the job for this little cruiser. It is a pity that this iX5 has not been delivered. So there will be one this decade hydrogen BMWbut the question is what kind.