The Mazda CX-3 is a powerful and efficient quality crossover. Autovisie explores used car problems, offers and prices in this buying guide.

Mazda responded to the growing demand for compact high-seaters in 2015 with the CX-3. Just like the Mazda 2, on which it is based, the crossover is a car that drives well and drives well with quality construction. Even used, there is little to criticize about the Japanese stable, because the chance of expensive maintenance is small.
Body Mazda CX-3
The Mazda CX-3, model DK, shares its platform and technology with the Mazda 2. In many ways, the CX-3 offers the best of both worlds. It is higher than a hatchback, but lower than an SUV and still has the highest seating position of the last body variant. Elements of the 2 and the larger CX-5 can be seen in the Kodo model.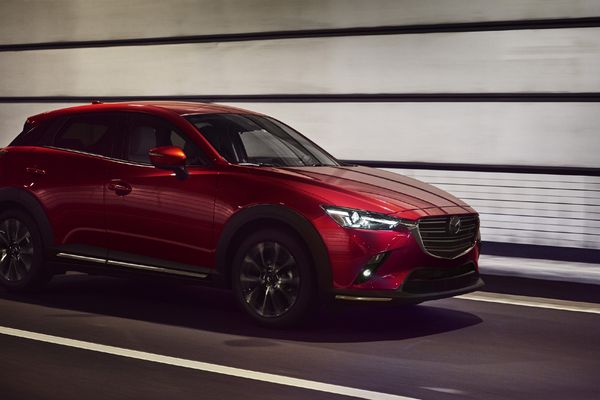 Flowing body lines with plastic side skirts and wheel arch extensions go along with the attractive seven-point grille, which visually continues to the projector headlamps. The top GT-M model is distinguished by a grille with chrome bars and chrome strips on the door sills. Other options include a privacy glass, full LED headlights and a sports bag with a large front and rear spoiler and side skirts. A standard facelift will follow in 2018, including a new grille and new LED taillights.
Internal affairs
Rear legroom is modest and cargo space is tighter than it should be for the class. These are the main criticisms of the interior of the CX-3, because the design is attractive and the finish is good. The dashboard is logically laid out and features analog-digital instruments, an optional 7-inch vertical infotainment screen and large rotary knobs for climate control. Adaptive cruise control, parking assist with parking camera, leather upholstery, seat heating, head-up display, DAB+, Bluetooth and volume control are options from the options list.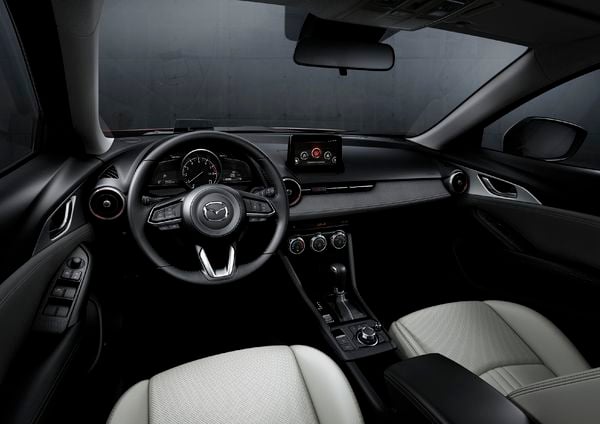 Optional safety systems, such as blind spot warning, lane keeping assistant and cross traffic alert, are also included. The 2018 facelift brings better materials, better sound insulation, a new steering wheel and a new center console with an electric handbrake. If the air conditioner does not work, it is often due to a leaking air conditioner, a known problem.
Engine
Mazda is not following the trend of downsized turbo petrol engines. Under the hood of the CX-3 is a naturally aspirated, direct injection gasoline engine with large displacement and high compression ratio. The 2.0 SkyActiv-G four-cylinder is available in two flavors (120 hp, 204 Nm and 150 hp, 204 Nm). In addition, a direct injection four-cylinder turbodiesel engine is available, 1.5 SkyActiv-D (105 hp, 270 Nm). In 2018, Mazda will replace the 1.5 SkyActiv-D with the new 1.8 Skyactiv-D (116 hp, 270 Nm). In the last year of production, the most powerful petrol engine and diesel engine will disappear from the range: from the end of 2020, only the 2.0 SkyActiv-G petrol engine with cylinder deactivation (121 hp, 206 Nm) will be on the price. list.
The Wankel engine is returning to Mazda, but not in the way you want
SkyActiv technology has been developed to combat intake fouling – a common problem with direct injection petrol engines. However, this may sometimes happen, depending on the usage situation. A malfunctioning start/stop system is usually caused by an insufficient or worn charge.
Contagion
The CX-3 has front-wheel drive as standard. The essential reserve is only available with the more powerful SkyActiv-G petrol engine. The electronically controlled 'i-ACTIV AWD' all-wheel drive provides extra grip and traction. In addition to the six-speed manual transmission, all engines are available with a six-speed automatic transmission with a torque converter. The only exception is the 1.5 SkyActiv-D, which is only sold with a manual gearbox. The successor to the 1.8 SkyActiv-D is available with both transmissions. Regular oil changes keep the automatic transmission in top condition.
Suspended
Driving pleasure is one of Mazda's core values. The CX-3 also lives up to this promise in every respect. "In terms of driving characteristics, the CX-3 performs in a higher segment than what you pay for," says Autovisie about the first introduction. The chassis, with independent front suspension and semi-independent rear suspension, offers adequate driving and playing dynamics without sacrificing comfort. Depending on the version, the crossover has 16-inch steel wheels with hubcaps, 16-inch alloy wheels or 18-inch alloy wheels.
Which one should I get?
The best selling engine is the 2.0 SkyActiv-G with 120 hp and front wheel drive. Also used, the entry-level gasoline engine is the best choice. The versions are called S (16 inch, hubcaps, air conditioning, electric windows, radio/MP3), TS (16 inch, alloys, emergency braking function, climate control, cruise control, 7 inch touchscreen) , TS+ (LED headlight, privacy glass, lane assist, rear parking assist, seat heating) and GT-M (18-inch alloys, all safety systems, cruise control, leather/fabric, camera , navigation, Bose). In addition, special editions are available, such as GT-M Line, Skylease/Skylease GT, Sport Selected and Sportive. From 2020, standard equipment levels will now be called Comfort, Luxury and Signature.
What? should it be Mazda CX-3?
There's a lot to choose from in the crowded compact crossover class. From Renault Captur, Peugeot 2008 and Volkswagen T-Cross to Audi Q2, Citroën C3 Aircross, Kia Stonic and Opel Crossland X – there is a brand or model for every taste and budget.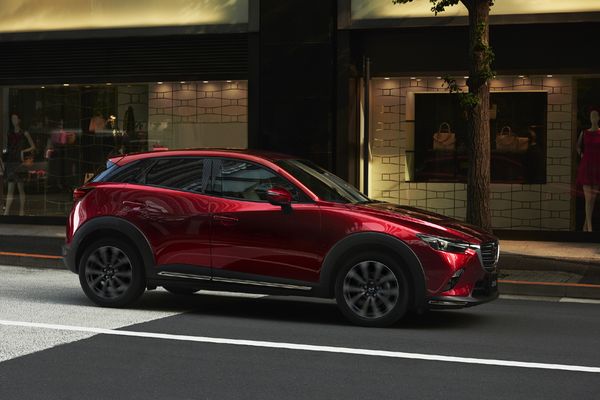 Within this diverse competitive field, the Mazda CX-3 stands out with its powerful driving characteristics, high-quality finish and reliable driving technology. If the common space of the interior is the reason for skipping the model, you do not have to change it to another brand: CX-30 It has the same power as the CX-3 and clearly adds more space.
Here's how much they cost
On Gaspedal.nl the offer starts with the CX-3 2.0 SkyActiv-G TS (2016, 161,000 km) for 13,450 euros. A 2.0 SkyActiv-G GT-M (2017, 185,000 km) costs 14,950. The cheapest version with automatic transmission is the 2.0 SkyActiv-G AWD GT-M (2015, 181,000 km) for 15,950 euros. The cheapest 2018 facelift model is the 2.0 SkyActiv-G Sport Select (2018, 49,000 km) for 18,950 euros. Almost new 2.0 SkyActiv-G Luxury with automatic transmission (2021, 22,000 km) costs 31,900 euros. Diesel engine versions are rare; The price is between 13,000 and 18,000 euros.
Part prices
Front brake pads, for a set of € 48.29
Bridgestone Turanza T001, 215/50 R18, each from € 170.20
Air conditioner condenser including dryer, from €214.25
Clutch including bearing release, from € 206.15
Prices apply to Mazda CX-3 2.0 SkyActiv-G from 2016 onwards and include VAT and disassembly.
Maintenance costs
Minor repairs from €225
Major repairs from €325
The maintenance interval (2.0 SkyActiv-G) is 20,000 km for 1 year.
Positive Mazda CX-3
+ Driving pleasure
+ Behavior of adults on the road
+ High quality finish
+ Stable technology
Negative points Mazda CX-3
– Generous leg room in the back
– The naturally aspirated petrol engine has no turbo torque
Did you see an error? Send us an email. We thank you.
Shopping guide


30 July 2023,

Buying guide: Hyundai Tucson – problems, offers and prices

Shopping guide


2 July 2023,

Buying guide: BMW X1 – problems, offers and prices

Shopping guide


10 June 2023,

Buying guide: Honda Civic – problems, offers and prices

Shopping guide


27 May 2023,

Buying guide: Mercedes-Benz A-Class – prices, problems and details

Event


27 May 2023,

Events: three reliable mid-range cars for 10,000 euros

Event


13 May 2023,

Events: 3 good solar inverters for 5000 euros

Information


23 apr 2023,

Buying guide: Ford Mustang Convertible – problems, offers and prices

Shopping guide


18 apr 2023,

Buying guide: Mercedes-Benz E-class Cabriolet – problems, offers and prices