Another carmaker wants to jump on the Formula 1 bandwagon. American manufacturer Cadillac intends to work hand in hand with the Andretti racing team on a project for the major league of motorsport – but without building its own power unit. If approved, Formula 1 will have the second American team after Haas.
Formula 1 is currently experiencing a hype that may not have been seen since its inception in 1950. The US market in particular is booming. In 2023, the pinnacle of motorsport will be competing with three races in the USA: in Austin, Miami and in the gambling city of Las Vegas. Thanks to Netflix (Save it to Live), young American audiences in particular have discovered Formula 1 and many of its characters for themselves.
American automakers also want to jump on this train. Rumors have it that Ford could team up with Red Bull in 2026. General Motors is already one step further. At least as far as public announcements are concerned. The group, based in Detroit, has decided to enter Formula 1. For this one would send the famous brand Cadillac to the race and work together with Andretti. The American manufacturer announced this on Thursday (January 5).
The first more detailed talks took place in early autumn 2022, and the new project was approved at the GM command center in December. The increasing popularity of the racing series in the United States and around the world, the high budget level with adjustable costs for the season and the new Formula 1 engine regulations from 2026 make participation attractive. The electric component of the total output should increase to around 50 percent. This, together with CO2-neutral gasoline, ensures a more sustainable race that manufacturers can sell better. GM wants to convert its car fleet to electric by 2035.
Andretti with Cadillac
However, you would not build your own car, but buy a power unit from another manufacturer/supplier. There should already be a temporary agreement on this. The thought is that it is a Renault. Cadillac has already found a team to respond. You join the biggest names in American racing. Cadillac and Andretti are looking forward to working together and have announced their intention to join forces if Formula 1 gives them the go-ahead.
"We thank Mohammed Ben Sulayem for starting the expression process. Today we want to officially confirm our intention to enter F1," announced Michael Andretti and GM President Mark Reuss together. A few days ago, the FIA ​​President opened the door to new interested teams.
For Andretti, the joint announcement is a big step towards the dream of moving to Formula 1. As a private team, Andretti has been blocked by Formula 1 management and many other teams. With the manufacturer as the driving force, conditions can change. That has a different external impact – and should contribute to the value of Formula 1.
However, it is far from certain that all parties involved will agree and that Cadillac-Andretti will be allowed to enter. First you have to go through a formal application process. With the early announcement, the management of Formula 1 rights holders Liberty Media appears to have been surprised.
Andretti leans out of the window: "The president of the FIA, Mohammed Ben Sulayem has assured us of his support. I am hopeful that it will work. After all, Formula 1 is still an FIA racing series. From our point of view, we meet all. requirements. For GM we have one of the biggest car manufacturers in the world and we have a lot of followers on board," says Michael Andretti.
If the team is selected, it wants to compete with at least one American driver in Formula 1 as soon as possible. Colton Herta's name keeps coming up. The Californian, after Alpha Tauri turned off the excitement, is currently working for Andretti in the IndyCar series. The entry schedule is not yet known. The 2026 season with new engine regulations will be logical. "Now we have to wait and see how long the approval process will take," says Andretti.
American dream team for Formula 1?
With the backing of GM/Cadillac, it is at least guaranteed that the project is on a solid footing: financially, as well as in terms of personnel and technology. The long term future would be secure. General Motors would crown its motorsport offensive with the Formula 1 project. In the American IMSA series, Cadillac is on the road with a prototype (GTP/LMDh class). They also want to make an appearance at this year's 24 Hours of Le Mans. At the same time, Cadillac participates all season in the World Sports Car Championship (WEC) with one car.
Along with its Chevrolet subsidiary, GM is one of the two engine manufacturers in the IndyCar lineup. However, the new F1 partner Andretti drives there with Honda engines. GM is also represented in GT racing: Chevrolet is currently developing a new GT3 race car based on the Corvette C8 mid-engine sports car. The Chevrolet Camaro also plays in NASCAR.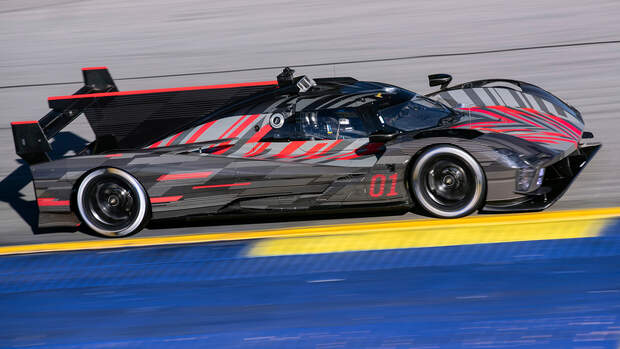 Andretti has already started recruiting engineers from Formula 1. A technical director has also been hired. The name will be announced later. The American team has many branches in motorsport. In addition to IndyCar, Andretti is represented in Formula E (with Porsche Powertrain), Extreme E, IMSA and Australian Supercars.
The GM confirmed that the exchange with Andretti has been going on for five months: "We have always been interested in Formula 1. But the situation of the system was not quite right for us to get involved as a brand. Now Michael Andretti came to us. The talks went so well that now we want to take this step together," Reuss says.
The motorsport base of the new Andretti team would be built in their home country, the USA. But there should be a satellite base in the UK for the task force – just like Haas does. From there, other Andretti motorsport programs will also operate in Europe.
The new engine formula from 2026 is already impressing Audi in the motorsport Champions League. Unlike the American duo, the German premium manufacturer has already found its place in the field. In addition to Cadillac-Andretti, Ford and Hyundai are said to be interested in starting. Both are obviously more reserved. F1 managers love it when admirers quietly pull strings in the background. Honda has signed up pro forma to sit at the table in further talks on future power.