Chinese cars are surreptitiously flooding other EU countries, where demand is five times higher than in Germany.
Are the Chinese coming? Lies, they already exist, but few people realize. The drive to electrify cars works in their favor, as they are currently the highest in one of the old continent's electric paradises, the Netherlands.
Just last week, we wrote that Chinese cars were quietly flooding Germany. Their share in the import of new cars from abroad is increasing significantly, almost three times year after year, and this in a situation where the sales of German cars to China are falling significantly. This may come as a surprise to some, but this is the latest development in the redefinition of the automotive world map that we have been witnessing for years.
Chinese automakers work with cheap inputs, from energy to labor, and are not subject to many market restrictions, allowing them to be more flexible and cheaper. Until they could make a competitive car with an attractive design, they didn't care, but those days are over and they can only use their competitive advantage. The fact that they would not use them in Europe was an illusion that could not be translated into reality.
If we increase the pressure from the EU for the electrification of all passenger cars without exception, another region of the Middle Kingdom, given the dominance of the Chinese in battery production, we can expect nothing more than a gradual increase in the presence of car manufacturers of Chinese in Europe. And that's what happens, whether we like it or not. The funny thing is that most people don't even see it, it goes unnoticed, and yet in other markets it is already happening very seriously.
The latest words come from my colleagues from my other country of origin, the Netherlands, who, in the last issue of Car Week, calculated the importance of the Chinese in this market. So they have a hard time knowing who the Chinese are because even Volvo is now owned by the Chinese, Lotus is owned by the Chinese, Aston Martin is increasingly owned by the Chinese, they are effectively controlling Mercedes, they have it. the right to look important to Stellantis… Moreover, more and more cars are made in China, including Teslas. But my colleagues took the right approach and focused only on traditional Chinese brands or new brands created by Chinese automakers, with two other brands in brackets, but we'll get to that in a moment.
According to the first view mentioned, the Chinese have already gained 4.07% of the market in the Netherlands this year. If you add Polestar (controlled by Volvo, but otherwise a Chinese affair) and Smart (now something like MG, a Chinese carmaker with roots in Europe), it's 4.43%. This is already a lot, about five times more than in Germany (0.79 and 1.04% respectively, using the same lens). And even if in the large German market this means more cars in general terms, in fact, in relative terms, the Chinese have about one-twentieth of the market in the country of tulips and they earn about three times as much a year. per year, which is similar to what happens in Germany.
All thanks to 5,651 sales of electric cars from brands like Lynk & Co, Nio, MG, BYD, Ora… That's a lot of products. Considering their prices, availability and the local political environment, it is unlikely that they will not become more and more important over time. The fact that politicians paved the way for them is not up for debate.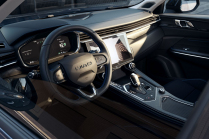 Lynk & Co 01 is one of the best Dutch retailers. Despite its English name, it is Chinese in every sense of the word. And thanks to him, the Chinese take about 5% of the market share. Photo: Lynk & Co.
Source.
All articles on Autoforum.cz are opinions that reflect the opinion of the editor or author. Except for articles marked as advertising, the content is not sponsored or influenced in any way by third parties.