Red Bull team principal Christian Horner is convinced Daniel Ricciardo's Formula 1 is far from over, but admits the Australian could use a major reset. Currently, 33-year-old Ricciardo is without a seat for next year and it looks like a sabbatical is coming for the lively driver.
Max Verstappen's former teammate will leave the McLaren team at the end of the year, after two difficult years. One of the highlights was last season's Italian Grand Prix, which Ricciardo managed to win. Although the eight-time Grand Prix winner still has a contract for next season, McLaren has decided to drop Ricciardo and bring in Oscar Piastri. For a permanent seat, Ricciardo can therefore only go to Alpine, Williams, Alfa Romeo and Haas.
To believe
According to the boss of the Red Bull Racing team, Ricciardo still has the holy fire, but after a difficult time at McLaren, the Australian must find this again. "It's a shame. He's a great personality and a great, great driver. He's obviously lost his way a little bit, but it would be great to see him stay in the game," Horner told the podcast. Beyond the Grid.
Choice
Alpine seems to be aiming for the services of Pierre Gasly and so Ricciardo's move to the French team seems out of the question. Still, there is still much to be done if Gasly's move is to continue. In addition, there are more candidates for seats in the royal class. If Horner had been in Otmar Szafnauer's shoes, he would have known. "That [Ricciardo overnemen] Maybe I should tell the truth. They've known him since the last few seasons and had a great time in his last season there, even scoring podiums," he explains.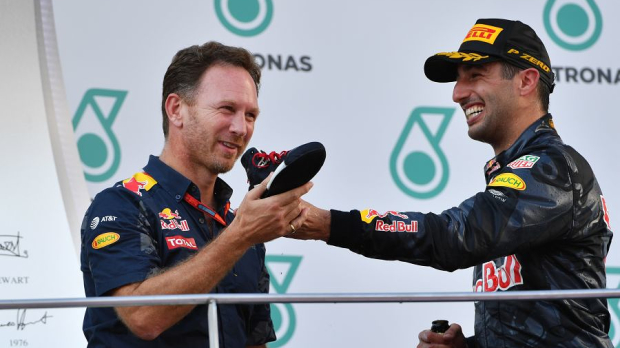 Reset
However, the Australian has to get back on track and Horner would see a challenge in that. "He's the kind of guy I think you can rebuild [periode bij McLaren] it wasn't a good experience for him but you have to think back to some of the races he drove with us, some of the wins he got, the podium finishes and the amazing passes he was able to do, that's still there. I'm sure of. He just needs to reset", Horner points out the way to get Ricciardo up and running again. It should be clear, if it is up to the boss of the Red Bull team, then Ricciardo's work will not end after the current season: " I hope. to him that he will get another chance and will be back on the grid next year."