"Auto Świat" was the only editorial office in Poland that Xavier Martinet interviewed immediately after the announcement of Dacia's 2022 results. However, we did not ask him a single question about these 12 months – we were more interested in the future. . How is Dacia coping with hyperinflation and electrification? Isn't the best result persuasive to change the face of a brand? Especially…
Krzysztof Wojciechowicz: In 2022, more than 70 percent of Dacia's European sales consisted of high-end equipment versions. Isn't it time to change the brand image a little and "push" it up? Do not focus too much on practical benefits? Maybe you will introduce a more interesting design?
Xavier Martinet: Our brand has to change, that's obvious. Historically, Dacia was seen as a cheap brand. I don't think we are still like that today. Dacia aims to offer models with the best price-value ratio. The previous incarnation of Duster (2010-2018 – editor's note) has already improved Dacia's attitude. A very interesting step in this direction was the beginning of the current generation of Sandero in 2020, with a more attractive design than its predecessor. Now we intend to speed up this process even more by changing, among other things, the appearance of living rooms. We have also introduced a new logo, once on all vehicles, to get a bigger impact. We didn't want the new logo to appear only when the style was changed, because it would take five years instead of five months. In addition, a new version of Extreme equipment will begin in the spring of 2023, which will allow you to look at our models in a new light. The next steps on this road will be the new generation of Dacia Duster and the bigger Bigster SUV. Duster will appear in 2024, Bigster in 2025.
Dacia Bigster (model version 2021)

Changing a brand image is a long-term process. Not for three years, but for 10-15 years, although we are trying to speed it up as much as possible. We do not forget about our roots, Dacia will remain Dacia, but in a modern way. This will allow us not only to find more and more new buyers, but also to maintain a high level of loyalty to the brand – today as much as 60%. our customers choose Dacia as their next car.
Doesn't inflation help Dacia sell more cars?
No, but it's also a little yes, and I'll explain why. "No" because conflict is not good and you cannot enjoy it. Before the crisis, in 2019, Dacia sold a record 735,000 cars worldwide. cars. In 2022, we recorded market share, but only sold 575,000. car So I can't say that the crisis is helping us. On the other hand, the market share has increased, so Dacia is more attractive in the eyes of customers – so my "yes" is a bit like an answer to the question.
Car prices are increasing not only because of inflation, but also, among others, due to the need to adapt cars to new standards and the high costs of raw materials and semiconductors. We see many customers saying: "40,000 euros for an SUV? No, I won't spend that much. I could, but I don't want to." Others reply, "I can't afford it anymore." Dacia is becoming a better alternative for many customers. Every problem brings opportunities and opportunities for growth, and if we are able to improve our image, we will take advantage of these opportunities and opportunities.
This year, Dacia opens a new chapter by introducing its first hybrid car, the 140 horsepower version of the Jogger. How much will its combustion-electric variant account for in European sales of this model?
Dacia is part of the Renault group and roles within it are clearly defined. Renault will be the leader in electric mobility, while Dacia intends to stay in the electric car market for as long as possible. At Dacia, we focus on the drive that is best for the customer, which is why a key part of our strategy today is LPG installation. In 2022, vehicles equipped with such equipment accounted for 34%. Dacia sales in Europe and 54.6 percent in Poland (about 79% of joggers bought in our country also have LPG installation – editor's note). We believe that LPG is the best solution if you want to reduce carbon emissions, but without much cost to the car buyer. Typically, LPG installation has a cost of 3 digits (in euros – editor's note), a hybrid car has a cost of 4 digits, and an electric car – around 5 digits.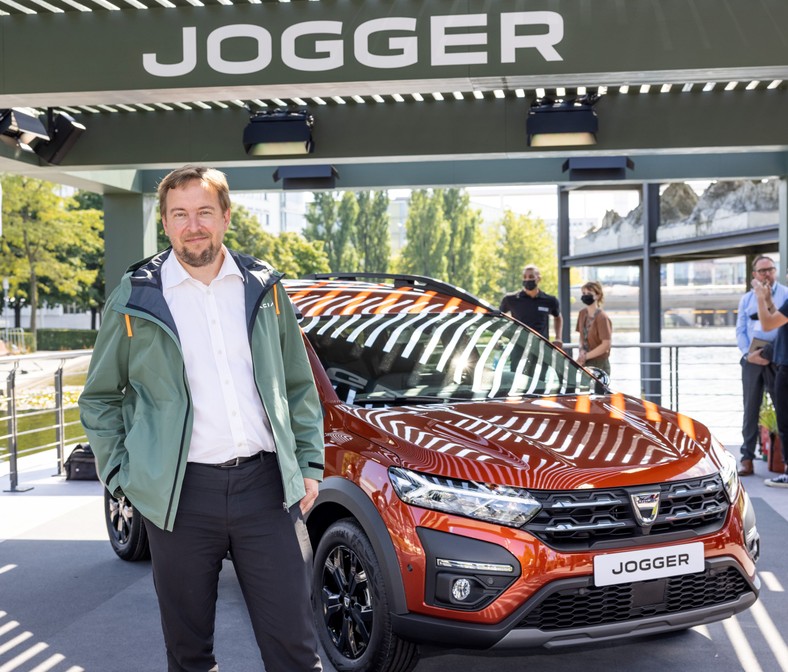 Photo: Renault Group
Xavier Martinet, global head of marketing and sales for Dacia (including Dacia Jogger)

Of course, we will offer hybrid cars because we need such a solution to meet CO2 emission standards, but we will expand the offer of such cars when necessary, when customers want it and it makes market sense. I expect that the share of hybrid cars in Dacia's sales will increase from year to year, but in 2023 and 2024 it will be much lower than that of models with LPG engines.
Indeed, we can even introduce a hybrid version of the Dacia Sandero today, after all, it is the same platform as the Jogger. However, I don't think it makes sense now, because the price of such a car will be higher than the added value perceived by customers.
In 2035, a ban on the first registration of combustion and hybrid passenger cars will come into effect in the European Union. Can Dacia remove such models from sale early?
NO! I think we will be one of the last manufacturers to sell internal combustion cars! We intend to offer such vehicles for as long as the regulations allow and it is understood.
At some point, customers may decide that it's time to stop buying flash cars because they can no longer be sold or driven downtown. If they don't really want to buy them, then we will stop selling them. However, I don't think this will happen, because not all our customers live in the center, some have two cars, etc.
Important: Dacia's strategy will work because we are part of the Renault Group. We would not have taken this approach if Dacia were an independent company. As I mentioned, Dacia and Renault complement each other perfectly in our group.