(Motorsport-Total.com) – A new look for Formula 1: In the spring, teams usually present their new Formula 1 cars before they are prepared for the season in winter testing.
In the spring, Formula 1 teams usually unveil their new race cars
zoom

Download

In this continuously updated roundup of 2023, we not only provide dates for specific presentations and first details on race cars, but also provide an overview of all Formula 1 launches in 2023 and a selection of the respective cars.
RedBull: Red Bull maintains its previous naming contract. The Formula 1 car of Max Verstappen and Sergio Perez in the 2023 season will be called the RB19 and presented in New York on February 3. Red Bull only counts when mentioned. Exception: RB16B from 2021 as further development of RB16 from 2020. That is why there was no RB17 in Formula 1. The team continues to rely on Honda engines for the car, which Red Bull uses independently. Continuation also in Verstappen: As world champion, he continues to be number one.
Ferrari: What Charles Leclerc and Carlos Sainz's new Formula 1 car will be called is still open – and not easy to predict. Because Ferrari doesn't follow a straight line here, it for example called the 2022 car the F1-75, according to a company memo. If the name is not meant to be an honorific, SF23 is conceivable, i.e., similar to 2021 and SF21. Internally, the car is listed under project number 675. It will be delivered on Valentine's Day, February 14, 2023. The Scuderia has not yet announced the location and time of the launch.
Mercedes: Since returning to Formula 1 in the 2010 season, Mercedes has always relied on its racing cars. So the W13 of 2022 should be followed by the W14 of Lewis Hamilton and George Russell in 2023. Unfortunately, the "W" stands for "Wagen", a Daimler tradition. Likewise, the engine is marked with "M". On the outside, the color of the Mercedes house should remain silver. Then we will on February 15 Experience.
Alpine: Will the new Formula 1 car of Pierre Gasly and Esteban Ocon be more than metallic blue (for Alpine) or pink (for main sponsor BWT)? This is not known yet. The team has since confirmed that the name of the new Grand Prix car will be A523, in keeping with Alpine's previous history. 5 should be understood as a tribute to Renault's first model in Formula 1, which was built by Alpine. Drives, in turn, will also come from Renault in 2023. Delivery is underway on February 16 in London instead of.
McLaren: If McLaren sticks to its own conventions, then Lando Norris and New Formula 1 driver Oscar Piastri chasing points with the MCL37 in the 2023 Formula 1 season. Mercedes remains the traditional engine partner of the British team, which last competed in orange and black. If you have a delivery date February 13 selected.
Alfa Romeo: Sauber has extended its partnership with Alfa Romeo for another year. In 2023, the Formula 1 cars from Hinwil are likely to drive again in dark red and white, probably for the last time. Then the partnership ends. The driving partner will continue to be Ferrari in 2023, with Valtteri Bottas and Guanyu Zhou on the driver's side. They also stay true to themselves when it comes to naming her: C43 love on February 7 at 10:00 am gift
Aston Martin: Sebastian Vettel's former team continues in the 2023 Formula 1 season with Fernando Alonso and Lance Stroll – and with a Grand Prix car to be called the AMR23. This is how Aston Martin used to name its cars: after the abbreviation of the team ("R" stands for "Competition") and the respective year. Then the Mercedes car works back as before, the car itself should be green again. It will be presented on February 13.
---
Photo gallery: Changes to the Formula 1 calendar in recent years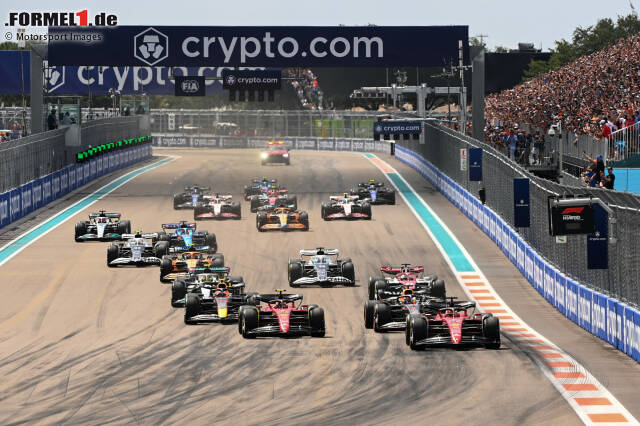 The Formula 1 calendar continues to grow. 22 races will be held in the 2022 season, in 2023 there should be 24. New routes also enter the calendar all the time, but the usual ones are not left out. We look at how the Formula 1 calendar has changed year-on-year over the past few years.
series of pictures

Haas: In the playground of Formula 1 restorer Nico Hulkenberg and Kevin Magnussen, every car is somehow a "first of its kind". Why? Because the American Haas team gives its cars the abbreviation "VF". And that stands for "First of all". The VF-16 from the 2016 season was Haas' first car in Formula 1, and it has stuck with it. For 2023 this means: Hülkenberg's return car will be the VF-23. With an engine from Ferrari. The new design will be available on January 31.
AlphaTauri: Nyck de Vries and Yuki Tsunoda are likely to face the AT04 in the 2023 Formula 1 season. That would be the logical outcome of the previous conference to name the racing team from Faenza in Italy. And they stay with Honda drives, which are available through Red Bull Powertrains, probably also with the main colors of blue and white. The design presentation will take place in New York on February 11.
Williams: About Alexander Albon and Formula 1 newcomer Logan Sargeant a new car awaits in the season of 2023 which may be called FW45. At Williams, "FW" has always stood for Frank Williams, the team's founder and longtime boss, who has passed away. The racing team has maintained the naming convention, although the Williams family has left the team. Most blue-black cars are powered by Mercedes engines. Delivery – probably without a new car – will take place February 6 at 3pm CET instead of.
Delivery dates for Formula 1 in 2023:
31 January: Haas (VF-23)
3 February: red cow (RB19 / New York)
February 6: Williams (Online) * Design presentation
February 7: Alfa Romeo (C43 / Zurich)
February 11: AlphaTauri (AT04 / New York) * Design presentation
February 13: McLaren (MCL37)
February 13: Aston-Martin (AMR23 / Silverstone)
February 14: Ferrari
February 15: Mercedes (W14)
February 16: Alpine (A523/London)
Review: Formula 1 Submissions 2022
Review: Formula 1 Submissions 2021