Disgruntled Tesla customers can return thousands of cars to the automaker with impunity, it made a stupid mistake.
We all know the return of a purchased product within 14 days without penalty, but why not return 1 year and 14 days? This is the only option available to disgruntled German Tesel buyers in Germany. And hundreds of them intend to take advantage of that.
Although I grew up in a different environment, as an IT professional, I can say without hesitation that the biggest challenge for many customers these days is to comply with all legal requirements. There are many definitions of what you can, what you can't, where you should and shouldn't put it, or how to do it. , so that it is almost impossible to find your way. So just stop stupid news to end up in legal trouble that can cost a lot of money.
This is exactly what happened to Tesla in Germany, which allows its customers to buy cars remotely, that is, online, via the Internet, as is the case everywhere else. Nothing strange today, but European and local laws govern this practice and especially require the seller to provide a contact number when concluding the contract. However, Tesla did not provide this address on its website when ordering the car between May 2022 and April 2023; only email and fax were available to buyers. And that is exactly what allows private buyers who bought a car from the brand during the charged period to return the car as if a period of 14 days had passed since its purchase – in Germany the law sets a new period of 1 year and 14 days. for this case.
Thousands of private buyers in Germany have bought Teslas this way, and they are the only ones affected by this move. And hundreds of them intend to take advantage of this option. Why? Because they bought junk or are not satisfied with the range or other features of the car. It is true that they are taking advantage of the situation a little, but it is the car manufacturer itself that, by its negligence, has given way to this situation.
German Focus colleagues mention Maximilian L. from Berlin, who bought his dream Tesla Model Y in October 2022. He may or may not have had problems with operation, support systems and during the winter he would be "disappointed" with the range. his car. "He would like to get rid of his Tesla and buy another car. However, in the used car market, he would have to accept a significant loss in value compared to the original purchase price. That is why he wants to take advantage of the extended notice period," says a law firm with Berlin-based Goldenstein Rechtsanwälte, which represents Maximilian in this case.
He is not the only one, according to the company, hundreds of buyers who are not satisfied with the same features (quality, electricity, freedom …) want to take advantage of this option, but Tesla has not solved their problems. Now he finds himself in a situation where he can't really argue – he made a mistake, he didn't meet the legal requirements, and people can repossess his car without giving a reason.
The case continues to develop, but the law firm says that Tesla's position is hopeless and that anyone who wants to return the car and who bought it remotely, privately and at the last moment will win. He is currently preparing a lawsuit against Tesla, which the automaker can voluntarily follow within 14 days. After that, a refund can be sought in court.
So it looks like Tesla will have to buy back cars, which will certainly have interesting effects on the used car market. If hundreds of unwanted, purchased cars are put on the market at once, the price, already low, will drop even more. Therefore, if you are thinking of buying a used Tesla from Germany, we advise you to wait a little while, because this business will gain momentum in the coming weeks.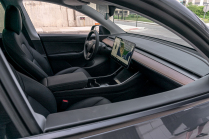 Dissatisfied owners of Teslas like the Model Y, who bought the car privately and remotely in Germany between May last year and this April, can take advantage of the automaker's mistake to return the car to them without giving any reason and against their will. Hundreds of buyers want to take advantage of it. Photo: Tesla
Source.
All articles on Autoforum.cz are opinions that reflect the opinion of the editorial staff or the author. Except for articles marked as advertising, the content is not sponsored or influenced in any way by third parties.