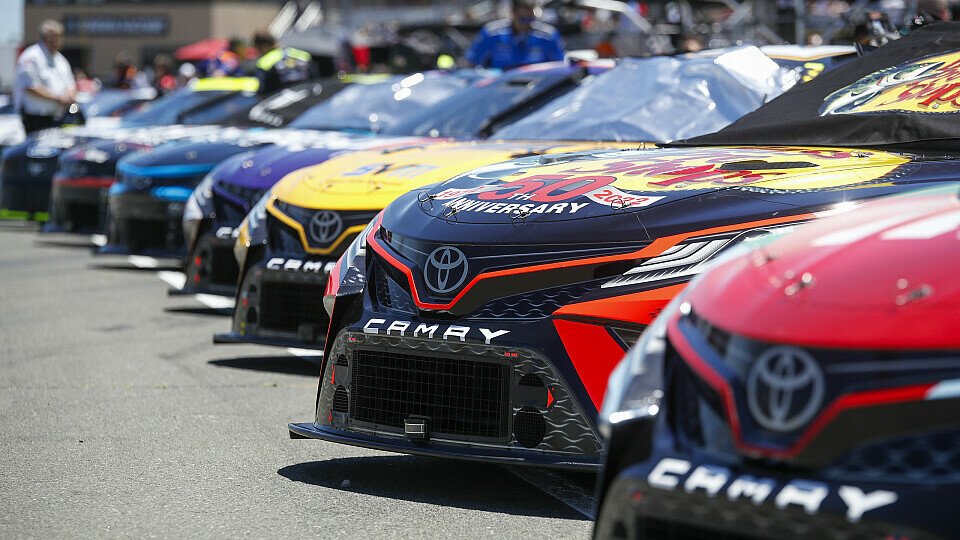 Teams present their drivers, photo: LAT Photos
There were several driver changes prior to the 75th Anniversary season in the NASCAR Cup Series
Kyle Busch made the most impressive change. Kyle Busch left Joe Gibbs Racing after 15 years and will start at Richard Childress Racing in 2023. 'Rowdy' Busch takes over the No. 8 Childress Chevrolet from Tyler Reddick. The reason for his team change is the Mars Group, which withdrew from the NASCAR scene at the end of the 2022 season. The M&M brand has been the main sponsor of the #18 Gibbs-Toyota since 2008.
Kurt, the elder Busch Brother, ended his full-time career after his accident on July 23, 2022. Tyler Reddick will take over the Toyota cockpit with the #45 of 23XI Racing.
Petty GMS becomes Legacy Motor Club with Jimmie Johnson
Petty GMS Motorsports sees another team name change and a surprise return for a while. Seven-time cup champion Jimmie Johnson joins the NASCAR Petty GMS team and will compete again in 2023. Erik Jones remains with the team with the #43 and Noah Gragson takes over the #42 from Ty Dillon. Legacy Motor Club is the new team name as of 2023. It is owned by Richard Petty, Maurice J. Gallagher Junior and Jimmie Johnson. The team is affiliated with Richard Childress Racing.
Project 91 with Kimi Raikkonen?
Ty Dillon joins Spire Motorsports. He drives the #77 and is partnered by Corey LaJoie and the #7. Stewart-Haas Racing also guest reports. Ryan Preece is the fourth new driver on the team, replacing Cole Custer in the #41. AJ Allmendinger will drive full-time for Kaulig Racing again from 2023 with the #16. TrackHouse Racing's 'Project91' is eagerly awaited. Kimi Raikkonen and other European and international drivers should be committed.
Ty Gibbs and Noah Gragson are the only two drivers to win the 'Rookie of the Year' title.
Gallery: All images of drives
NASCAR Cup Series 2023: Drivers and Teams
Full time teams:
#1 Ross Chastain (Chevrolet) TrackHouse Racing
#2 Austin Cindric (Ford) Team Penske
#3 Austin Dillon (Chevrolet) Richard Childress Racing
#4 Kevin Harvick (Ford) Stewart-Haas Racing
#5 Kyle Larson (Chevrolet) Hendrick Motorsports
#6 Brad Keselowski (Ford) Roush Fenway Keselowski Racing
#7 Corey LaJoie (Chevrolet) Spire Motorsports
#8 Kyle Busch (Chevrolet) Richard Childress Racing
#9 Chase Elliott (Chevrolet) Hendrick Motorsports
#10 Aric Almirola (Ford) Stewart-Haas Racing
#11 Denny Hamlin (Toyota) Joe Gibbs Racing
#12 Ryan Blaney (Ford) Team Penske
#14 Chase Briscoe (Ford) Stewart-Haas Racing
#15 David Ragan / Garrett Smithley (Ford) Rick Ware Racing
#16 AJ Allmendinger (Chevrolet) Kaulig Racing
#17 Chris Buescher (Ford) Roush Fenway Keselowski Racing
#19 Martin Truex Jr (Toyota) Joe Gibbs Racing
#20 Christopher Bell (Toyota) Joe Gibbs Racing
#21 Harrison Burton (Ford) Wood Brothers Racing
#22 Joey Logano (Ford) Team Penske
#23 Bubba Wallace (Toyota) 23XI Racing
#24 William Byron (Chevrolet) Hendrick Motorsports
#31 Justin Haley (Chevrolet) Kaulig Racing
#34 Michael McDowell (Ford) Front Row Motorsports
#38 Todd Gilliland (Ford) Front Row Motorsports
#41 Ryan Preece (Ford) Stewart-Haas Racing
#42 Noah Gragson (Chevrolet) Legacy Motor Club (Rookie)
#43 Erik Jones (Chevrolet) Legacy Motor Club
#45 Tyler Reddick (Toyota) 23XI Racing
#47 Ricky Stenhouse Jr (Chevrolet) JTG Daugherty Racing
#48 Alex Bowman (Chevrolet) Hendrick Motorsports
#51 Cody Ware (Chevrolet) Rick Ware Racing
#54 Ty Gibbs (Toyota) Joe Gibbs Racing (Rookie)
#77 Ty Dillon (Chevrolet) Spire Motorsports
#78 BJ McLeod / Josh Bilicki (Chevrolet) Live Fast Motorsports
#99 Daniel Suarez (Chevrolet) TrackHouse Racing
Interim teams:
#27 Loris Hezemans / Jacques Villeneuve (Ford) Team Hezeberg
#44 Greg Biffle (?) NY Racing
#50 Kaz Grala (Chevrolet) Racing Money Team
#55 JJ Yeley (Ford) MBM Motorsports
#62 Austin Hill (Chevrolet) Beard Oil Racing
#66 Timmy Hill (Ford) MBM Motorsports
#67 Travis Pastrana (Toyota) 23XI Racing
#79 Tsaro Marques (Ford) Team Rod Racing
#84 Jimmie Johnson (Chevrolet) Legacy Motor Club
#91 (Project91) Kimi Raikkonen (Chevrolet) TrackHouse Racing
© Sports Magazine