interview
Start with big plans
Nikola Motor wants to replace the diesel truck and declare war on Tesla and Co
The Nikola Motor Company from Phoenix, USA, wants to be a pioneer in the production of climate-friendly trucks. President Michael Lohscheller speaks to that star about no easy business – and about his ambitious plans to compete with Tesla and Co.
Next Monday (September 19) is "an important milestone for Nikola Motor," says Michael Lohscheller, President of Nikola Motor in an interview with star. Because the American truck manufacturer will present a beta version of its truck with a built-in hydrogen fuel cell for the first time – with technology from Bosch. According to the manufacturer, the car has a range of around 800 km. The hydrogen tank should be completely filled within 20 minutes. That is less than the charging time of a modern electric car at a fast charging station. In Lohscheller's words: "This is truly cutting-edge technology [zu Deutsch: Hightech von seiner besten Seite]The vehicle, named Tre FCEV, is Nikola's first hydrogen fuel cell truck and the second Nikola vehicle ever.
It all started with the Tre BEV, which, as its name suggests, is just an electric truck. It has nine batteries, 645 hp and, according to the manufacturer, accelerates from 0 to 100 km / h in 11 seconds when fully charged. The car should be able to drive 560 kilometers on a single charge. So Nikola is already "on two legs". Special feature: No more buttons inside but a big touch screen. In addition, the driver's cab with a length of 2.15 meters should provide the occupants with enough space.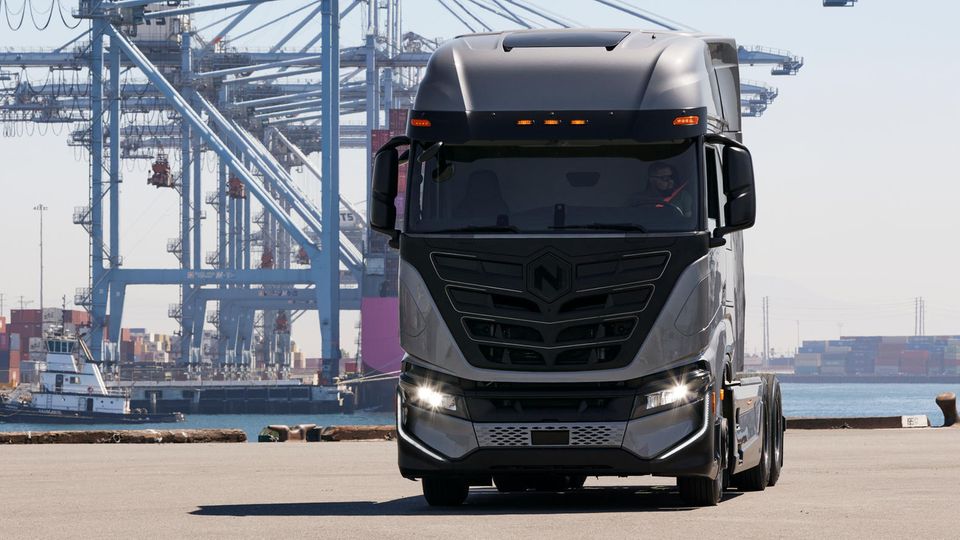 Nikola Motor handing over three electric trucks in Hamburg

The number of electric trucks built so far has been manageable; in the second quarter of 2022, 50 units rolled off the assembly line at the Coolidge (Arizona) plant, one of Nikola's two production sites. However, Lohscheller makes it clear: "We have enough production capacity." Production is now increasing. It was possible to gradually increase the production figures from initially one unit per day to two and now also up to three units per day. So an American truck manufacturer can build 20,000 vehicles a year in Coolidge. In the German location in Ulm, which comes from a joint venture with the car manufacturer Iveco, 2000 cars can be produced per year, and this number can be expanded to 10,000 units.
The electric truck is now also coming to Europe. Lohscheller handed over the first three cars in Hamburg on Wednesday. The trucks will be used in a two-phase trial at the Port of Hamburg. After a three-month trial phase, they will be fully integrated into port operations next year. In total, up to 25 units will be handed over to port shipping agents as part of the agreement that has been reached.
Industry expert Stefan Bratzel said about fuel cell technology: rapid improvement is not possible. Because hydrogen filling stations have been rare until now. Lohscheller is also convinced: "There will not be a hydrogen filling station everywhere at once. But it will be so in certain ways that are always used." President Nikola is completely relaxed about the challenge. Because his company would like to produce hydrogen itself and sell it in cooperation with business partners. In California, Nikola wants to establish three locations for hydrogen stations. Similar areas are also planned in Europe. Finally, in the commercial vehicle segment, Lohscheller also believes in a shared future for clean electric motors and fuel cells.
Will hydrogen cars be able to sustain themselves? In any case, Lohscheller has no doubts about it. "A lot is happening. Many companies want to invest in hydrogen. It has to happen, otherwise the hydrogen truck will not succeed," he says. The American beer company and the Anheuser-Busch group of companies have already signed a letter of intent for the purchase of 800 vehicles.
Manufacturers are promoting zero-emission trucks

In fact, trucks are now facing what cars have gradually experienced: classic drives and combustion engines are being replaced by climate drives. With the eActros, Daimler has been mass-producing an electric truck since October 2021. According to the manufacturer, this has a range of up to 400 km. Daimler has also been testing fuel cell trucks. Test fleets are scheduled to enter the market in the middle of this decade, before the fuel cell truck is scheduled to enter series production in the second half of the decade. Korean automaker Hyundai also delivered the first hydrogen-powered trucks to German customers at the beginning of August. According to the manufacturer, "Xcient Fuel Cell" vehicles have a range of 400 kilometers and have seven hydrogen tanks. Depending on the ambient temperature, they need 8 to 20 minutes to fill the tank.
American electric car manufacturer Tesla has announced an electric truck and Semi Truck. Tesla boss Elon Musk recently tweeted that his company wants to deliver an electric truck with a special range of around 800 kilometers by the end of 2022. It is not the first such announcement, however, as earlier reports indicated that production was expected to begin next year. Tesla previously announced a truck delivered in 2017 for 2019.
Last June, VW's subsidiary Scania presented an electric truck for national long-distance transport with a maximum range of 320 km. Production is scheduled to begin in the fourth quarter of 2023. MAN, also a subsidiary of VW, also plans to install trucks electricity. From 2024, heavy-duty trucks with electric drives will be mass-produced at the main factory in Munich. In addition, MAN is developing a fuel cell truck in collaboration with Bosch, Faurecia and ZF, which will be delivered to five customers in mid-2024. These will then test the truck in real use for one year.
Lohscheller looks forward with confidence

This is where Nikola's "only chance" is, says Michael Lohscheller. Unlike competing companies, the small company with 1,100 employees already has an electric truck on the market and will soon launch a model with a hydrogen fuel cell. Nikola looks forward boldly – and wants to leave his past behind. Allegations of fraud were raised against Nikola's former boss Trevor Milton some time ago after he submitted a model of a truck that could not be driven at all. Instead, it went down the mountain. Milton resigned in September 2020. Nikola seems to have found an ambitious successor in Lohscheller. The former Opel boss joined the company in February last year and will become CEO on January 1. He promises: "If we say things, then we do them." After the Tre FCEV, the big brother Tre FCEV with a range of 1450 km will be launched in 2024.
Sources: Elon MuskDaimler, Hyundai, Scania, MAN, port of hamburg, FAZand material from dpa