Tesla boss Elon Musk is working on his third 'Master Plan' to save the world – the climate. "Tesla's critical mass will be scaled to extremes, which are necessary to separate humans from fossil fuels," he said on Twitter.
Elon Musk unveiled his first Master Plan for the American car brand in 2006. 10 years later he unveiled a second plan. Now, almost 6 years later, it's time for his third plan.
The second Master Plan was not very successful
Are we looking at it? previous Elon Musk's Master Plan for Tesla, then not everything has turned out the way he wanted in 2016. For example, his cars were supposed to be able to drive largely autonomously, buses, delivery vehicles and pickups and see a bright future in electric car sharing.
Tesla's main subjects will be scaling to extreme sizes, which is needed to move humanity away from fossil fuels, and AI.

But I will also include sections about SpaceX, Tesla and the Boring Company.

– Elon Musk (@elonmusk) March 21, 2022
The entrepreneur also wanted to focus on energy conservation with a Solar Roof that EV owners can fully charge their vehicle with green electricity. Each of them has ambitious plans that are often partially or completely unfulfilled.
Elon Musk wants to increase Tesla to extreme size
The second Master Plan is therefore not yet completed. Still, Elon Musk says he's already working on a third Master Plan. He is already lifting the corner of the curtain on Twitter. While 'scaling up to extreme size' isn't exactly new, let alone the unexpected, plan from Tesla. For example, the company has been building Gigafactory's for a long time and was even allowed to open the first one European factory open in Germany.
Elon Musk's new plan is reportedly targeting them as well Tesla Bot. Last year, Elon Musk said he was working on a humanoid robot named "Optimus" internally. The robots will be 1.72 meters tall, weigh 57 kg and will have a screen as a face. Whether this ambitious plan is ultimately the EV manufacturer's Master Plan, the future will tell.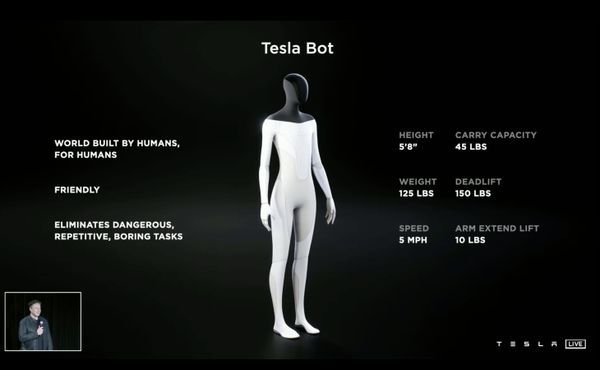 Did you see the mistake? Send us an email. We thank you.
//SETTING VARIABLES var wpk_tags = dataLayer[0].Tags; if (wpk_tags != undefined) { var wpk_tags_array = wpk_tags.split(','); }else{ var wpk_tags_array = []; }
var sales_keywords = dataLayer[0].sales_keywords; if(sales_keywords == undefined){ sales_keywords=""; }else{ sales_keywords = sales_keywords.replace(/_/g, ''); sales_keywords = sales_keywords.replace(/&/g, '_'); sales_keywords = sales_keywords.replace(/&/g, '_'); }
if (typeof dataLayer[0].Site !== 'undefined') { var site_name = dataLayer[0].Site.toLowerCase(); }else{ var site_name=""; }
site_name = site_name.split(".");
//SETTING VARIABLES
var script = document.createElement("script"); script.src = "https://shared.mediahuis.be/cxense/cxense.autovisie.min.js"; script.type = "didomi/javascript"; script.setAttribute('data-vendor','iab:412');
console.log('ads: '+deniedConsent.indexOf('create_ads_profile')); console.log('content: '+deniedConsent.indexOf('select_personalized_content'));
if(deniedConsent.indexOf('create_ads_profile') < 0 && deniedConsent.indexOf('select_personalized_content') < 0){ document.head.appendChild(script); console.log('load cxense!!!'); }else{ console.log('NOT load cxense!!'); } if (dataLayer[0].show_banners == 1) { // console.log('fillSlots'); setTimeout(function(){ fillSlots(); }, 1000); } if(deniedConsent.indexOf('social_media') < 0){ var y = document.getElementsByClassName("social-media-no-consent-box"); var i; for (i = 0; i < y.length; i++) { y[i].style.display = "none"; } var x_fb_post = document.getElementsByClassName("fb-post-no-consent"); while(x_fb_post.length > 0) { x_fb_post[0].className = "fb-post"; }
var x_fb_video = document.getElementsByClassName("fb-video-no-consent"); var i; while(x_fb_video.length > 0) { x_fb_video[0].className = "fb-video"; }
var x_twitter = document.getElementsByClassName("twitter-tweet-no-consent"); while(x_twitter.length > 0) { x_twitter[0].className = "twitter-tweet"; }
var xi = document.getElementsByClassName("instagram-media-no-consent"); while(xi.length > 0) { xi[0].className = "instagram-media"; }
var script = document.createElement("script"); script.src = "https://platform.twitter.com/widgets.js"; document.head.appendChild(script);
var script = document.createElement("script"); script.src = "https://www.instagram.com/embed.js"; document.head.appendChild(script);
var script = document.createElement("script"); script.innerHTML = "window.instgrm.Embeds.process();"; document.head.appendChild(script);
var script = document.createElement("script"); script.src = "https://connect.facebook.net/nl_NL/sdk.js#xfbml=1&version=v8.0";
var facebookDiv = document.createElement('script'); facebookDiv.innerHTML =`window.fbAsyncInit = function() {FB.init({ xfbml : true, version : 'v5.0' });}; `; document.head.appendChild(facebookDiv);
var my_awesome_script = document.createElement('script'); my_awesome_script.setAttribute('src','https://connect.facebook.net/en_US/sdk.js'); my_awesome_script.async="true"; my_awesome_script.defer="true"; document.head.appendChild(my_awesome_script);
}
} }
if (navigator.userAgent.toLowerCase().indexOf('cxensebot') != -1) {
loadAllScripts();
}