(Motorsport-Total.com) – Can Max Verstappen defend his world title again? Is Mercedes ahead again? And how is Nico Hulkenberg doing on his return? We still cannot provide answers to these questions about the 2023 Formula 1 season. But: In this article we explain everything you should know about the new racing year before the season starts!
Formula 1 starts in Abu Dhabi: The race for the 2023 season should be run
zoom
Because a lot has happened: That Technical regulations was revised in detail, the Formula 1 calendar was rebuilt. And a few driver changes will also bring a breath of fresh air to the 2023 season. But first things first…
Who are the drivers in the 2023 Formula 1 season?
Defending champion Verstappen will also race for Red Bull in 2023. With Sergio Perez he has the same teammate for the third year in a row. This is also the starting position for Ferrari, there with Charles Leclerc and Carlos Sainz, who have also been working side by side since 2021.
At Mercedes, Lewis Hamilton and George Russell are heading into their second season together as a stable partner, as are Valtteri Bottas and Guanyu Zhou at Alfa Romeo.
For other teams, on the other hand, much has changed ahead of the 2023 season. Sebastian Vettel gave the nod when he announced his retirement in the summer of 2022, after which Fernando Alonso moved to Aston Martin to take Vettel's seat there for 2023. Team owner Lance Stroll he will keep his cockpit for another year.
At Alpine, Pierre Gasly succeeds Alonso and becomes Esteban Ocon's teammate. Nyck de Vries, the former Formula E World Champion, will take over the vacancy at AlphaTauri. He will make his debut as a regular Formula 1 driver in 2023, after making his Grand Prix debut at Monza in 2022, as a substitute at Williams.
And Oscar Piastri, another newcomer to Formula 1 joins the field. The former Alpine Junior will drive for McLaren in 2023 as Lando Norris' teammate. That was the decision of the FIA ​​jury after Piastri was previously appointed by Alpine as Alonso's successor.
Incumbent McLaren driver Daniel Ricciardo has not secured a regular seat for 2023 and is taking a step back to the second row at his former team Red Bull, where he will work as a test and reserve driver in the future.
Meanwhile, Hülkenberg is once again taking up a full-time role at Haas alongside Kevin Magnussen. Hülkenberg competed in a full Formula 1 season in 2019, while still with Renault. Since then he has been a substitute for Racing Point and Aston Martin for a total of four races, replacing regular drivers. 2023 is his tenth full season in Formula 1.
---
Photo gallery: Formula 1 drivers 2023
Thus, Hulkenberg chased down his fellow German Mick Schumacher, who after two years with Haas has not received a new regular driver contract. Former Williams driver Nicholas Latifi has also lost his Formula 1 cockpit, instead, Formula 1 newcomer Logan Sargeant will drive in 2023 alongside Alexander Albon at Williams.
When will the Formula 1 cars be delivered for 2023?
All ten teams have now announced a launch date. However, not everyone will show off their new car. Some teams are only presenting their 2023 model. However, the cars will be seen for the first time in winter testing soon. Here is the full list:
January 31: Haas (VF-23) * Design presentation
February 3: Red Bull (RB19 / New York)
February 6: Williams (online) * Design presentation
February 7: Alfa Romeo (C43 / Zurich)
February 11: AlphaTauri (AT04 / New York) * Design presentation
February 13: McLaren (MCL37)
13 February: Aston Martin (AMR23 / Silverstone)
February 14: Ferrari
February 15: Mercedes (W14)
16 February: Alpine (A523/London)
When will the 2023 Formula 1 winter testing take place?
Winter testing ahead of the 2023 Formula 1 season will take place at just one track, from 23 to 25 February at the Bahrain International Circuit near Sachir in Bahrain. There are three test days, each with eight hours of driving, and only one car is allowed per team. Therefore, a typical Formula 1 driver should spend an average of one and a half driving days in preparation. (Check all test dates and test results at our test center!)
What does the Formula 1 calendar look like for 2023?
The new Formula 1 season will start on March 5, 2023 with the Bahrain Grand Prix at the Bahrain International Circuit in Sachir and end on November 26, 2023 with the Abu Dhabi Grand Prix at the Yas Marina Circuit.
With 23 World Championship races, the 2023 Formula 1 calendar is the largest in the history of Formula 1. However, as it has been since 2020, Germany is no longer represented on the racing calendar. Austria, Belgium and the Netherlands are served by three neighboring countries from neighboring countries.
Due to the ongoing measures against the corona virus in China, the China Grand Prix will also be canceled in the 2023 Formula 1 season. Meanwhile, the Qatar Grand Prix is ​​a permanent fixture on the calendar, while the Las Vegas Grand Prix is ​​an addition. new.
---
Official F1 in Las Vegas: first details
The rumor has come true: From 2023, the third Formula 1 USA race will take place in the gambling paradise of Las Vegas. More Formula 1 videos
There have been minor changes in the dates of the Azerbaijan Grand Prix and the Belgian Grand Prix: in 2023 both races will be held a few weeks earlier than before, namely in April instead of June (Azerbaijan) and in July instead of August (Belgium).
There are also a total of six races, three more than the 2022 season. The venues for the 2023 Formula 1 race have already been determined.
What are the rule changes for 2023?
The most significant changes to the technical regulations came into force in Formula 1 in early 2022. For the 2023 season, the details will be revised, especially on the bottom: this should now be raised by 15 millimeters. In this way, those involved want to deal with what is known as bouncing or porpoising.
Interesting: Initially, the rule change should lead to an increase of 25 millimeters. However, the Formula 1 teams spoke against it, which is why a compromise solution was reached for 2023.
The higher bottom is intended to reduce vertical deflection and thus also reduce the safety risk, after drivers are literally shaken by the launch in the 2022 season, especially in the first third of the season.
The dimensions of the underbody are also strengthened so that the understructure does not bend too much during driving.
As a result of Alfa Romeo driver Zhou's fatal accident at the 2022 British Grand Prix at Silverstone, the back of the driver's head has been reinforced. The device must also be rounded so that the roll bar digs a little into the ground in the event of a rollover. Construction should be more resilient overall in 2023.
Every car must be fitted with large rear-view mirrors in the 2023 season so that drivers in the cockpit have a good rear view. Some teams have already tested the new glass dimensions on training rides. Instead of 150 x 50 mm, rear-view mirrors with a size of 200 x 60 mm will have to from 2023.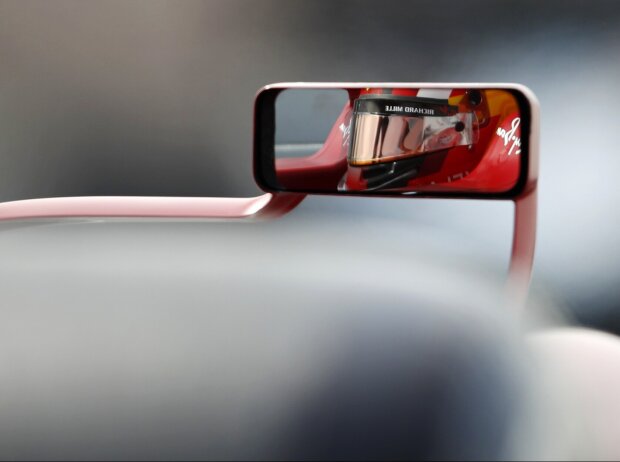 © Sports Pictures
Rear-view mirrors for Formula 1 cars will have to be bigger in 2023 zoom
According to the proposed financial regulations, the maximum budget per team and year for the 2023 season will be reduced by five million US dollars to the current 135 million dollars or around 128 million euros.
However, this amount is based on the calendar of 21 races. A further 1.2 million US dollars should be estimated for each of the two additional Grands Prix, i.e. equal to 2.3 million euros in total.
What rules will apply to aerodynamic testing in 2023?
In Formula 1, the better a team did in the previous season's constructors' championship, the less time the team gets in the new season for tests in the wind tunnel or calculations using virtual simulation programs.
The basic values ​​are as follows: 320 measurements of the wind path, with the test starting when the wind speed rises above 5 meters per second and ending when the wind speed is below 5 meters per second; for 80 hours, measurements can be made at a speed of more than 15 meters per second; total time in the wind tunnel is 400 hours.
Important to know: Last season's winner in the constructors' championship is awarded 70 percent of these values, so he has to work according to the reduced values. The last position in turn can use 115 percent, so it gets more profit for promotion.
In 2022, Red Bull was found to have breached financial regulations for the 2021 season. The team overspent by around two million euros. The result was a fine of about seven million euros and a ten percent reduction in space trials in the 2023 season.
That means: Red Bull, as the winner of the 2022 Constructors' Championship, is only allowed 70 percent of the time to develop aero according to the regulations. Another 10 percent is deducted from this 70 percent. This means the team will drop 63 percent in 2023.