(Video: Talpa / SBS6)
Although our earlier posts about the sale of Rolls Royce and its large camp would make you think that Massa is not doing very well, Cashier star Peter Gillis, on the contrary is true. This message is about Mër Massa is Kassa because the holiday gardener is receiving his brand new and fastest Rolls Royce in these photos. The Cullinan Black Badge is the coolest Rolls of the moment.
The reality star bought the luxury car at the same time as the Ferrari 812 GTS. He paid 1 million euros for the two cars together.
Peter Gillis has the fastest Rolls-Royce Cullinan
The Rolls-Royce he bought is not the 'ordinary' Cullinan, but the Black Badge of a sportsman. In addition to the 22-inch wheels, red brake calipers and black details, Massa's version is Kassa's popularity stronger than its chrome-plated brother.
Under the hat of Peter Gillis' Rolls-Royce Cullinan you will find a soft silky running V12 with a 6.75 liter transmission. This twelve cylinder produces 600 hp and 900 Nm of torque. That is 29 hp and 50 Nm more than the standard variant.
A luxury luxury car for the masses is the star of Kassa
The Behemoth weighs 2,753 kilograms but can still finish zero to 100 runs in 4.9 seconds. Acceleration stops only when the limit intervenes at 250 miles per hour. To bring Cullinan to a safe haven from that speed, the Rolls-Royce upgraded the brakes of a moving cage.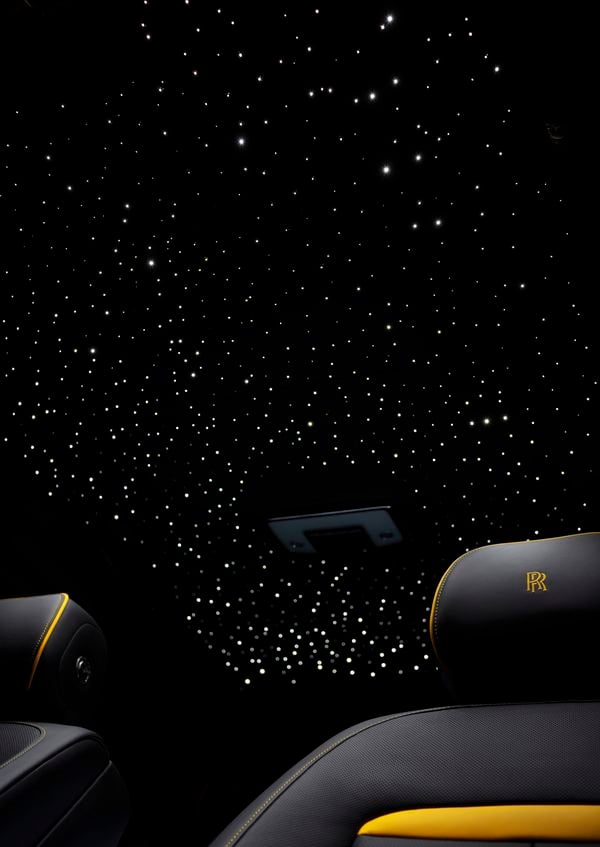 Rolls-Royce calls Cullinan's Black Badge 'King of the Night'. By this they refer not only to the appearance of the car, but also to the interior. Peter Gillis will soon have a starry sky above his head, made up of 1,344 individual lights.
This is what makes the latest Rolls-Royce Ghost so special – Sjoerds Truth # 208
But where information buys, something must happen again. A few days ago, Thijs Timmermans – where Massa is a Cashier star also bought his new Cullinan – released his 'old' Rolls-Royce Phantom. Peter Gillis also sells his 9.2-meter camp.
Did you notice the error? Email us. We thank you.
Video

Jana†

For rear arrangement, Chevrolet Corvette C8 | The Truth of Sjoerds 302

Information

Jana†

Are you going on vacation? Beware of the longest traffic jams during dark Saturday

Information

Jana†

Research: women prefer gasoline, men hybrid

Information

Jana†

The seven-seat Toyota Highlander has been updated

Information

Jana†

Volkswagen Phaeton almost got a successor

Information


7 July 2022†

Audi RS3 getting worse: ABT RS3 R

Information


7 July 2022†

Why Bentley Fits 'Flight Seats' in Bentayga EWB

Information


7 July 2022†

Ford Ranger finds new competitor: Volkswagen Amarok

Information


7 July 2022†

Hyundai are making fun of the attractive model, is this the new coupe?

Information


7 July 2022†

Who are the best drivers, men or women?

Information


July 6, 2022†

Someone drives a BMW 7 Series 1650+ km from London to Madrid in a tank

Information


July 6, 2022†

Road price: for these 3 tips you are out as cheap as possible
var deniedConsent = tc_vars.didomiPurposesConsentDenied; if(deniedConsent.indexOf('cookies') == -1){
//SETTING VARIABLES var wpk_tags = dataLayer[0].Tags; if (wpk_tags != undefined) { var wpk_tags_array = wpk_tags.split(','); }else{ var wpk_tags_array = []; }
var sales_keywords = dataLayer[0].sales_keywords; if(sales_keywords == undefined){ sales_keywords=""; }else{ sales_keywords = sales_keywords.replace(/_/g, ''); sales_keywords = sales_keywords.replace(/&/g, '_'); sales_keywords = sales_keywords.replace(/&/g, '_'); }
if (typeof dataLayer[0].Site !== 'undefined') { var site_name = dataLayer[0].Site.toLowerCase(); }else{ var site_name=""; }
site_name = site_name.split(".");
//SETTING VARIABLES
var script = document.createElement("script"); script.src = "https://shared.mediahuis.be/cxense/cxense.autovisie.min.js"; script.type = "didomi/javascript"; script.setAttribute('data-vendor','iab:412');
console.log('ads: '+deniedConsent.indexOf('create_ads_profile')); console.log('content: '+deniedConsent.indexOf('select_personalized_content'));
if(deniedConsent.indexOf('create_ads_profile') < 0 && deniedConsent.indexOf('select_personalized_content') < 0){ document.head.appendChild(script); console.log('load cxense!!!'); }else{ console.log('NOT load cxense!!'); } if (dataLayer[0].show_banners == 1) { // console.log('fillSlots'); setTimeout(function(){ fillSlots(); }, 1000); } if(deniedConsent.indexOf('social_media') < 0){ var y = document.getElementsByClassName("social-media-no-consent-box"); var i; for (i = 0; i < y.length; i++) { y[i].style.display = "none"; } var x_fb_post = document.getElementsByClassName("fb-post-no-consent"); while(x_fb_post.length > 0) { x_fb_post[0].className = "fb-post"; }
var x_fb_video = document.getElementsByClassName("fb-video-no-consent"); var i; while(x_fb_video.length > 0) { x_fb_video[0].className = "fb-video"; }
var x_twitter = document.getElementsByClassName("twitter-tweet-no-consent"); while(x_twitter.length > 0) { x_twitter[0].className = "twitter-tweet"; }
var xi = document.getElementsByClassName("instagram-media-no-consent"); while(xi.length > 0) { xi[0].className = "instagram-media"; }
var script = document.createElement("script"); script.src = "https://platform.twitter.com/widgets.js"; document.head.appendChild(script);
var script = document.createElement("script"); script.src = "https://www.instagram.com/embed.js"; document.head.appendChild(script);
var script = document.createElement("script"); script.innerHTML = "window.instgrm.Embeds.process();"; document.head.appendChild(script);
var script = document.createElement("script"); script.src = "https://connect.facebook.net/nl_NL/sdk.js#xfbml=1&version=v8.0";
var facebookDiv = document.createElement('script'); facebookDiv.innerHTML =`window.fbAsyncInit = function() {FB.init({ xfbml : true, version : 'v5.0' });}; `; document.head.appendChild(facebookDiv);
var my_awesome_script = document.createElement('script'); my_awesome_script.setAttribute('src','https://connect.facebook.net/en_US/sdk.js'); my_awesome_script.async="true"; my_awesome_script.defer="true"; document.head.appendChild(my_awesome_script);
}
} }
if (navigator.userAgent.toLowerCase().indexOf('cxensebot') != -1) {
loadAllScripts();
}