"We are deeply concerned about Russia's invasion of Ukraine and the safety of the Ukrainian people. It starts immediately. Ford is suspending operations in Russia and taking steps to support the Global Giving Ukraine Relief Fund," Jim Farley, head of Ford Motor Company USA, wrote on Twitter.
Farley included a statement from the group under his post. "As a member of the international community, Ford is very concerned invasion of Ukraine and threats to peace and stability. The situation forced us to reevaluate our actions in Russia"- is emphasized in the company's announcement.
See also: Talks with Putin? "This is an appearance game"
Ford planned to withdraw from Russia. He hastened the decision
As indicated, Ford has made significant progress toward winding down its Russian operations in recent yearswhich is currently focused exclusively on car production and sales in Russia through a minority stake in the Sollers Ford joint venture.
As a result, today we have informed our joint venture partners that we are suspending all operations in Russia immediately until further notice, reported Ford Motor Company.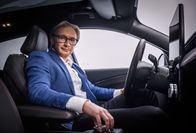 The company emphasized that although it does not have significant operations in Ukraine, many Ukrainian employees work for Ford around the world and "will continue to support them".
Wednesday is the seventh day of Russia's invasion of Ukraine. The authorities of the Russian Federation describe their activities as a "special military operation". In relation to Russia's armed attack, many countries and businesses around the world have imposed economic and political sanctions on Russia.

Rate the quality of our articles:
Your feedback helps us create better content.
Source: