Bad situation at Red Bull after qualifying for the Hungarian Formula 1 GP: Too little performance from Max Verstappen, criticism of Sergio Perez.
Furious, Max Verstappen (24) stormed out of the pit through the paddock at the Red Bulls Energy Station after qualifying for the Hungarian Grand Prix. To be safe, he preferred not to take off his helmet, as if he was protecting those around him from verbal mistakes.
The reigning champion only starts the race at the Hungaroring from tenth place. Reason: Loss of power before the final round of decisions.
Verstappen was angry: "It's sad, because yesterday's changes were very good, the car was better in handling and in a track that doesn't suit us. At least that's very positive for the whole year, that everything is going well. But of course I wanted to be at least in third best here. We definitely had his pace. Unfortunately, a little problem came and now we are in tenth place."
The last time Verstappen had to start from so far back: 2020 at the Russian GP. After an engine change, he started from 20th place on the grid. "Of course it can be difficult now if you get stuck there," fears the Dutchman ahead of the Hungaroring race, where his World Championship rival Charles Leclerc (Ferrari) is fighting from third place. "Hopefully that won't be like that for too long tomorrow, I have to calm down and take a step forward."
After all: The Red Bull star has not been given an engine penalty. "We think we know what it is, and the exchange of this part is possible without penalty," reveals Red Bull sports consultant Helmut Marko on Sky Germany. "But Singapore, Monte Carlo and here – those are the three courses you wouldn't want that on."
Red Bull boss Marko fights with Perez
Red Bull would like a weak number two at least. Because instead of jumping on Verstappen's break, Sergio Perez also fails. The Mexican even missed the top ten, then complained that Kevin Magnussen (Haas) was holding him back.
Grazer Marko does not accept that, he demands more speed from Perez: "He is too far from Max at the moment. We have to stay together. He should stick more to Max's car in the setup again."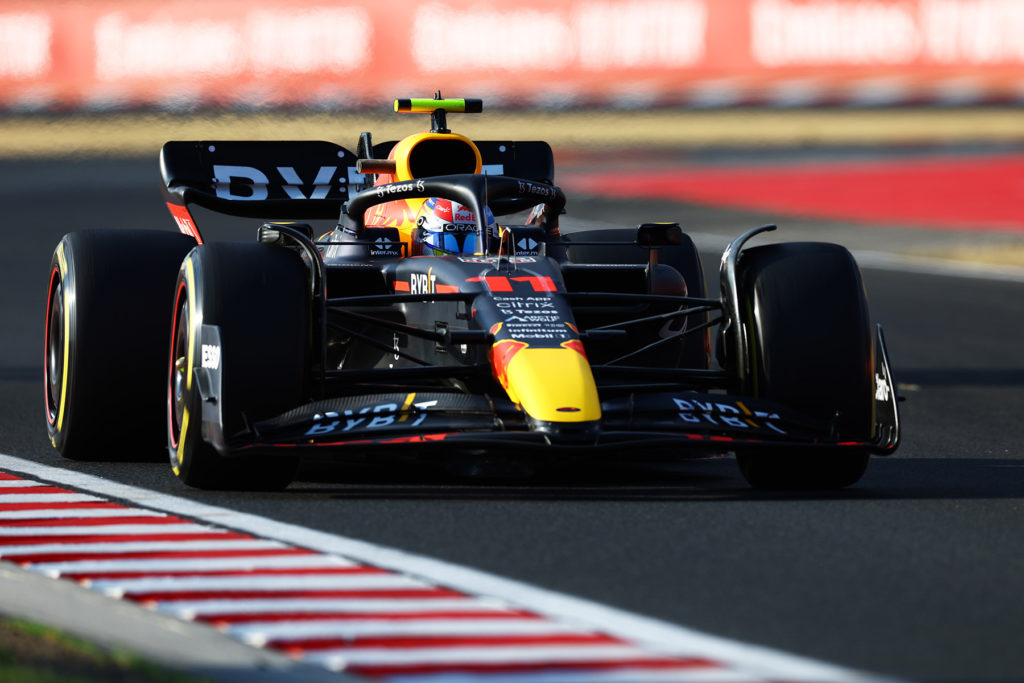 One thing is certain: Perez is not having an easy time in Formula 1 at the moment. After his victory in Monaco, he reached eleven points ahead of Verstappen and was suddenly considered an equal rival. The new cars seemed to suit him better than the Dutch champion. After fourth place in France, Perez is now 70 points behind his teammate.
The two mistakes that befell him in the last four races (crash with Russell in Austria, gearbox damage in Canada) are to blame. Meanwhile, Red Bull seems to have tuned the RB18 more to Verstappen's liking.
Perez: "We have developed the car and the set-up and maybe we lost a bit of direction. The next four races will be decisive for the world championship." The starting position in the Hungarian GP is very bad.
FOLLOW US YOUTUBE!
This is F1-Insider.com
System 1 on TV
In 2022, Formula 1 will run on Sky. Last year, the broadcaster launched a new TV channel specifically for the first class: Sky Formula 1. Here there is motorsport 24 hours a day. All practice sessions, all qualifying sessions, all races are live and without commercial breaks. Historic races and special programs are also on the program.
Formula 1 Hungarian Grand Prix
Qualifying results:
1. George Russell (England) – Williams 1:17.377 min.
2. Carlos Sainz Jr. (Spain) – Ferrari +0.044s
3. Charles Leclerc (Monaco) – Ferrari +0.190
4. Lando Norris (Great Britain) – McLaren +0.392
5. Esteban Ocon (France) – Alpine +0.641
6. Fernando Alonso (Spain) – Alpine +0.701
7. Lewis Hamilton (England) – Mercedes +0.765
8. Valtteri Bottas (Finland) – Alfa Romeo +0.780
9. Daniel Ricciardo (Australia) – McLaren +1.002
10. Max Verstappen (Netherlands) – Red Bull +1.446
11. Sergio Perez (Mexico) – Red Bull 1:18.516
12. Zhou Guanyu (China) – Alfa Romeo 1:18.573
13. Kevin Magnussen (Denmark) – Haas 1:18.825
14. Lance Stroll (Canada) – Aston Martin 1: 19.137
15. Mick Schumacher (Gland/Switzerland) – Haas 1:19.202
16. Yuki Tsunoda (Japan)—Alpha Tauri 1:19.240
17. Alexander Albon (Thailand) – Williams 1: 19.256
18. Sebastian Vettel (Heppenheim) – Aston Martin 1:19.273
19. Pierre Gasly (France) – Alpha Tauri 1:19.527
20. Nicholas Latifi (Canada) – Williams 1:19.570
Formula 1 driver classification
Status after 12 of 22 races:
1. Max Verstappen (Netherlands) – Red Bull 233 pts.
2. Charles Leclerc (Monaco) – Ferrari 170
3. Sergio Perez (Mexico) – Red Bull 163
4. Carlos Sainz Jr (Spain) – Ferrari 144
5. George Russell (England) – Mercedes 143
6. Lewis Hamilton (England) – Mercedes 127
7. Lando Norris (England) – McLaren 70
8. Esteban Ocon (France) – Alpine 56
9. Valtteri Bottas (Finland) – Alfa Romeo 46
10. Fernando Alonso (Spain) – Alpine 37
11. Kevin Magnussen (Denmark) – Haas 22
12. Daniel Ricciardo (Australia) – McLaren 19
13. Pierre Gasly (France) – Alpha Tauri 16
14. Sebastian Vettel (Heppenheim) – Aston Martin 15
15. Mick Schumacher (Gland/Switzerland) – Haas 12
16. Yuki Tsunoda (Japan) – Alpha Tauri 11
17. Zhou Guanyu (China) – Alfa Romeo 5
18. Lance Stroll (Canada) – Aston Martin 4
19. Alexander Albon (Thailand) – Williams 3
Builder's Mark
1. Red Bull 396 pts.
2.Ferrari 314
3.Mercedes 270
4. Alpine 93
5. McLaren 89
6. Alfa Romeo 51
7. Here are 34
8. Alpha Tauri 27
9. Aston Martin 19
10. Williams 3