It is known that appearances are sometimes deceiving. But it is rarely so tempting to build a sports hard drive yourself. Read here how a talented mechanic transformed a twenty-year-old A4 into an authentically deceptive R8.
It all started with a wise decision. A sports car loving family man from New Brunswick, Canada was looking for a nice first car to drive for his daughter. A small off-the-shelf car would be very boring for father and daughter, but a little safety and half of the modern technology should still be there. You found what you were looking for and bought one Audi A4 B5 powerful and durable 1.8 liter turbo four cylinder with 180 hp and Quattro four-wheel drive.
The hobbyist creates one-of-a-kind personalized pieces for his daughters
So far the story seems like a firm decision of a loving family member. But a talented craftsman, who would like to remain anonymous (a name known to the editors), told us in detail about his unique talent: creative bodybuilding. Would you like some examples? The Canadian built his own race-ready car Porsche 914.6 for a modern designed hatchback – Ur-Cayman type. For his other daughter, he used DIY tools to build one that was no longer clean BMW E30 converted to M3 optics with flared mounts and true-to-original rear attachment. "The goal was to give my children a cool car that gave them the opportunity to improve their driving skills. I preferred to be a passenger in cars bought by their friends," explained the sports car enthusiast. A Toyota Previa apparently it wasn't enough space for him, so he voluntarily gave it the BMW X5 front fascia and christened the final product "X7" long before BMW launched the actual model.
The daughter's A4 didn't stay original for long either. "I noticed that a few years ago you could still buy cheap original R8 parts if they were slightly damaged. No one would think to repair an expensive sports car with bent parts," explains the builder. So first he got the front apron and radiator grille of a mid-engine sports car and gave the mid-size sedan a new face.
Shortly after, he noticed that the A4's wheelbase is a good three centimeters shorter than the R8's. This is how the creative idea came to transfer the silhouette of the R8 to the side of another A4, which was quickly bought for 700 dollars, and then use a saw to create a space for the new shape. An acquaintance welded him a solid cage from which the roof, side panels and engine compartment for the V10 were built. The builder accomplished this with mostly inexpensive used parts. Our colleagues from The American magazine "The Drive" reported at the end of July about the R8 clone: ​​"Years of work and loads of damaged R8 parts resulted in a car that is in many ways more interesting than The real R8 is."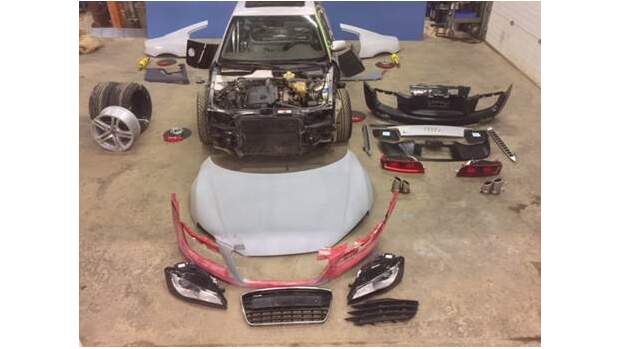 Fake brakes in original look
In order for the wheels not to look too lost in the voluminous wheel houses in the design of the R8, he decided on accessory rims that were exactly in line with the original in terms of size and shape. So that the road holding looks real, he put spacers. The Canadian made these from used R8 brake discs. "They were curved and also heavy, but together with the big brake pads they create a solid image," he explained. This fake brake was simply placed on top of the fixed A4 brake.
Such information can be found again and again. The base of the A4 is thinner than the R8, which is why some components had to be modified as inconspicuously as possible or had to be made from scratch. The practical builder quickly made the front air intakes himself with synthetic resin, cast in molds made from children's play dough. Cheap lamps were nowhere to be found, so he bought several damaged lamps and fitted them with homemade Lexan lenses and UV protection film.
The interior was not left untouched either. The moving gate of open character was for 3D printer to be remade. Instead of the expensive aluminum shift lever of the original, there is a modified cosmetic magazine from the bathroom department of the department store – of course with a change design and appearance to match. The sports steering wheel comes from the Audi TT, spiced up with a few extra buttons and the home-grown R8 badge, which in turn came from the S8.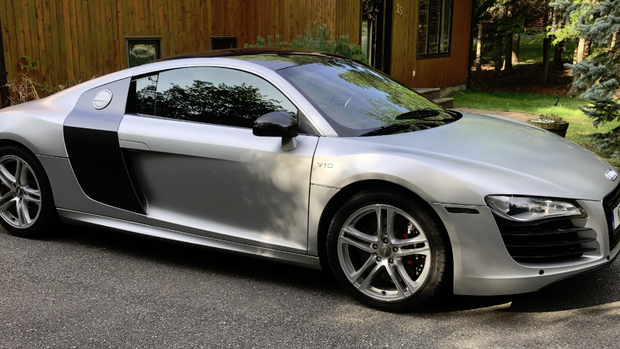 A hamster wheel like a car
The bottom line is that the fake was created with a total of five years of construction, which faithfully matches the original one that even owners of R8s usually fall for. "A lot of people think they're dealing with a real sports car," says one car owner. "It's only when I start the engine and start rolling inexplicably that the deception becomes clear. But then the interest is high." Of course, there is no trunk under the hood, but a brave, only slightly modified four-cylinder. So the fake R8 is missing six cylinders – so what's under the glass door? There is also a real imitation of the original engine for deception: a plastic cover. Underneath sits a self-sealing petrol tank, along with a small goodie that provides information about the car's true character. A hamster wheel with a mouse as the driving unit. "It's always fun to show people what my car is made of. That's when most of them will understand the meaning of the number plate "A4N2R8″, which is not obvious at first glance." The owner preferred not to increase the costs of this unique private construction. "I stopped doing math after buying a lot of car parts for about $3,200," he admits.
The artist's future plans include building an Audi Ur-Quattro based on the Ford Mustang from the 1980s.
Conclusion
A functional mobile car based on a modern car that has airbags, driving safety systems and all-wheel drive is a treat in itself. But let's be honest, projects like this often seem to be connected with a hot needle. Not so with this R8. According to the builder, the car has already fooled owners of original R8s. Despite the terrible sound of the exhaust, it cannot hide its nature in sound. The owner takes it with humor.
Credits to James Gilboy of "Save" for communication.