The Genesis G70 Shooting Brake drives for the first comparison test with the VW Arteon Shooting Brake. Both are recommended as an attractive middle-class alternative to the sedan and station wagon.
A classic station wagon is too boring for you, a sedan isn't practical enough and you criticize the creeping SUV boom? Then these two might suit your taste: The Genesis G70 Shooting Brake and the VW Arteon Shooting Brake, which meet in the first comparison test, stand out pleasantly from the general automotive public.
And despite the clean design language, including a coupe-like roofline, the utility value shouldn't be overlooked either way. But before we start, a few lines on Genesis: Hyundai's luxury brand debuted in Germany in 2021 – with five models. In the first comparative tests with German premium competitors, the luxury vehicles Genesis G80 and GV80 made a good start.
Genesis G70 Shooting Brake & VW Arteon Shooting Brake in a comparison test
While the 4.69-meter-long Genesis G70 Shooting Brake has a classic mid-class format, the VW Arteon Shooting Brake extends to an outer length of 4.87 meters, which is believed to be the class superior. In terms of space, this translates into a real class difference in favor of the Wolfsburg: If you sit in the front row of the Genesis, separated from each other by the unnecessarily wide and high center console and also close to the doors and B-pillars, the airy VW offers noticeably more freedom of movement in all directions.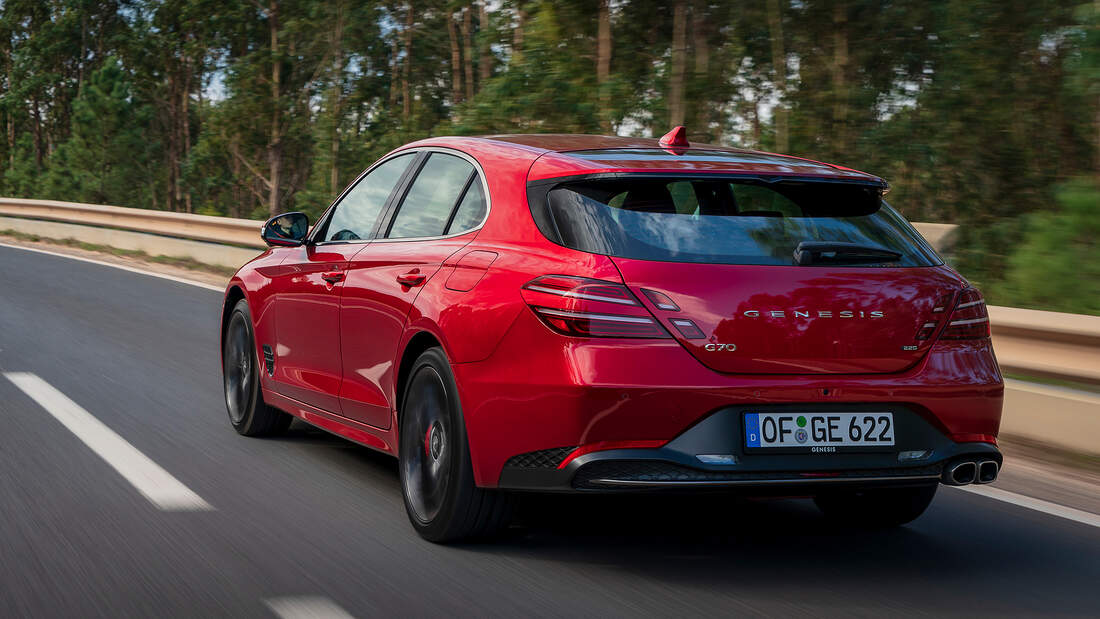 Access to Genesis's bottom is made more difficult by the smaller door cutouts. In terms of knee room, the Korean has less to offer than some compact cars, and you can't slide your feet under the low front seats. In contrast, Wolfsburg wins in the comparison test with gigantic legroom and greater interior width. The VW is also much better at transporting luggage and as a towing vehicle: the deep trunk has a capacity of 565 to 1632 liters (Genesis G70: 465 to 1535 liters), and with a payload of 554 kilograms, the Arteon overtakes his opponent by 117 kilograms.
Trailers can weigh up to 2.2 tons, while the Genesis G70 Shooting Brake can only pull a relatively meager 1500 kilograms. There is no reason to complain about the operation: the classic buttons on the steering wheel as well as the rotary controls and buttons for the air conditioning functions guarantee simple handling in everyday life.
Handling the touch fields of the steering wheel and the touch slider for the air conditioning of the VW Arteon Shooting Brake, on the other hand, requires tact and distracts more attention from what is happening on the road. Safety equipment is extensive here and there, but only the Wolfsburg offers the option of side airbags in the rear, headlights with fog function, or a full-fledged spare wheel.
Driving comfort: adaptive dampers are standard on the Genesis G70 Shooting Brake
The fact that four adults travel more relaxed in the VW Arteon Shooting Brake is not only due to the generous space. The chargeable ergo-comfort seats with integrated headrests are very comfortably padded and offer more support, especially in the shoulder area, than the narrower chairs of the Genesis G70 Shooting Brake, for which adjustable side bolsters are available on request.
Rear passengers sit in a low bench seat in the Korean with strongly bent legs, while their well-contoured counterpart in the Wolfsburg offers more effective thigh support. Plus, the VW's stately legroom makes for comfortable lounging on long drives. Genesis equips the G70 2.0T Plus with adaptive dampers as standard, while VW customers have to pay for them separately.
On the other hand, the Arteon's damper characteristics can be fine-tuned in 15 steps, and it offers a higher level of comfort, especially when empty: on the highway, it is noticeably quieter in the comparative test than the tighter and more nervous Genesis G70 Shooting Brake, whose structure is also able to withstand small bumps stimulate.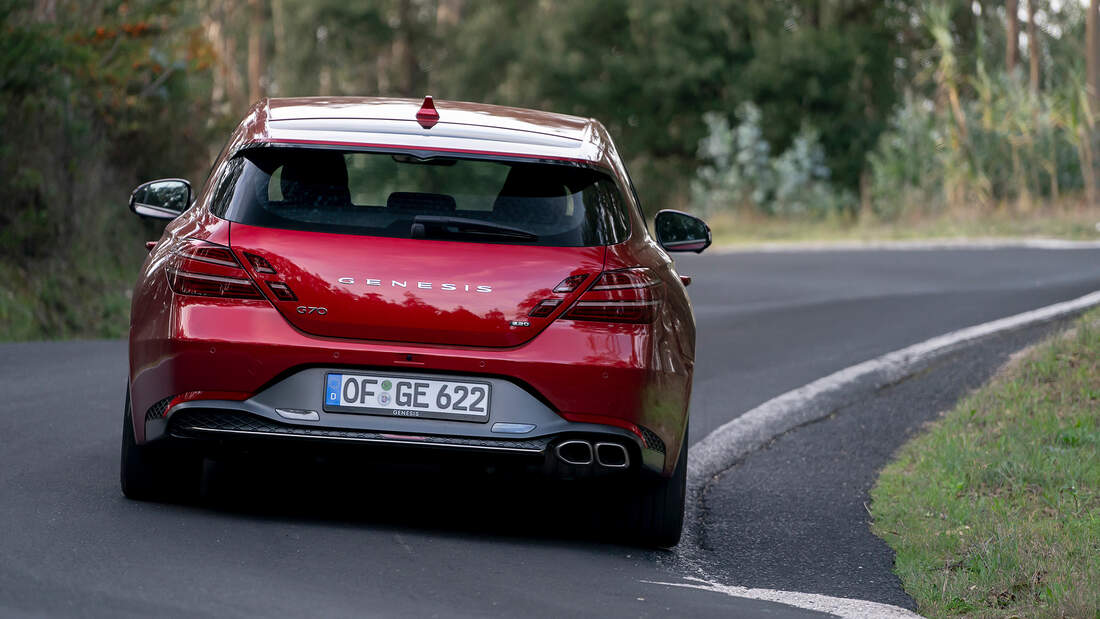 Despite the 20-inch tires of the test car, the VW Arteon Shooting Brake dampens noticeably at the edges, although one-sided excitations cause vertical movements of the rear axle. When fully loaded, the G70 has more reserves in extreme situations on bad pothole slopes, but it still feels a bit choppy on bumpy ground. Both competitors still have some catching up to do when it comes to soundproofing: The Arteon's frameless door windows, despite the optional acoustic glazing, ensure that wind noise is present at speeds above 150 km/ h. In Genesis, too, the wind clearly whistles around the exterior mirrors, and the 19-inch tires are particularly annoying with loud rolling noises on rough asphalt strips.
Anyone who suspects that Genesis has put a lively ride alongside the sporty G70 will be sadly disappointed: 245 hp and 353 Newton meters of peak torque from the longitudinally installed two-liter turbo petrol engine, which is only used in the Genesis G70 Shooting Brake 2.0 Group-wide T Plus AWD reads livelier than it looks: Koreans get off to a good start thanks to beefy starting torque in city traffic, respond spontaneously to gas commands and can rely on the transmission sovereign eight-speed automatic in every driving situation.
With a vehement gait, the turbo petrol engine is phlegmatic. The sprint to 100 km/h takes 7.3 seconds, and from 150 km/h the engine, which is not very easy to rev up, noticeably lacks air. The VW Arteon Shooting Brake 2. 0 TSI 4Motion with 35 hp more powerful is completely different: up to 100 km / h, the Wolfsburg-based vehicle, lighter by around 60 kg, has a lead of 2.1 seconds, a good four seconds before the bar 150 and reaches 180 km/h seven seconds earlier.
The transversely installed two-liter turbo with internal designation EA888 revs effortlessly up to 6500 rpm and feels at least 100 hp more powerful than its rival during intermediate sprints on the motorway or passing maneuvers on the roads of the country. When it comes to top speed, Lower Saxony, which can reach speeds of 250 km/h if necessary, also leads the pack.
Despite this temperament, the VW Arteon Shooting Brake 2.0 TSI 4Motion, which unlike the Genesis G70 Shooting Brake 2.0T Plus AWD, requires the more expensive Super Plus, is fuel-efficient: at 8.9 liters, it undercuts the Genesis' most-dated fuel consumption test of 10.9 liters by exactly two liters.
Together with the slightly larger tank, this gives a range of 742 kilometers (Genesis: 550 km). In the comparative test, the VW consumes about 12 liters per 100 kilometers on fast stretches of highway, while the consumption of the Genesis then climbs to a good 15 liters.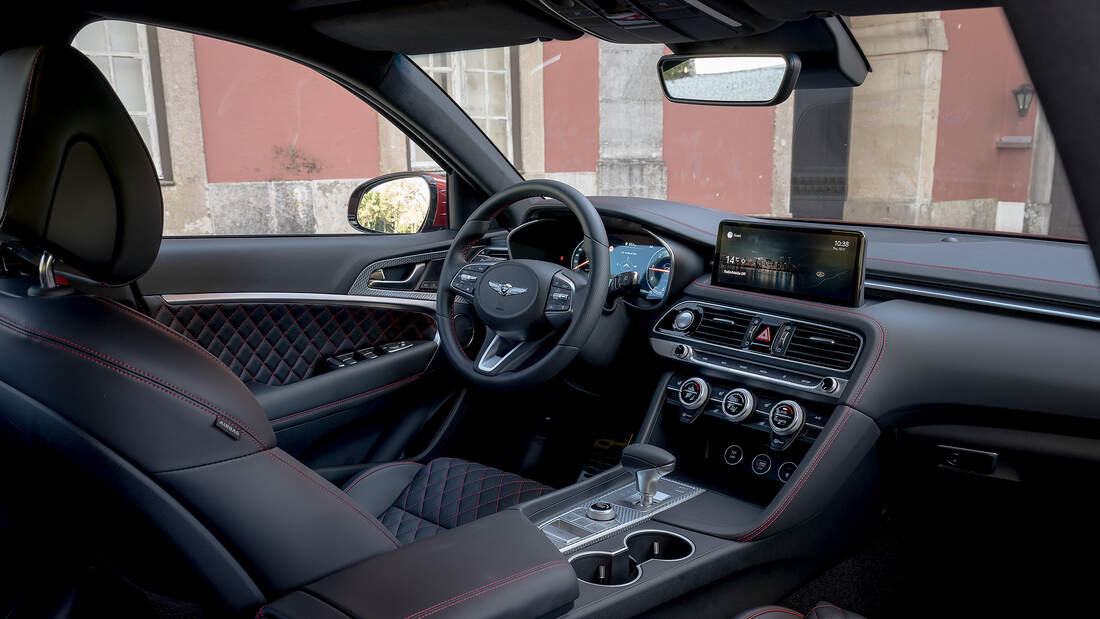 Driving dynamics: Lots of grips and direct steering with the Genesis G70 Shooting Brake
While the Genesis G70 Shooting Brake can't keep up with the VW Arteon Shooting Brake in terms of longitudinal dynamics, it really does perform well on the handling track: its sporty 19-inch mixed tires from Michelin harmonize closely with the asphalt, and the direct ratio steering defines changes of direction very well.
Ambitious and thanks to the taut suspension setting without a significant body roll, the Genesis launches into all sorts of curves. mainly thanks to his powerful drive, which he accelerates in intermediate sprints, and gives a clear lead on the straights. The 20-inch wheels also accumulate high lateral forces in the comparison test, the steering feel is pleasant and the VW does not lose its cool even at the limit.
Moreover, it decelerates more violently from 100 km/h with the cold and hot braking system and comes to a standstill about one meter ahead of its competitor. And while the Genesis G70 Shooting Brake transmits interference impulses through the steering in everyday life and often requires steering corrections on the highway, the VW Arteon Shooting Brake pulls its tracks more precisely.
In the test-relevant configuration, the Genesis G70 Shooting Brake 2.0T Plus AWD costs 6,900 euros less than its German rival and offers the most extensive warranty: while VW only grants a two-year technical warranty, Genesis has five. G70 customers are also satisfied with a pickup and delivery service for inspection appointments. The advantage of the VW Arteon Shooting Brake 2.0 TSI 4Motion in this comparison: is lower fuel consumption.
Measurements and technical data Genesis G70 Shooting Brake 2.0T Plus AWD & VW Arteon Shooting Brake 2.0 TSI 4Motion.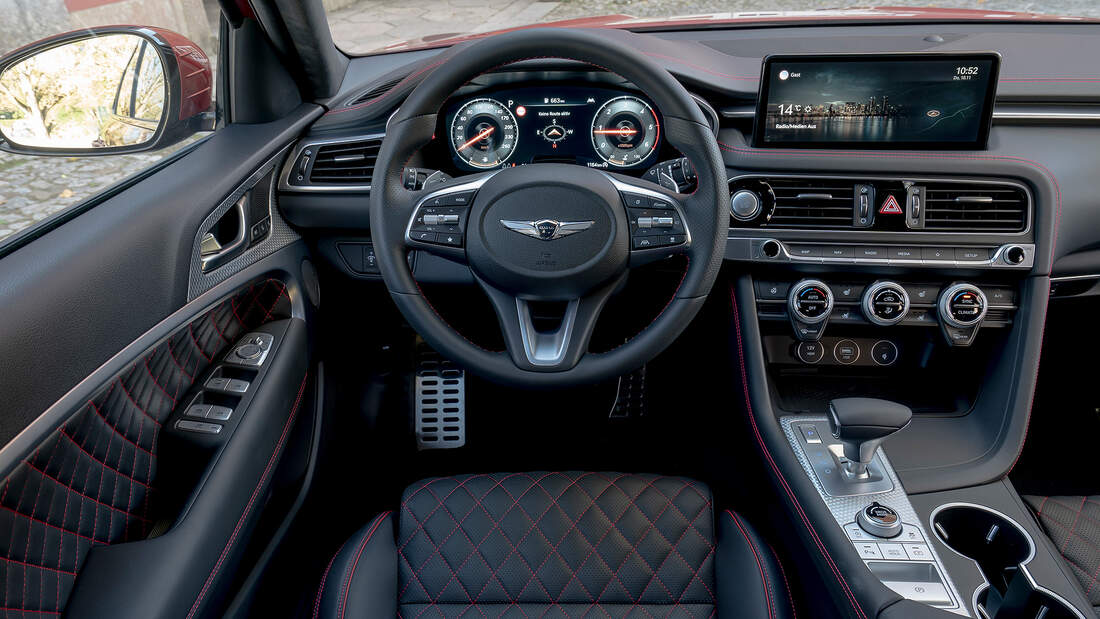 AUTO JOURNAL 03/2022
Genesis G70
Shooting Brake
2.0T Plus TI
VW Arteon
shooting brake
2.0 TSI 4Motion
Technology
cylinders/valves per cylinder.
4/4; turbo
4/4; turbo
shift
1998cc
1984cc
performance
180 kW/245 hp,
6200 rpm
206 kW/280 hp,
5000 – 6500 rpm
Max torque
353 Nm,
1450 – 3500 rpm
400 Nm,
2000 – 4900 rpm
transmission/drive
8-speed automatic /
four-wheel drive
7-speed dual-clutch /
four-wheel drive
readings
Curb weight (factory/test)
1713/1798kg
1676/1736kg
Acceleration 0-100 km/h (test)
7.3s
5.2s
Maximum speed (factory)
235km/h
250km/h
Braking distance from 100 km/h
cold/hot (test)
36.3/35.6m
35.5/34.6
Consumption per 100 km (test/WLTP)
10.9/9.1lp
8.9/8.4L SP
CO2 emissions (test/WLTP)
258/215g/km
211/200g/km
Prices
starting price
€49,690
€54,835
test car price
€52,550
€59,450
Score in points
An overall score (max points)
Genesis G70
Shooting Brake
2.0T Plus TI
VW Arteon
shooting brake
2.0 TSI 4Motion
Body (1000)
635
692
Driving comfort (1000)
700
733
Engine/Transmission (1000)
605
680
Driving dynamics (1000)
710
745
Trait Score (4000)
2650
2850
Cost/Environment (1000)
263
251
Rating (5000)
2913
3101
placement
2
1
In the first comparison test, the Genesis G70 Shooting Brake is clearly beaten by its rival: the Korean model is very narrow for a mid-range vehicle, especially at the rear, and also offers less space for luggage. The main point of criticism, however, is the phlegmatic and thirsty drive. Convincing on the other hand: driving characteristics, operation, price level, and guarantees.
The more expensive VW Arteon Shooting Brake took the undisputed victory in the test: it offers plenty of space for passengers and their luggage, is ahead in terms of driving comfort, and offers a much more convincing ride as it achieves significantly better driving performance with significantly lower fuel consumption.