Honda has launched the new Honda ZR-V. That is a mid-range hybrid SUV with a CVT automatic transmission and around 200 hp. Sound familiar? That's fine.
Toyota Corolla Cross is also a medium-sized SUV with hybrid technology, automatic CVT transmission and about 200 hp. Corolla Cross 2.0 has 197 hp, the presented Honda ZR-V now comes with 184 hp. We knew that ability before. Because the Honda ZR-V has been available for some time in America, but as the Honda HR-V.
Hooray! Big knuckles!
Because we already know the Honda HR-V in the Netherlands, the American HR-V for Europe has been named the Honda ZR-V and the SUV is positioned between the HR-V and the CR-V. Are you still following? The design is somewhat unknown, but that also applies to the Corolla Cross. In the interior we see a vertical central display (we also know that from Toyota), but fortunately also large rotary knobs for climate control.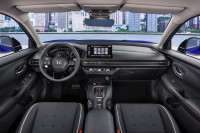 Have fun driving
So Honda HR-V is a direct competitor of Toyota Corolla Cross, but also Kia Sportage and Nissan Qashqai. The 2.0-liter four-cylinder gasoline engine is accompanied by two electric motors. The Honda ZR-V promises to be a fun-to-drive SUV in the C-segment, with Honda talking about a "light, rigid chassis that delivers the handling and agility of a sporty hatchback."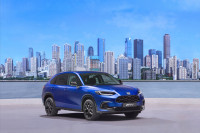 Honda ZR-V towing weight 750 kg
Honda says the ZR-V is aimed at young, fashion-conscious buyers looking for a stylish, powerful and fun vehicle that integrates seamlessly into their lives. But when you grow up, you don't care what others think about you. And if you are looking for a practical SUV weighing 750 kg, you can also knock on the door of a Honda dealer.
Want to be notified as soon as the Honda ZR-V is at the dealership?
Sign up for our free weekly newsletter!
Honda ZR-V delivery time
You can knock on the door of the Honda dealer from the autumn of 2023, because then the new Honda ZR-V will appear in the showroom. And to mention one more match with Toyota Corolla Cross: that suv can also tow exactly 750 kg. It's almost scary.