An automatic update for most users took place over the weekend. The current version of the app on Android TV is 2.1.1.
After launching the Player, subject categories, such as TV Shows, Episodes, Movies, Kids, are not displayed immediately. Below the images and descriptions of the day's most important productions, other recommended items from various content providers are displayed. For example, HBO (Popular content from HBO Max is now promoted and shown in several places), Eurosport, MTV, TVN, Player on Demand or Player Original.
Below are the categories "New", "Continue Watching", "Hotel Paradise All Stars Extra", "Popular in HBO Bundle", "New Movies in Your Bundle", "Warner Bros. 100th Anniversary." or "Discover Player".
In this category, you can find movies to rent (Player On Demand), learn about the possibility of buying access to HBO, Eurosport Extra or find content included in the Discovery+ library. Here are the categories: "Discover our movie collections", "Favorites", "New from HBO", "Original Player", "Your picks", "TOP 10", "Hits Discovery+", "Coming to Player", " Emotions live sports" (sports channels), "Series marathon", "Entertainment programs", "For the Younger", "The best package of Canal+", "News and current affairs", "Collection", " For the whole family ", "Required Movies", TV Channels" and "Discover the magic of pictures in 4K!". The following categories are available in the side menu: "Home", "Series", "Programs", "Movies", " News", "Eurosport Extra", "Sports", "TV Channels" and "More". In this category you can find TOP 10, Discovery+, HBO, For Children, Canal+ and Player International.
A new look for the TV program menu
The tab with live TV channels and TV program has been modified. If you want to watch what a certain channel is showing now, you can run the "live programs" option. We will then be shown large "tiles" with individual channel symbols, descriptions and images.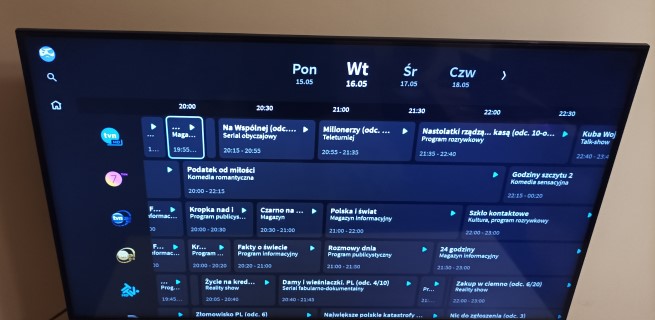 If you select "TV program", we see a small logo and description, we can also browse individual day schedules to play previously announced programs. Catch up TV still covers the week. In the fall of 2022, after one software update, there were problems with its operation, but the Player quickly implemented the update.
Three Warner Bros. Discovery streaming services in Poland
Starting February 14, Warner Bros. Discovery in Poland owns not only HBO Max and Player, but also the free service VOD.pl. The company bought the domain from Ringier Axel Springer Polska. The offer of the new system includes well-known productions from Player, Discovery+ or from external providers such as Paramount Global, Red Bull TV and Grupa Kino Polska/SPI International. There is no shortage of news programs "Fakty", magazines "Uwaga!", "Superwizjer" and old series (including "BrzydUla", "Agata's Law", "Most nad Sundem", "Magda M.", "39 and half "," Inverted", "Fall", "Mouth to mouth").
The offer also includes entertainment programs such as "Warsaw Shore", "Asia Express", "Master Chef", "Master Chef Junior", "Hotel Paradise", "Mam Talent!", "Mask Singer". Documentary fans can watch "Woman at the End of the World" by Martyna Wojciechowska, "Truck through Indonesia", "Truck through Route 66", "Truck through Africa", "Truck through Vietnam", "Truck through America " by David Andres. Recently, the program also works on Smart TV (including Android TV). Next year, the Max service will debut in Europe, replacing HBO Max. It will also include material from the Discovery+ library. In Poland, it is part of the Player.