The highly anticipated successor to the Lamborghini Aventador, internally referred to as the LB744, has once again been announced. The prestigious brand renowned for its unrivaled supercars has unveiled the carbon fiber architecture that will define the new supercar equipped with cutting-edge PHEV technology. The forthcoming model is set to make its debut in the not-too-distant future and is of equal significance to the celebrated Huracán Sterrato.
Lamborghini has followed the precedent of other manufacturers by providing more defined insights into their forthcoming innovation. The successor to the iconic Aventador, which has won over thousands of admirers worldwide despite its exorbitant price point, is now within arm's reach of being unveiled. The unveiling date for the highly anticipated supercar has already been confirmed.
Just recently, the esteemed Sant'Agata Bolognese brand revealed the first official sneak peek of their forthcoming model, which will replace the legendary Lamborghini Aventador and as is tradition, will have its own unique moniker. The manufacturer's first hybrid technology has been designed to provide over 1000 horsepower, boasting a powerful 6.5-liter atmospheric V12 engine complemented by three electric motors that have revolutionized the PHEV system to such an extent that the company has devised new terminology for it, known as "HPEV".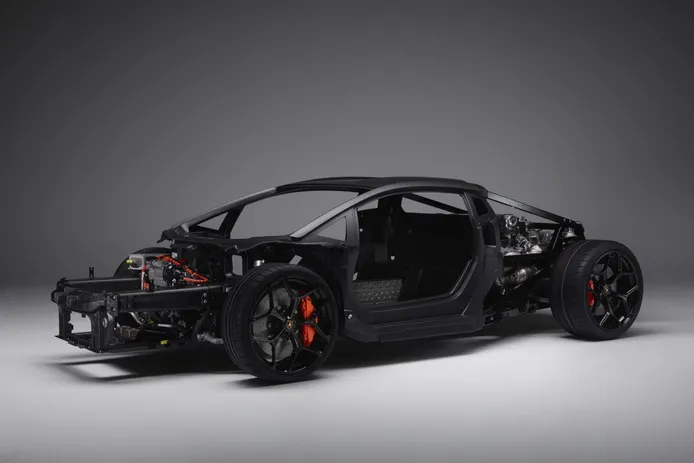 The successor to Lamborghini Aventador is made of CFRP
Lamborghini has unveiled the carbon fiber monocoque that will provide support for the body panels and the new transmission train of their latest offering, the "LB744". This chassis is incredibly unique due to its exceptional lightness and resistance, making it a critical component in providing maximum performance. Despite the 10% increase in rigidity, the technicians at the Italian brand have successfully subtracted weight to compensate for the additional weight added by the electric motors and battery. In order to achieve this feat, the manufacturer enlisted the expertise of aeronautics technology experts.
The successor to the Aventador, set to debut on March 29, boasts a chassis that seamlessly blends composite materials with a forged carbon front subframe attached to the main frame. The rear subframe is crafted from high-resistance aluminum and features two hollow sections in which the rear suspension turrets are installed.
The "Rocker Ring", which forms a piece with the rear pillar and windshield frames, is a security cell made from CFRP (plastic reinforced with carbon fiber) located within the passenger compartment. This provides support for the two oil-cooled axial flow front electric motors, which yield a maximum power of 220 kW (299 CV), and the rear electric motor, which allows for a short displacement in 100% electric mode and takes care of the reverse gear. The LB744 boasts an impressive 1,015 CV, making it a true beast destined to set new records in terms of both performance and sales, surpassing even the Aventador.