It seems that Hyundai Staria soon it will no longer be the only route to Asia Mercedes V-Class or for Volkswagen Multivan. Lexus, a subsidiary of Toyota, has announced that the next generation of its LM will also be sold in Europe.
Earlier, there was talk of the current generation Lexus LM crossover, but that didn't happen. On April 18, 2023, Lexus will unveil the successor of the 2019 model at the Shanghai Motor Show, and it will also target the European market.
It is not yet clear whether it will be a hybrid-only version, or whether the LM may also receive an all-electric variant to compete with Mercedes-EQV where Volkswagen ID.Buzz. Until the official presentation, we'll have to settle for the only teaser image that Lexus has sent out into the world.
big meat
Like the first generation, the new Lexus LM takes on the characteristics of a large MPV with a large, compact style. The brand's classic grille is still there while designers have tried to reduce the profile by marking the face with a "wave" that marks the separation between the front and rear seats. In addition, the floating roof adds a bit of lightness to this large silhouette which, however, benefits from sculpted sides. at the back, the V-shaped light line spans the entire width and is joined by a narrow light line for the third brake light… below the rear window. Of course, access on board is via standard front-opening doors and rear sliding doors, with the rear door opening vertically.
4 to 7 seats
The second generation of the Lexus LM will be available in two configurations offering 4, 6 or 7 seats. In the first case, the two rear passengers have captain's chair type seats with all the comfort of a limousine and will be able to enjoy a large 48-inch rear screen of the front seats and which is clearly not jealous. The latest BMW 7 Series. In addition, they are separated from the front by a partition that ensures their privacy. Lexus has paid special attention to silence on board by working in three areas: noise sources generated by the car (mechanical vibrations, etc.), sound insulation against external noise and internal noise skin.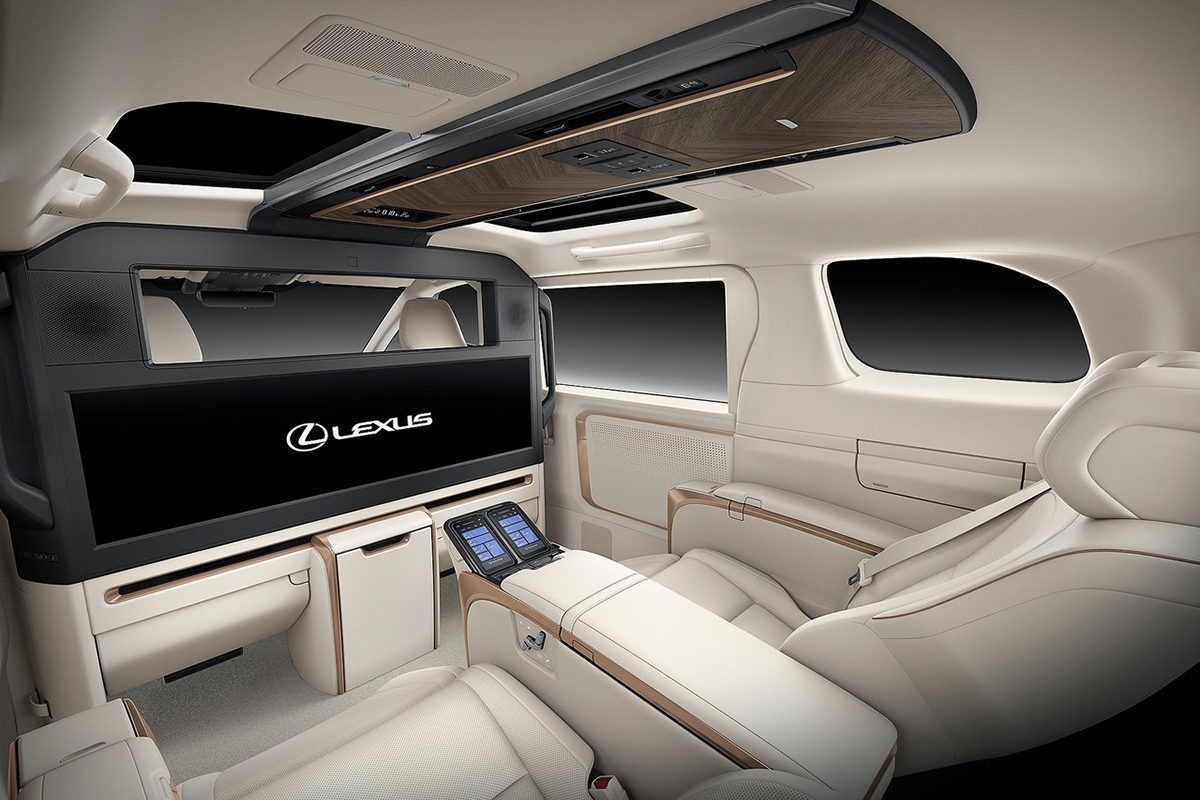 Hybrid only
Under the hood of this large-format minivan – called LM for Luxury Mover – it will be powered by a hybrid electric powertrain in European markets where it will be offered for the first time. Lexus talked about two possibilities: a 2.4-liter turbo four-cylinder or a naturally aspirated 2.5-liter 4-cylinder, both with electric power, without specifying the specifications of the two versions or indicating which would be used in Europe.