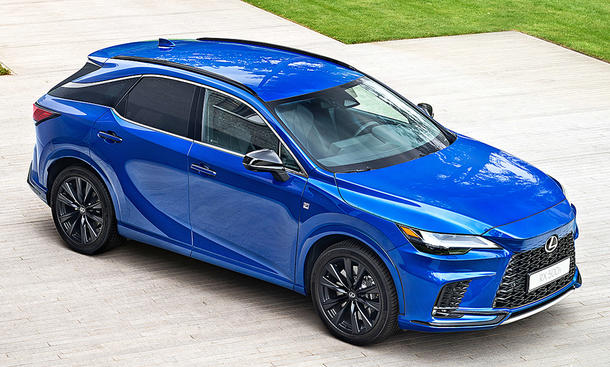 The fifth generation Lexus RX (2022) debuts as a turbo and plug-in hybrid. In addition to the 350h, 450h+ and 500h, there will also be an F Sport version. This is the price and result of the crash test.
Things are happening in quick succession at Lexus: After the plug-in hybrid NX and the all-electric RZ, the Toyota subsidiary presents its third new addition for 2022: the fifth generation of the luxury class SUV Lexus RX with prices starting from 68,650. euro (until December 2020). 2022). Here too, Toyota's premium subsidiary is increasingly focusing on electrification – in both senses of the word. For the first time, the RX is also available as a 450h+ plug-in hybrid with a system output of 306 hp (225 kW) and an electric range of around 65 km. Lexus specifies WLTP consumption as 1.2 liters per 100 km. Hybrid complete RX 500h provides more power with 371 hp (273 kW), which a turbocharged gasoline engine with a displacement of 2.4 liters and a six-speed automatic transmission is used for the first time. WLTP consumption: 8.2 liters per 100 km. Lexus also offers it as an extreme F Sport version including performance-oriented elements on the grille, apron and bumper. The entry-level engine in the full hybrid RX 350h inspires 245 hp (180 kW), which is transferred to the road through the front wheels via a CVT transmission. The other two variants have an additional electric motor on the rear axle and therefore all-wheel drive. Also interesting: Tips for our products on Amazon
Leslie & Cars driving the Lexus RX (2022) in the video:
Lexus RX (2022) price as 350h, 450h+ and 500h F Sport
In addition to the design that has been further developed according to Lexus and a redesigned interior with a 14-inch touch screen, the dimensions have also changed: the Lexus RX (2022) is 2.5 centimeters wider and one centimeter flatter than its predecessor. The length remains unchanged at 4.89 meters, but the wheelbase has increased by six centimeters. This benefits more legroom in the second row. Thanks to the newly designed tailgate, the loading space is five centimeters more than the current model. Lexus has not yet announced the amount of luggage, but it should be slightly larger than before (539 to 1612 liters). An optional digital rear-view mirror, a 360-degree camera and even a pre-recorded view of the ground beneath the vehicle ensure extra safety. There are also standard assistance systems, including a steering assist that helps with evasive maneuvers.
Lexus RX (2022) in crash test
In the Euro NCAP crash test, the Lexus RX (2022) gets five stars out of a possible five and has very good values ​​in all four categories. The testing agency rated adult and child occupant protection at 90 and 87 percent of possible points, respectively. Pedestrian protection – rated at 89 percent – and assistance systems (91 percent) are not inferior by any means to a good rating.
Also interesting: