The Maxus MIFA 9, the flagship minivan of the esteemed Chinese brand, has now made its grand debut in Europe, boasting an impressive price tag of approximately 70,000 euros. With a capacious interior capable of accommodating up to seven occupants, this vehicle exudes spaciousness and comfort.
Maxus, a renowned Chinese automotive powerhouse with British origins, has been making significant strides in the European market, particularly with its latest lineup of electric models. As a subsidiary of the automotive giant SAIC, Maxus has established an awe-inspiring array of vehicles on the Old Continent, poised to captivate discerning consumers.
In addition to its industrial offerings, Maxus has already commenced the European market penetration of the illustrious EUNIQ 5, an electric minivan boasting an impressive seven seats. This exceptional vehicle commands a starting price of 52,000 euros in Spain (or 39,900 euros when incorporating promotional incentives).
Recent attention has also been captured by Maxus with the introduction of the T90 EV, Europe's inaugural fully electric pickup truck, which is the third entrant in the remarkable Maxus lineup. And now, the focal point of our discussion, is the MIFA 9, a resplendent seven-seater minivan that transcends ordinary expectations.
The Maxus MIFA 9 stands as the elder sibling to the aforementioned EUNIQ 5, boasting impressive dimensions of 5.27 meters in length (compared to the latter's 4.87 meters) and a formidable wheelbase spanning 3.20 meters. Consequently, this grand vehicle offers a spacious interior unlike any other, featuring a luxurious 2-2-3 seating configuration.
The trunk of the MIFA 9 offers a voluminous cargo capacity of 1,010 liters, expandable to a remarkable 2,179 liters when the seat backs are conveniently folded down. Such generous dimensions make this minivan an ideal choice for unforgettable family excursions or even for efficient transportation services, such as airport-to-hotel shuttles.
During the first quarter, Maxus proudly registered 17 units of the MIFA 9 within the European market. With its impending availability for sale in Spain, the company anticipates the successful acquisition of one to two units. Notably, a couple of vehicles were already registered at the conclusion of last year, though they were primarily employed for exhibition purposes.
The Maxus MIFA 9 boasts formidable electrical mechanics, generating a robust power output of 180 kW (245 CV) and a torque of 350 Nm. Nestled within its core lies a substantial 90 kWh battery, translating into an impressive range of 435 kilometers in the WLTP combined cycle, with the potential to reach an astonishing 580 km in the urban cycle. It supports both alternating charging, capable of delivering up to 11 kW, and fast charging, enabling a remarkable 30 to 80 percent capacity replenishment in just 30 minutes.
In select European markets where it has already been introduced, the initial price of the Maxus MIFA 9 stands at a competitive 68,990 euros. However, this figure can escalate when considering the extensive array of available equipment options, which are plentiful and diverse.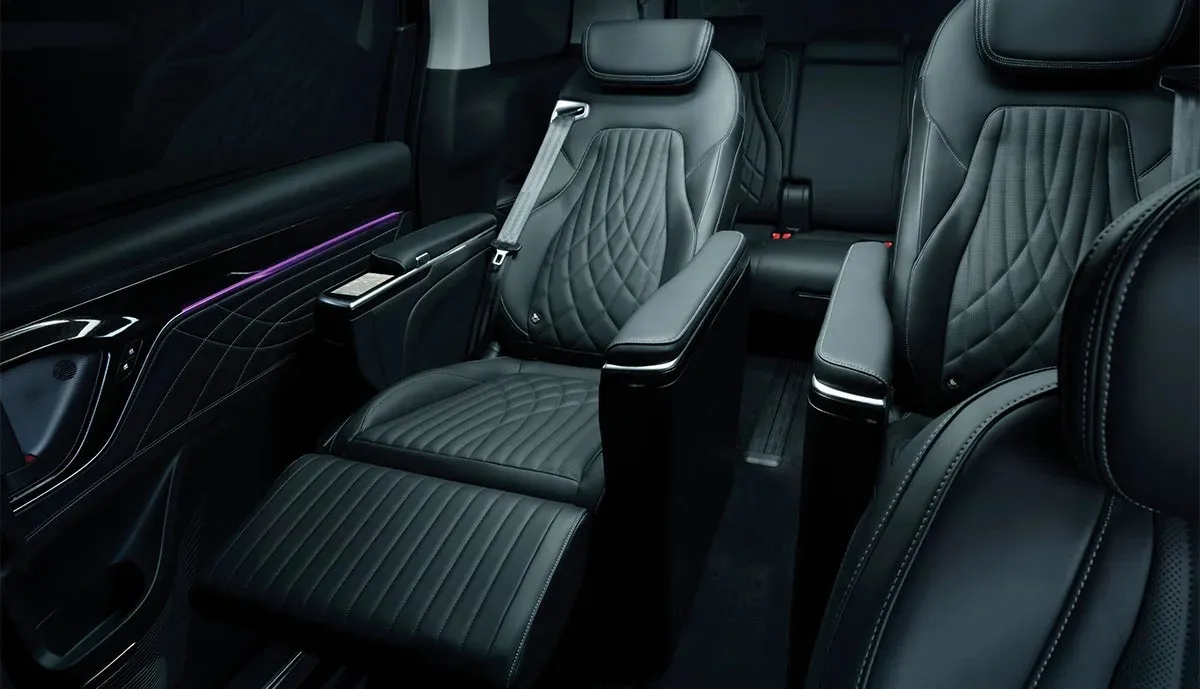 The comprehensive features of the Maxus MIFA 9 include a range of noteworthy standard components. The spacious interior is graced by a commanding 12.3-inch touchscreen, equipped with Apple CarPlay and QD-Link connectivity to ensure seamless integration. Moving to the second row of seats, passengers are greeted by individual seats that can be accessed through convenient side sliding doors. For enhanced comfort, optional seat configurations offer desirable amenities such as heating, ventilation, and massage functions.
In terms of safety and driving assistance, the Maxus MIFA 9 is equipped with an impressive array of features. These include a 360-degree vision camera, front and rear automatic climate control, light sensors, keyless entry system, heated exterior mirrors, adaptive cruise control, automatic emergency braking, lane departure warning and assistance, cross-traffic alert, and more.
Maxus also offers a variety of optional packages to augment the vehicle's capabilities. Notably, the "Luxury" package presents an assortment of desirable additions, including two electric sunroofs, 64-color ambient lighting, a rain sensor, inductive charging for mobile devices, and automatic opening tailgate and side doors. This package comes at a premium value of 7,000 euros.
Furthermore, the "Premium" package, priced at an additional 14,000 euros, elevates the Maxus MIFA 9 with features such as leather seats, a heated steering wheel, comfort functions for both front and rear seats, an interior rearview mirror with an integrated screen, and 19-inch tires equipped with self-sealing technology, among other enhancements.