SUVs, on the other hand, draw on the DNA of off-road vehicles, but "softened". That's because most of them will never leave the pavement, especially when they have 21-inch alloy wheels and no four-wheel drive. It's definitely bigger, when it comes to space in the cabin and behind the back seat. Both have become very desirable in the market, almost eliminating the small car from it. Until recently, they were equally practical and spacious.
The rest of the article below the video
See also: Mazda CX-60 – bigger, more powerful, more expensive
Mazda CX-30 and CX-5: that's the difference between an SUV and a crossover
Mazda CX-30 is a compact crossover representing the C segment. The same that also includes Toyota C-HR or Nissan Qashqai. Body length is about 440 cm, width 180 cm and height 154 cm. Let's add to this a wheelbase exceeding 265 cm, a ground clearance of 17 cm and a trunk with a capacity of 430 liters. This is a crossover – still compact, with "urban" dimensions, while giving more space and allowing you to look at the road a little from above.
Mazda CX-5 is in the highest league – almost in the D segment of mid-range SUVs. That is, where we will also meet Hyundai Tucson or Toyota RAV-4. The CX-5 is 17cm longer than the CX-30, 10cm wider and 13cm taller. The wheel is 5 cm longer, the ground clearance is 1.5 cm higher and the trunk is 76 liters more. The key words of the SUV acronym are space, usability and attractive design. It's all in the Mazda CX-5.
Mazda CX-30. Samurai to town
The Mazda CX-30 has a long bonnet and a compact passenger cabin with a pronounced tailgate and a short rear. Silhouette can not be denied dynamics and lightness. However, it is broken by strong lines – both in the shape of the headlights and embossing on the body. In addition, large wheel arches with plastic covers, giving "off-road" character. We continue to talk about a city car with a turning area of ​​5.3 m.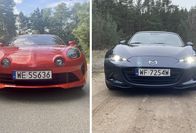 And what about inside? Mazda has already accustomed us to a solid way of designing, based on Japanese style and philosophy. So it is minimalistic, ergonomic, modern and elegant. Readable watches with a smartly integrated computer screen on the board, smooth plastic and leather surfaces, and not a large number of buttons and knobs. The center screen does not dominate the dashboard and is operated by a knob in the console between the seats. There is no shortage of practical storage compartments and large, capacious cup holders.
In the tested version, the seats were covered with fabric upholstery. There is plenty of legroom in the back and, for people of average height, also headroom. The interior makes a good impression – it is solid and beautiful at the same time. As opposed to virtual cockpits and tablets integrated into the dashboard.

Mazda CX-5. An elegant and ambitious woman
The Mazda CX-5 is no different. Its silhouette has the same proportions, with a more pronounced back part of the body. After all, you need to get extra space in the trunk and more legroom for the rear passengers. The silhouette, although larger, does not lose lightness and beauty. Like the CX-30, it's modern without being flashy. The grille and headlights are clearly defined, giving a "cat look" – this is the effect of the final surface.

And inside? In many respects it is the same – it is no accident that I used the word "consistency" when writing about the design of Mazda models. However, you can see that in this case we are dealing with a mid-range SUV with expectations. The interior is filled with leather, there is a small Piano Black plastic that collects the fingers, there are accents and wood texture. We still have a balance between modernity and tradition, represented by buttons and buttons. Even the screen, which is larger and cuts further from the dashboard, still does not interfere with feng shui.
This method ensures that all Mazda models will age slowly and with dignity.

Mazda CX-30 and CX-5. Engine, performance and driving economy
Today, cars are increasingly being bought with "eyes", but let's go down to the level of hard data and look under the bonnets of both. In the tested Mazda CX-30 we have the e-Skyactiv X unit, namely a two-liter gasoline engine with four cylinders, connected to a six-speed automatic. The unit used here, in some ways, can work similarly to a diesel engine – more on this topic was written by Tomasz Budzik on the autokult.pl website.
This combination produces 186 hp and 240 Nm of torque. Acceleration from 0 to 100 km/h takes just over 8 seconds.
Under the hood of the Mazda CX-5 that came into my hands was a naturally aspirated 2.5-liter four-cylinder gasoline engine mated to a six-speed automatic transmission and all-wheel drive.
As a result, we get 194 hp for 6 thousand. rpm and 258 Nm of torque. Acceleration from 0 to "hundred" takes more than 9 seconds. However, we are talking about a car weighing 1.5 tons.
How much do crossovers and SUVs cost? Mazda MX-30 and CX-5 prices in Poland
Each of the advantages of SUVs and crossovers comes at a price. Mazda CX-30 in the Polish catalog is only 10 thousand. PLN more expensive than the classic "three" – it costs from 118 thousand. PLN 900. The best equipped version of Hikari (as in this case) costs 136 thousand. PLN 900. In the tested copy, 10,000 more options were added. zlotys.
Mazda CX-5 prices start at 150,000. PLN 900. The tested copy, with additional equipment and in this engine version, already costs PLN 208,000. PLN 400.

Rate the quality of our articles:
Your feedback helps us create better content.