Mercedes-Benz, the renowned luxury car manufacturer, has once again made waves in the electric vehicle market with its remarkable offering – the EQE 300 Business Line. Launched in 2022, this E-class sized electric sedan has quickly become a standout choice among EV enthusiasts due to its competitive price tag of €73,414, making it more affordable than its competitors like the Volkswagen ID Buzz.
One of the most impressive features of the EQE 300 is its extensive range, a remarkable 622 km on a single charge, setting a new standard in its segment. Only a few electric cars under €75,000 can rival its exceptional range, such as the Tesla Model 3 Long Range, the Hyundai Ioniq 6 77.4 kWh, and the Polestar 2 Single Motor – all of which are slightly smaller in size.
Underneath its elegant exterior lies a powerful 245 hp electric motor, coupled with a net battery pack of 89 kWh, providing ample power and performance for a seamless driving experience. The EQE 300's acceleration is both smooth and exhilarating, offering 550 Nm of torque, making it a perfect companion for comfortable long-distance journeys.
On our test drives, the EQE 300 exceeded expectations, covering 563 kilometers on a single charge without employing hypermiling techniques. With a record of 15.7 kWh/100 km, its excellent streamline, boasting a Cd value of 0.22, minimizes air resistance and maximizes energy efficiency, further emphasizing its impressive range.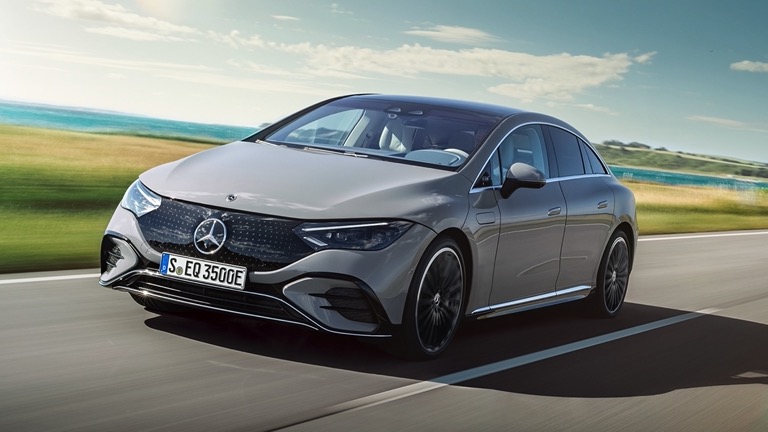 While not the fastest charger in the market, the EQE 300's 170 kW fast charging capability ensures convenient charging times, allowing you to quickly resume your journeys with minimal downtime. During our first fast charging session on a summer day, the battery pack saw a peak of 168 kW, and the charging rate remained above 160 kW for an extended period.
Inside the cabin, the EQE 300 maintains Mercedes-Benz's signature comfort and elegance, providing a serene environment to devour miles with ease. However, it's worth noting that some standard features, such as adaptive cruise control and blind spot warning, are missing, which could have been a welcomed addition to such a premium offering.
In terms of driving modes, the EQE 300's 'E' position ensures maximum efficiency, offering a smooth and efficient driving experience, akin to gliding through the air with minimal effort. For city driving and traffic-heavy situations, the 'strong recuperation' mode provides an engaging experience with effective energy regeneration.
As we continue our exploration of the EQE 300 in the coming weeks, we will determine the extent to which it stands as a scaled-down version of the acclaimed EQS. An economy trip is also on our agenda, allowing us to delve deeper into its real-world performance and efficiency.
In conclusion, the Mercedes-Benz EQE 300 Business Line has set a new benchmark for electric luxury sedans, offering an unparalleled range, impressive power, and the renowned comfort and elegance expected from the prestigious automaker. While a few standard features might be absent, the EQE 300's performance and range certainly compensate for any minor drawbacks. As the electric vehicle market continues to evolve, Mercedes-Benz has solidified its position at the forefront with this exceptional offering, enticing both luxury car enthusiasts and eco-conscious drivers alike.