MG, the trailblazing automotive brand, proudly claims its position as the first in Europe to introduce innovative electric vehicles. Among them, the MG 5 Electric stands out as the pioneering electric station wagon to hit the European market. As the excitement builds, MG is gearing up to unveil yet another groundbreaking creation, the Cyberster, which is set to become Europe's first open electric two-seater.
The anticipation for the MG Cyberster has been mounting since its initial reveal as a concept in April 2021. AutoWeek, in particular, has been at the forefront of providing exclusive insights into the production version, showcasing patent drawings of the sleek electric roadster on multiple occasions, both in its closed and open configurations. Our in-depth research, including a meticulous database exploration of the Chinese Ministry of Transport and Information Technology, has allowed us to unveil its first specifications and design elements.
With the Goodwood Festival of Speed just around the corner, MG is preparing to wow the European audience with the full unveiling of the Cyberster. Offering a sneak peek into this cutting-edge masterpiece, we are thrilled to present the complete interior of this remarkable vehicle.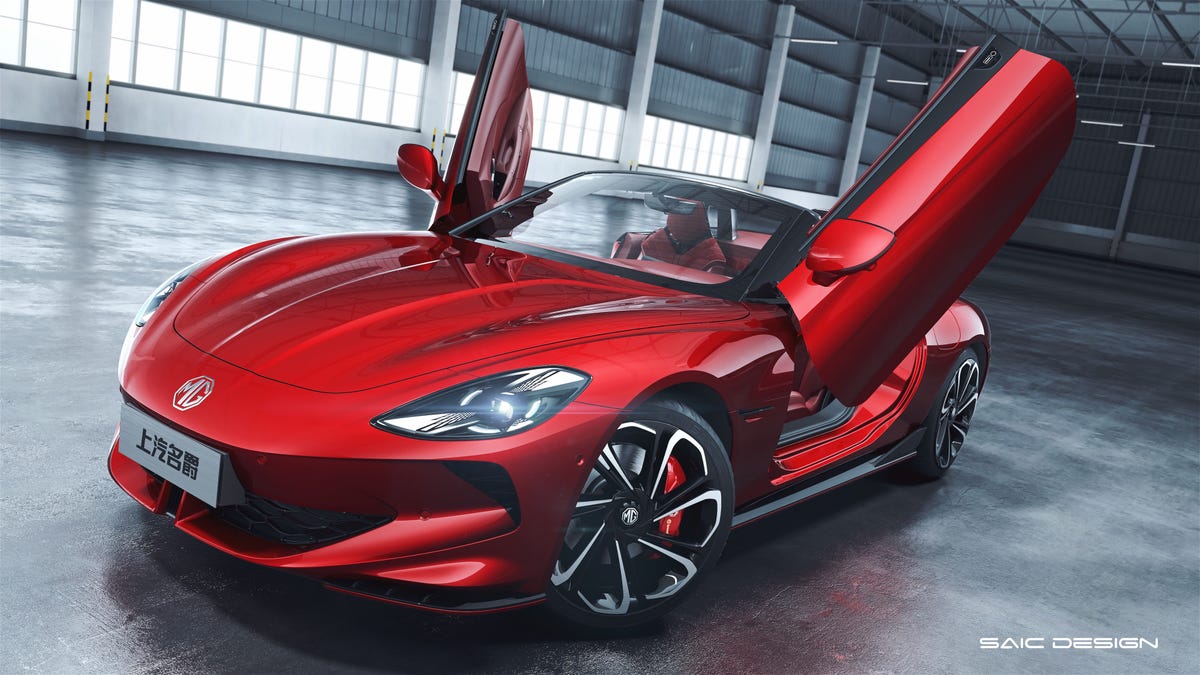 Stepping inside the Cyberster through its eye-catching butterfly doors, you'll be greeted by a captivating dashboard design. While reminiscent of the pre-production versions, it now boasts a refined and sophisticated appearance. The high center tunnel remains, complemented by innovative displays positioned behind the sleek steering wheel. Notably, a distinctive border gracefully envelops the driver's area, emphasizing the vehicle's futuristic appeal. Additionally, the center tunnel houses a state-of-the-art selector lever to control the direction of travel, accompanied by an extra display for added convenience.
Although the yoke-style steering wheel, previously seen in the MG Cyberster, may not make it to the production stage, MG is committed to delivering an unparalleled driving experience. Expect premium seat upholstery, featuring a combination of fabric and leather, for enhanced comfort and luxury.
While comprehensive technical details are yet to be unveiled, we can confirm that the MG Cyberster spans over 4.5 meters in length, making it notably larger than its counterpart, the Mazda MX-5. In terms of power and performance, the European market will have the option of choosing between 314 hp and 340 hp rear-wheel drive versions. Furthermore, MG plans to offer a four-wheel drive variant, boasting not only a powerful 340 hp electric motor at the rear but also an impressive 204 hp version on the front axle.
Mark your calendars for the arrival of the MG Cyberster in the Netherlands in 2024. As MG continues to lead the charge in the electric vehicle revolution, European motorists can look forward to a thrilling, eco-conscious driving experience that pushes the boundaries of innovation and design.