Mitsubishi Electric, a leading manufacturer of electrical and electronic products and systems, is launching its first exhibition of heating and cooling systems: Heat Pump Days on April 18 and 19 at De Hoorn in Leuven. Visitors will discover the latest innovations with which Mitsubishi Electric addresses the growing demand for sustainable heating and cooling of homes and buildings. The scoop on the show is a high quality air-to-water heat pump on an environmentally friendly R290 propane natural refrigerant. A new generation of Hyper Heating equipment, for air/air and air/water heat pumps, is also available. Another eye-catching attraction is the QAHV ecological heat pump which uses CO2 as a natural coolant and is therefore CO2-free. In Leuven, Mitsubishi Electric will also showcase its advanced air conditioning solutions for computer centers, a new range of CO2 cooling and freezing equipment and heat recovery and a new range of ventilation and heat recovery systems.

Mitsubishi Electric will present its most sustainable total solutions for air/air, air/water and geothermal heat pumps for any type of residential, commercial or industrial use at Heat Pump Days. For this, Mitsubishi Electric challenges conventional heating and cooling systems with a complete ecological alternative.
During the Heat Pump Days, in addition to new and updated solutions for people, climate and the environment, we also highlight the latest market trends and technology evolutions during workshops with invited speakers and experts and with guided tours. With this immersive experience, visitors are fully immersed in a new reality and the future of cooling and heating buildings in a fossil-free society with zero CO2 emissions, says Piet De Paepe, Root Sales Manager Mitsubishi Electric.
After all, heat pumps, which heat and cool buildings and obtain more than 75% of energy from air, water or soil, save significantly on CO2 emissions and energy costs. So its demand is increasing. Especially since 2025, only new construction with 100% oil-free heating and cooling will be allowed in our country.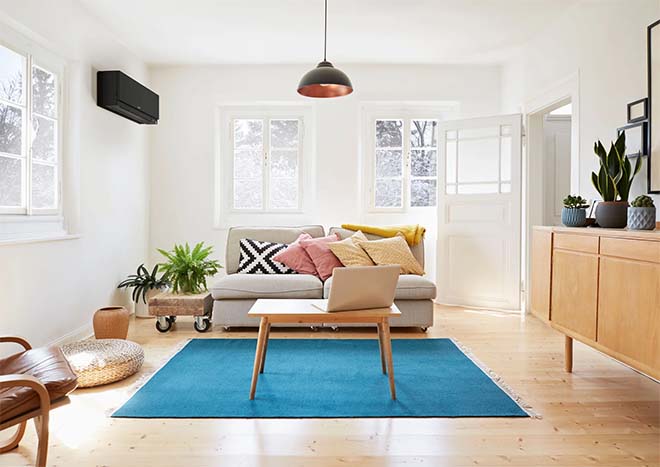 Efficient and sustainable heating and cooling of the house
Mitsubishi Electric will showcase several offerings for the residential market at Heat Pump Days. For example, there is the latest Hyper Heating technology in which aerothermal heat pumps retain their 100% heating capacity down to -25C and a guaranteed level down to -30C. Mitsubishi Electric has developed this technology for many years. The new compressor design ensures exceptional energy efficiency and is used for M series heat pumps and air/water heat pump systems. Mitsubishi Electric also offers new inverter-controlled heat pumps and R32 compressors, which are more powerful, more efficient and quieter than their predecessors. The latest Ecodan Monoblock pump with natural refrigerant R290 will also be featured at the Heat Pump Days. This new model of sustainable heat pumps with the latest generation of controllers is a smart solution for renovation, new construction or replacement in existing homes. The latest innovation in the range is the new fresh air vertical housing systems with energy recovery. This solution with smart cloud controls provides high quality air thanks to deep filtration, high external pressure of up to 200Pa and low noise level from 31db.
Enhanced offer and renewal of commercial premises
Optical viewers for commercial buildings are a heat pump solution for high temperatures in heating and domestic hot water production. The QAHV heat pump is a CO2-free solution that uses natural refrigerant CO2 (GWP 1) and water temperatures of up to 90C to -25C. The CAHV model, on the other hand, uses the new refrigerant R454C (GWP 148) with a water temperature of up to 70 °C to -20C. In addition, Mitsubishi Electric will also demonstrate new possibilities in terms of faster and more economical planning and installation of the R32 City Multi Hybrid VRF system due to its vertical installation, smaller pipe diameters and more powerful pumps. Mitsubishi Electric is also expanding its range with cosmetics for refrigeration and freezing applications for refrigerators and freezers and cold stores.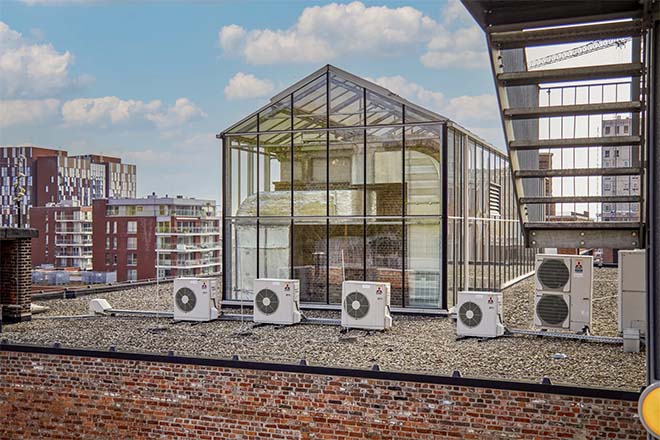 Total solution for IT cooling
Mitsubishi Electric develops and delivers fully integrated high-quality IT solutions for small and medium-sized data centers. Communication between system components is through the company's Hydronic Plant Connect (HPC) software. The latest innovations in these holistic solutions will be on display at the Heat Pump Days, including the new W-MEXT air conditioning rooms that offer high cooling capacity in a small area, the new s-MEXT precision air conditioning room and the further development of the i-BX and R32 series which expands the application area.
A range of air-cooled chillers and reversible heat pumps with R32 refrigerant, optimized for use in comfort, process and IT cooling, will also be discussed. The novelties here are the compact MEHP concept with a temperature of up to 65 at -2C and R32 ME scroll compensators controlled continuously for high performance, which exceeds the traditional limits of chilled water systems and heat pumps.
For large-scale cooling, heating and fresh air, Mitsubishi Electric presents the latest WSM3 controlled rooftop inverter with R32 refrigerant. With power from 80 to 180 k and with the brand new type of plug & play S-AirME air conditioners, energy efficiency and noise level are further enhanced.
Finally, other eye-catching items are the RC Group air conditioning solutions, a Mitsubishi Electric brand, and the X-type precision climate control for computer stations.
In order to strengthen the closeness with our partners and customers and the transfer of knowledge about the range of heating, cooling and freezing solutions, we no longer participate in large construction exhibitions, but instead organize Heat Pump Days. We constantly invest in improving energy efficiency and reducing the ecological footprint of our solutions. The result is a more sustainable level of energy and environment friendly overall heat pump solutions that we will be showing at our exhibition, says Piet De Paepe of Mitsubishi Electric.
Read also: