The advent of a fresh 180 horsepower engine has led to a decrease in cost for the Citroën C5 X, equipped with plug-in hybrid technology. The latest Citroën C5 X PHEV 180 has now been released in Spain, and its pricing has been made public through an open configurator.
With the introduction of a new engine, the Citroën C5 X reinforces its dedication to electrification and enables a reduction in price for the French model possessing plug-in hybrid technology (PHEV). Citroën has commenced the commercial journey of the novel Citroën C5 X PHEV 180, which showcases exceptional efficiency and performance while retaining cost-effectiveness. The configurator provides detailed insight into the proposed offerings in the Spanish market.
In a mere year, the Citroën C5 X has surpassed the milestone of 45,000 unit sales globally. Hitherto, the C5 X plug-in hybrid version was only accessible with a 225PS engine. The new 180-hp variant is reasonably priced and continues to offer excellent efficiency and performance.
The Citroën C5 X PHEV 180 model showcases an array of impressive features and equipment. Citroën has carefully crafted a range of Feel Pack and Shine trim levels, each with its own unique benefits.
The entry-level Citroën C5 X Feel Pack comes with a broad spectrum of connectivity, safety, and comfort features that stand out. Some of the notable standard equipment includes 19-inch aluminum wheels, LED daytime running lights, smart HighBeam Assist headlights, and fog lights.
The vehicle also comes with over-tinted rear windows, ambient Comfort Urban Gray with gray Tep upholstery, a driver's seat with manual height and lumbar adjustment, and heated, electrically adjustable, and folding exterior rearview mirrors.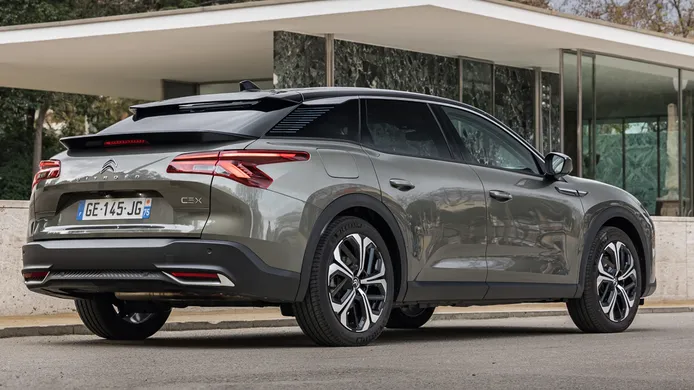 Other essential features include an interior rearview mirror with anti-glare functionality, a height and depth adjustable multifunction leather-wrapped steering wheel, suspension with progressive and hydraulic shock absorbers and piloted suspension, front and rear parking sensors, and a rearview camera.
The Citroën C5 X Feel Pack also boasts advanced safety features such as a keyless entry and start system, driver attention alert, collision risk alert, lane departure warning, extended traffic sign recognition, speed governor and limiter, and an active emergency braking system.
Moreover, the vehicle features a 10-inch touchscreen navigation system, dual-zone automatic climate control, Citroen Connect Box, and a home charging cable, among other outstanding equipment.
The Citroën C5 X Shine variant is augmented with several noteworthy features, including the Ambient Comfort Metropolitan Gray, Paloma leather, and Nixon Gray fabric upholstery. Additionally, it is equipped with a wireless charger that is compatible with a wide range of mobile phones. The vehicle also boasts an Adaptive Cruise Control system that includes a Stop&Go function, as well as a lane-keep assist system to enhance the driving experience. The advanced 12-inch touchscreen navigation system further elevates the car's technological capabilities. Furthermore, the vehicle is equipped with a state-of-the-art Long Range Blind Spot Monitoring System and a Head-Up Display that provides essential information in a convenient and easily accessible manner.
The Citroën C5 X PHEV 180, available in Spain, presents a hybrid propulsion system with plug-in functionality that combines a 1.6-liter PureTech petrol engine with an 81 kW electric motor. This configuration generates a total power of 180 CV and 360 Nm of maximum torque, which is transmitted via an eight-speed e-EAT8 automatic gearbox to the front axle.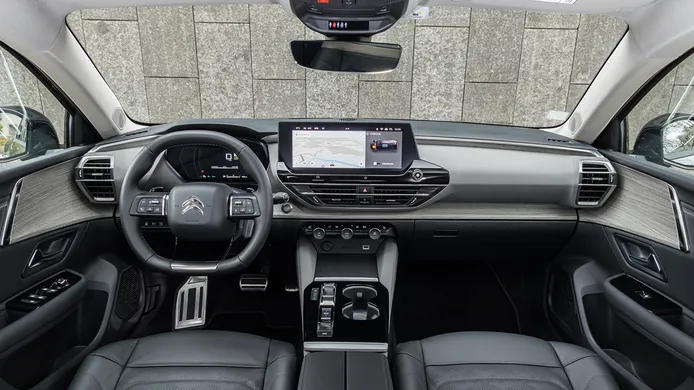 The vehicle's electric powertrain is supported by a 12.4 kWh lithium-ion battery, which enables the C5 X to travel up to 62 km in pure electric mode. Additionally, the vehicle's electric range can reach up to 71 km according to the WLTP urban cycle. When the electric motor is active, the vehicle can reach a maximum speed of 135 km/h.
The propulsion system is a crucial factor in determining the vehicle's capabilities, as it is equipped with PHEV technology. The C5 X PHEV 180 is certified with the 0 Emissions environmental badge by the DGT (General Directorate of Traffic), providing mobility advantages.
The vehicle's prices, not including discounts or promotions, for the FEEL PACK and SHINE variants are €44,215 and €45,915 respectively, as of March 2023.