The fastest production car in the world is the Koenigsegg Agera RS, which achieved an average double run of 447 km/h on public roads in 2017. So electric cars still have a long way to go, because the plug record has just been set at 412 km / h.
Rimac Nevera now wears the crown. He set his record on the test track in Papenburg, Germany. There is a large circle with a straight of 4 kilometers, in which a speed of more than 400 km / h is possible.
Rimac Nevera in high speed mode
Like the Bugatti Chiron, the Rimac Nevera has a high-speed mode, in which the configuration of the vehicle ensures a balance between the least possible air resistance and sufficient power. Side note: Bugatti is now owned by Rimac.
Speed ​​of sound
Rimac knows how to put a record test into words well. "When you get to 412 kilometers per hour, you're traveling at a third of the speed of sound. To be able to do this in a road car is amazing.
Four electric motors with 1940 hp
To reach 412 km/h at the end of the straight, the test driver in the Rimac had to exit the banked corner at 250 km/h. Then four 1940 hp Nevera electric motors did the rest.
Usually it is reduced to 352 km / h
Unfortunately, as a buyer of the Nevera you can not only drive 412 km / h. Normally, the electric hypercar is limited to 352 km/h. He can certainly go fast, but then the team from Rimac must be there.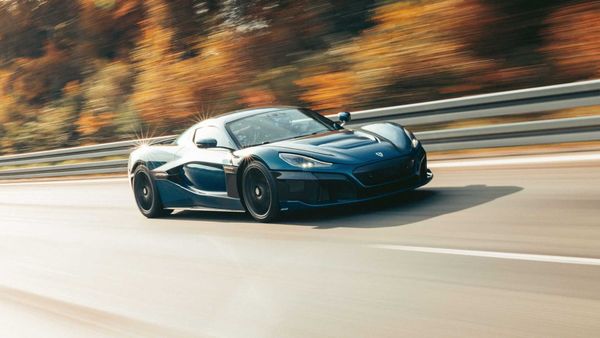 Not only to check the car properly, but especially to make sure that the tires are holding well. Because with these kinds of high speeds, they get a lot of bang for their buck.
Did you see the mistake? Send us an email. We are grateful.
Check it out


12 June 2023,

1914 horse Rimac Nevera is an insane hypercar

Information


20 May 2023,

Why is Elon Musk laughing at the amazing Rimac Nevera 0-100 race?

Information

Today,

How many Rolls-Royce cars are driving around the Netherlands?

Information

Today,

You can buy these 4 powerful drivers for less than 5,000 euros as an event

Information

Today,

Fire safety, raw materials and charging: Differences between electric car batteries explained

Information

Today,

Peugeot announces the price of e-2008

Information

yesterday,

LEGO surprises fans with this affordable Corvette C1

Information

yesterday,

This is the original Volkswagen ID range.3

Information

yesterday,

The legendary supercar from Wolf Of Wall Street can be yours

Information


6 August 2023,

This completely unknown 'Mercedes' should fetch 1 million dollars

Information


6 August 2023,

This is how you turn a Citroën 2CV into a camper

Information


5 August 2023,

In this country, brands are not allowed to call their electric cars 'pollution-free'