The Touareg, Volkswagen's SUV, has received a much-awaited facelift that has been officially unveiled. This luxury car is now available for purchase in Germany for starting from 69,200 euros. In addition to cosmetic changes and new board materials, have been made chassis and trim upgradesto provide maximum comfort in every driving situation.
One of the most recognizable features of the update is the introduction of new HD Matrix IQ LED lights. Illumination. These lights, seen in clusters and in light clusters, have a distinct light signature that extends into the grille. The real innovation, however, lies in the technology Led HD Matrix IQ. Light, which uses 19,216 overlapping diodes per optical unit. This advanced system allows you to create a personalized light beam, adjusting in real time to the speed and path of the vehicle. In addition, Volkswagen logoilluminated for the first time in red, which adds a touch of beauty.
The Volkswagen Touareg interior they are kept in their original style, but updated with the introduction of the new Innovision Cockpit. The system includes instrument cluster and infotainment, offering high-quality displays and sophisticated software. Highlights include HD navigation, Wireless Connectivity software, 45-watt USB ports, an enlarged head-up display and an optional 730-watt sound system. The interior design remains elegant and refined, ensuring a superior driving experience.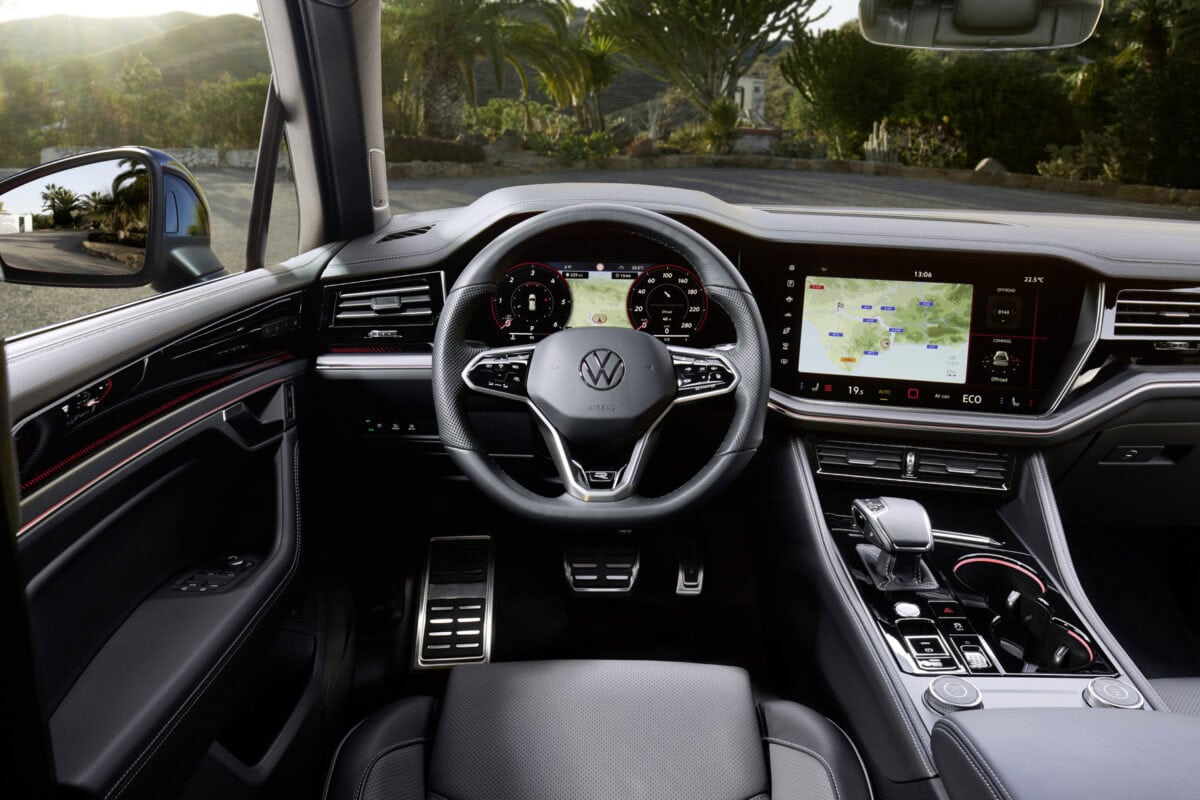 From a technical point of view, a novel of great interest has been introduced: a load sensor on the roof. This sensor allows Volkswagen Touareg automatically adjust transport and stability controls when exporting to del roof load. This design improves dynamics driving and ensuring the best travel experience. In addition, the Touareg offers the most advanced level 2 assistance system, which includes Travel Assist active up to maximum speed and Park Assist Plus, which allows you to control the vehicle via an app.
Volkswagen Touareg engines
The range of engines available for the Touareg offers a wide range of options. All versions are equipped V6 engineif it is together with turbocharger TSI 3.0 with 340 HP and 450 Nm and turbo diesel 3.0 with 231 HP or 286 HP. In addition, variants are also available plugging hybridsproducing 381PS and 600Nm or 462PS and 700Nm respectively. All models are equipped with 4Motion all-wheel drive and an eight-speed automatic transmission.
Plug-in hybrid versions have a 17.9 kWh battery and deliver an average fuel efficiency of 2.1-2.4 l/100 km (48-54 g/km CO2). Interestingly, the 462 HP eHybrid version really shines in terms of performance, reaching 100 km/h from standstill in just 5.1 seconds.
Finally, the Touareg is available in a variety of trims, including the Touareg, Touareg Elegance, Touareg R-Line and Touareg R eHybrid. Each trim level offers a selection of special features and finishes to meet different customer needs.
—
We invite you to follow us Google News up Flipboardsbut also on social networks such as Facebook, Twitter, Pinterest And Instagram. Do not hesitate to share your thoughts and experiences by commenting on our articles.