The Nissan Ariya is available to order in two new versions making it a European first.
Contents
Nissan is introducing two new models of the Nissan Ariya to the European market. In selected markets in Europe (not currently in Poland), orders can be placed starting today. The Japanese brand decided to expand the range of possibilities of this model, introducing on the one hand the most affordable variant of the equipment in the range, and on the other hand the version of above average power.
Nissan Ariya Engage – two battery versions to choose from
The first of two new versions of the Ariya model was called the Engage 2WD. In this version of the car, there are two traction battery capacities to choose from: the basic one, reaching 63 kWh and the declared range in the WLTP combined cycle up to 404 km, and the extended one, 87 kWh. In the version with a larger battery, the Nissan Ariya Engage 2WD will be able to drive up to 536 kilometers on the WLTP combined cycle.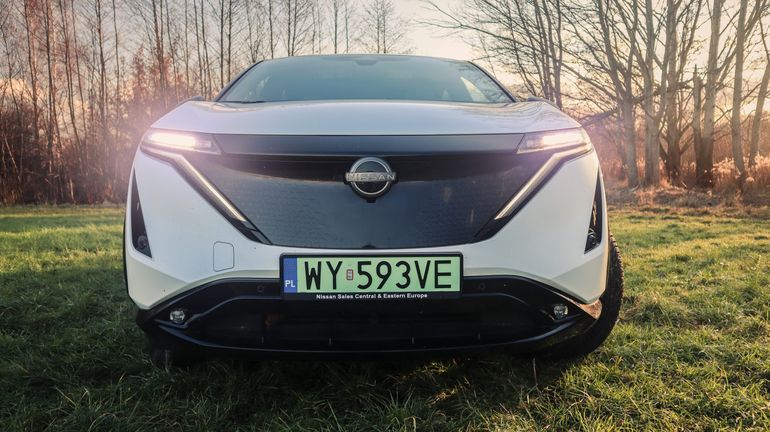 Nissan Ariya Engage – power lines
The power range of the drive units is also different depending on the battery chosen for the Engage variant. In terms of low-capacity batteries, the car is powered by a single electric motor with a power of 160 kW (217 hp) and a torque of 300 Nm. Acceleration of this variant from 0 to 100 km/h takes 7.5 seconds.
On the other hand, when choosing a variant with high-capacity batteries, the power of the electric vehicle unit is 178 kW (242 hp) and 300 Nm. Surprisingly, this variant, despite its high power, has a worse speed, because the time from 0-100 km / h is 0.1 s more than in the version with a small battery. Well, the battery is heavy, and weight is important to the dynamics of the car.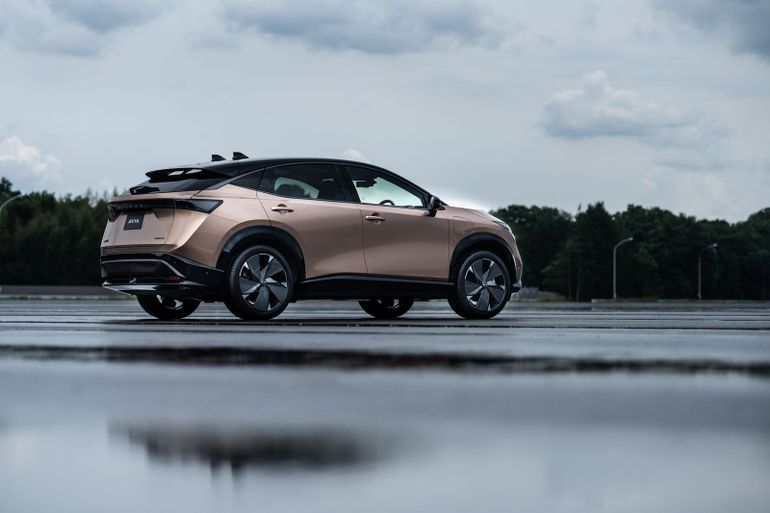 Nissan Ariya Evolve+ e-4ORCE – a new, more advanced version
The European offer of the Japanese brand is also joined by a new, higher model variant, the Ariya Evolve+ with e-4ORCE storage, with greater dynamics compared to the more powerful Ariya Evolve e-4ORCE variant. Power in this case has increased to 290 kW (395 hp). The maximum torque is 600 Nm. Nissan Ariya Evolve+ e-4ORCE reaches 100 km/h in 5.1 seconds.
In addition to comfort features familiar from the Evolve version, such as a sunroof, intelligent rearview mirror with camera, large head-up display, power-adjustable center console and steering column, audio system of Bose with 10 speakers, 20-inch wheels with aerodynamic covers and Nappa leather upholstery are also standard on the Evolve+ in. blue.
Nissan Ariya in new versions – how much does it cost in Poland?
The Nissan Ariya Engage version with a small battery starts at PLN 219,900, the 87 kWh battery version is priced at PLN 244,200, the scheduled delivery date of the Engage version, which can already be ordered, is October 2023. On the other hand, the top version Evolve+ available with a more powerful storage starts in the Polish Nissan price list from PLN 339,900. Below is the current model price list: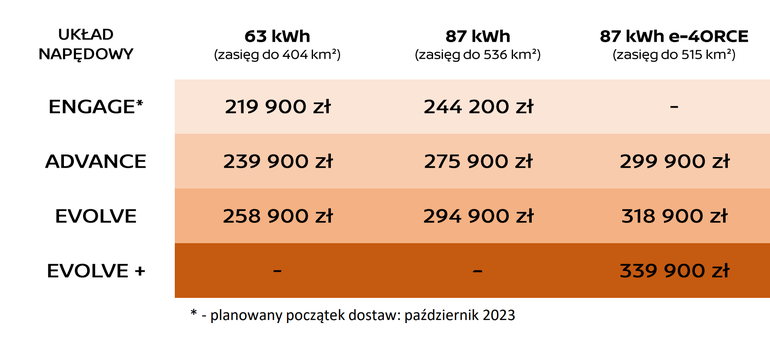 Nissan Ariya – gallery
Nissan Ariya – video
See below our video from the first presentation of the Ariya model in Poland: