New Opel Grandland GSe and the most powerful car in the range of the German manufactureras the acronym says Gif which stands for Grand Sport electric.
This brief is dedicated to advanced flexible and electrified structures, where energy meets sustainability thanks to plug-in hybrid enginesand a powerful heat engine assisted by electric motors and high-capacity batterieswhich also allows you to drive in pure electric mode on daily trips.
Opel Grandland GSe is a sports utility vehicle that fits in A segment C-SUV capable of combining sporty handling, flexibility and the unmistakable elegance of the GSe series.. The car also includes the most modern driving assistance systems, ensuring comfort, even with dirty air, and a lot of driving safety.
The strong and clean design of Opel's Vizor as the brand's new face is further highlighted by classic GSe styling cues such as 19-inch "Monza" alloy wheels and a rear diffuser.
The 1.6 turbo petrol engine is supported by two electric motors, one per axle, for a total power of 300 HP. and unusual torque of 520Nm which allows it to run from 0 to 100 km/h in just 6.1 seconds. The plug-in hybrid drive makes the Grandland GSe an electric all-wheel drive that ensures excellent grip and a class-leading standing start.. And lithium-ion battery from 14.2 kWh, the SUV can travel up to 63 km with zero internal emissions in the WLTP cycle.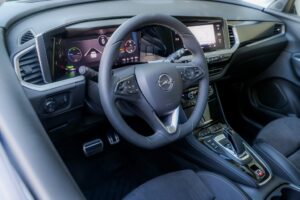 The ride is comfortable and sporty when needed thanks to the special Koni suspension with optional damping and the steering has been retuned for more precision.
Inside the car, connectivity is at its highest thanks to compatibility with Apple CarPlay and Android Auto with 10-inch touchscreen and 12-inch driver information display.
Opel Grandland, in GSe version, is four cars in one:
is a 300hp sports car,
is electric with approximately 60 kilometers of autonomy,
is a 4×4 for traveling in unknown areas,
It is a spacious, comfortable and safe road.
Source: Opel Italia