The world of mobility is changing, with cars becoming electric, CO2 emissions in automotive manufacturing will also have to be improved. There are no big SUVs on every highway for every household, but the combined cars and small city cars seem to be coming. Opel responds to this with a new Opel Rocks-e.
Four small wheels are powered by an 8-hp electric motor. This engine is connected to a 5.5 kWh battery pack that can travel 75 km after charging for 3.5 hours (0 to 100%). The top speed is 45 kilometers per hour.
There is no small car in the Netherlands
Opel Rocks-e is only 2.41 meters long and 1.39 meters wide. The total weight is 471 kg, so it is not allowed on the road in the Netherlands as a small car. Opel informs Autovisie that it is currently investigating the introduction in other markets. At the moment they cannot make any statements about whether and how Rocks-e will enter the streets in the Netherlands.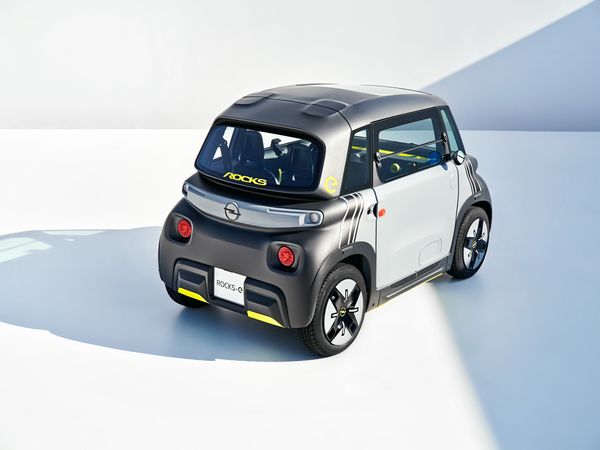 The design of the car is very simple and has similar front and rear parts. Doors, which open in different directions, are also the same on both sides. This saves production costs.
Opel Rocks-e almost identical to Citroën Ami
Basically, the Opel Rocks-e is similar to Citroën Ami that Autovisie editor Jaco Bijlsma drove a few months ago. Both externally and internally, cars are almost indistinguishable from each other.
The 14-inch wheels and different color scheme give the outside a slightly different look, but in the interior only the accent color seems to have been adjusted. Digital instrument panel, flat-bottom steering wheel, climate control, storage compartments and two simple seats. In particular, Opel Rocks-e focuses on such cheap and it works as well as possible. For example, all parts can be exchanged with Ami.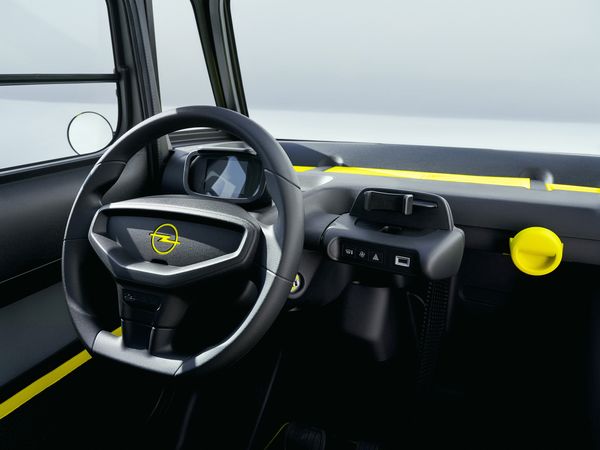 Opel Rocks-e can be ordered online or from a retailer from autumn in Germany. By 2022, the car will appear in more markets.
Did you notice the error? Email us. We thank you.
Classics


March 27, 2022†

You want this event: Adjustable Opel Rekord A, 1 out of 30

Information

Jana†

Lamborghini Huracán Tecnica: old screams

Information

Jana†

This helps Volvo create the only EV by 2030

Information

Jana†

Record: Bugatti Chiron 4 million euros on Dutch license number

Information

Jana†

ANWB predicts further traffic congestion and 'permanent traffic jam'

Information

Jana†

The latest version of the BMW i3 is very unique, but not special

Information

Jana†

The fourth model of the Lamborghini will be a GT cross of 2 doors

Information


June 30, 2022†

You want this event: Alpina B3 for less than 15,000 euros

Information


June 30, 2022†

This is the first Aston Martin Valkyrie in the Netherlands!

Information


June 30, 2022†

Lynk & Co increases monthly subscription fees by 01

Information


June 30, 2022†

Short version of Cupra Formentor which is already controlled

Information


June 30, 2022†

Brussels' 100 Car Show on the agenda for the third time
//SETTING VARIABLES var wpk_tags = dataLayer[0].Tags; if (wpk_tags != undefined) { var wpk_tags_array = wpk_tags.split(','); }else{ var wpk_tags_array = []; }
var sales_keywords = dataLayer[0].sales_keywords; if(sales_keywords == undefined){ sales_keywords=""; }else{ sales_keywords = sales_keywords.replace(/_/g, ''); sales_keywords = sales_keywords.replace(/&/g, '_'); sales_keywords = sales_keywords.replace(/&/g, '_'); }
if (typeof dataLayer[0].Site !== 'undefined') { var site_name = dataLayer[0].Site.toLowerCase(); }else{ var site_name=""; }
site_name = site_name.split(".");
//SETTING VARIABLES
var script = document.createElement("script"); script.src = "https://shared.mediahuis.be/cxense/cxense.autovisie.min.js"; script.type = "didomi/javascript"; script.setAttribute('data-vendor','iab:412');
console.log('ads: '+deniedConsent.indexOf('create_ads_profile')); console.log('content: '+deniedConsent.indexOf('select_personalized_content'));
if(deniedConsent.indexOf('create_ads_profile') < 0 && deniedConsent.indexOf('select_personalized_content') < 0){ document.head.appendChild(script); console.log('load cxense!!!'); }else{ console.log('NOT load cxense!!'); } if (dataLayer[0].show_banners == 1) { // console.log('fillSlots'); setTimeout(function(){ fillSlots(); }, 1000); } if(deniedConsent.indexOf('social_media') < 0){ var y = document.getElementsByClassName("social-media-no-consent-box"); var i; for (i = 0; i < y.length; i++) { y[i].style.display = "none"; } var x_fb_post = document.getElementsByClassName("fb-post-no-consent"); while(x_fb_post.length > 0) { x_fb_post[0].className = "fb-post"; }
var x_fb_video = document.getElementsByClassName("fb-video-no-consent"); var i; while(x_fb_video.length > 0) { x_fb_video[0].className = "fb-video"; }
var x_twitter = document.getElementsByClassName("twitter-tweet-no-consent"); while(x_twitter.length > 0) { x_twitter[0].className = "twitter-tweet"; }
var xi = document.getElementsByClassName("instagram-media-no-consent"); while(xi.length > 0) { xi[0].className = "instagram-media"; }
var script = document.createElement("script"); script.src = "https://platform.twitter.com/widgets.js"; document.head.appendChild(script);
var script = document.createElement("script"); script.src = "https://www.instagram.com/embed.js"; document.head.appendChild(script);
var script = document.createElement("script"); script.innerHTML = "window.instgrm.Embeds.process();"; document.head.appendChild(script);
var script = document.createElement("script"); script.src = "https://connect.facebook.net/nl_NL/sdk.js#xfbml=1&version=v8.0";
var facebookDiv = document.createElement('script'); facebookDiv.innerHTML =`window.fbAsyncInit = function() {FB.init({ xfbml : true, version : 'v5.0' });}; `; document.head.appendChild(facebookDiv);
var my_awesome_script = document.createElement('script'); my_awesome_script.setAttribute('src','https://connect.facebook.net/en_US/sdk.js'); my_awesome_script.async="true"; my_awesome_script.defer="true"; document.head.appendChild(my_awesome_script);
}
} }
if (navigator.userAgent.toLowerCase().indexOf('cxensebot') != -1) {
loadAllScripts();
}