(Motorsport-Total.com) – Kawasaki factory pilot Jonathan Rea set the fastest time in the second free practice session at the World Superbike Championship at Donington (on FT2 results). The world record champion was the only driver to set a lower lap of 1:27 and was therefore more than half a second faster than those behind him. Toprak Razgatlioglu (Yamaha) was second, Scott Redding kept BMW in the top 3.
Jonathan Rea proved himself in top form in front of the home fans
zoom
Conditions in FT2 were similar to those in FT1. Toprak Razgatlioglu was the fastest driver on Friday morning. The Yamaha rider licked the course in FT1 in 1:27.805 minutes (until training report).
This time was already greatly reduced at the beginning of FT2. Jonathan Rea took the lead with a lap of 1:27.428 and shortly afterwards reduced the record to 1:27.359 minutes and then to 1:27.355 minutes.
Countryman Scott Redding also got off to a good start in FT2. The BMW works driver was in second place for the longest time with a top time of 1:27. Toprak Razgatlioglu could only beat his FT1 time by 20 minutes. The world champion came in second with a lap of 1:27.567.
Jonathan Rea is in a league of his own this afternoon
In the final round, Jonathan Rea improved the record to 1:27.016 minutes and thus broke the 1:26 first time of the weekend. Toprak Razgatlioglu was unable to cope and finished FT2 in second place. In the last minute of FT2, Rea and Razgatlioglu met on the track. Rea could see what lines his opponent was running.
With a lead of 0.551 seconds, Rea was in a league of his own in FT2. His back was tight. Razgatlioglu was only slightly slower than local hero Scott Redding, who put the BMW in the top three. Redding lost just 0.582 seconds to the best time. BMW's new registrations have never been so close to peaking this season.
BMW with new Kalex swing arm in top 3
At the WSBK event at Donington, BMW uses a new swimming arm. The design was done in collaboration with Kalex. Kalex co-founder Alex Baumgärtel watched the race live from the BMW box.
Loris Baz from the Bonovo team will also be using the new swingarm at Donington. Teammate Eugene Laverty and BMW reserve driver Ilya Mikhalchik still have to be patient because there are still not enough new wings.
The Ducati factory duo trailing behind on Friday
Donington is probably the most difficult stop of the current season for Ducati. In FT2, championship leader Alvaro Bautista was 0.714 seconds off the best time and finished fifth behind Alex Lowes (Kawasaki). Teammate Michael Rinaldi crashed on the last attempt at the finish corner and finished the FT2 in sixth place, 0.719 seconds back.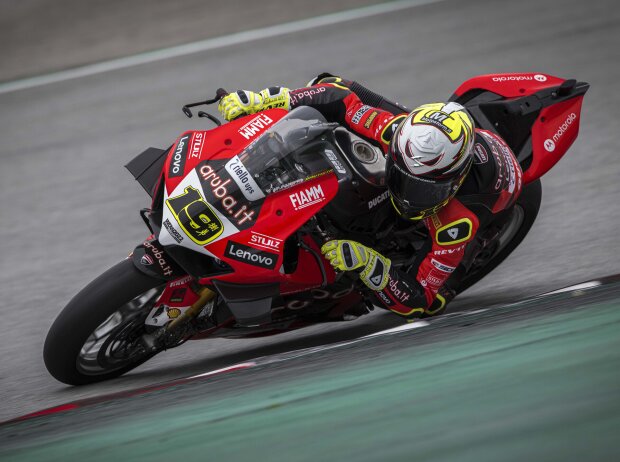 © Ducati
Alvaro Bautista was more than 0.7 seconds back on Friday zoom
Completing the top 10 were Loris Baz (Bonovo-BMW), Andrea Locatelli (Yamaha), Garrett Gerloff (GRT-Yamaha) and Leon Haslam (Pedercini-Kawasaki). The best Honda ended up in twelfth place. Iker Lecuona was again faster than his teammate Xavi Vierge.
Philipp Öttl has upset Toprak Razgatlioglu
GoEleven Ducati rider Philipp Öttl slipped out of the top 10 in FT2 to finish the session in 14th place. The German was 1.697 seconds behind the best time. Öttl faced world champion Toprak Razgatlioglu in FT2. Razgatlioglu felt disturbed on the fast lap and gestured angrily towards Öttl, who apologized.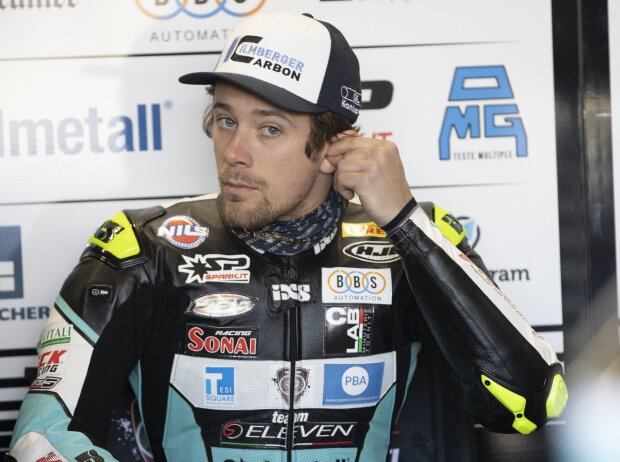 © Sports Pictures
Philipp Öttl had to apologize to Toprak Razgatlioglu zoom
The two wildcard drivers finished FT2 in 15th and 16th. BSB champion Tarran Mackenzie (Yamaha) was slightly faster than Peter Hickman (FHO-BMW). Both left Eugene Laverty (Bonovo-BMW), Ilya Mikhalchik (BMW) and Xavi Vierge (Honda) behind, among others.
WSBK FT3 at Donington starts on Saturday morning at 10:00 (CEST). Superpole and one race to follow (for TV overview).