After Robert Lewandowski moved from Bayern Munich to FC Barcelona, ​​he also changed his company car. Many said it was a regression, because from the Audi RS e-tron GT you change the cheaper Cupra, but is there anything to regret? During the week I had the opportunity to check the Formentor VZ5, which is the most powerful version of this model and probably this car will be given to our player.
Cupra Formentor VZ5 – the engine makes this car

The VZ5 is a special car for two reasons. The first is a production limit of 7,000. units, and second – its engine, known from Audi models. It is a five-cylinder unit with a capacity of 2.5 liters, the power of which is 390 hp, and the torque is 480 Nm. This engine is installed in Audi RS3 and RSQ3. In new cars, such engines are almost white crows. So it can be said that not only "Lewy" remains in the same concern, but even the car unit is based on its original brand.
However, back to the Cupra, such a car allows the car to accelerate from 0 to 100 km / h in 4.2 seconds, and acceleration ends at 250 km / h. Performance is impressive, much better than the RSQ3.
Photo: Mateusz Pokorzyński / Auto Świat
The engine is the biggest asset of this version

Cupra Formentor VZ5 – An eye catcher

Cupra Formentor, although called an SUV by the manufacturer, is a hatchback. It is not as tall as conventional SUVs and perhaps this is the recipe for success. The car looks very aggressive, and with embossing, brass inserts and large 20-inch wheels, it really catches the eye. In addition, an anonymous stamp attracts attention. During the test, people came up to me and just asked me what kind of car.
Every Formentor, regardless of the engine used, looks very similar. The VZ5 is distinguished by carbon side skirts, a larger brake system, rims and a bronze colored four-pipe exhaust.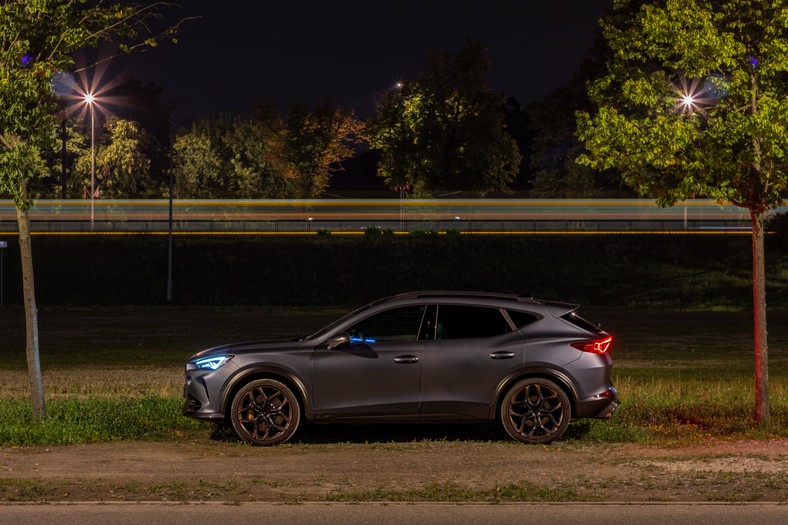 Photo: Mateusz Pokorzyński / Auto Świat
The silhouette of the car attracts attention

Cupra Formentor VZ5 – comfortable interior

The interior is also not very different from the weak type, but it cannot be said that it is boring there. Brass inserts are scattered throughout the cabin. The steering wheel, on which the engine start button is placed, and the second one responsible for changing driving modes, also makes a good impression. Other than that, the interior is nice, although I have to point out the small number of cup holders. Buying coffee with my passenger, only I could put down a cup of hot drink. Second, the small handle did not do its job. I emphasize this because the center tunnel has a lot of space that could be used for a second full handle. It's good that Robert will probably drive this car himself, especially for training.
The interior of the car is made of good quality materials. The bucket seats, which are spacious, comfortable and grip well in corners, are to be commended. Getting in and out is also easy, which is not so obvious with this type of armchair.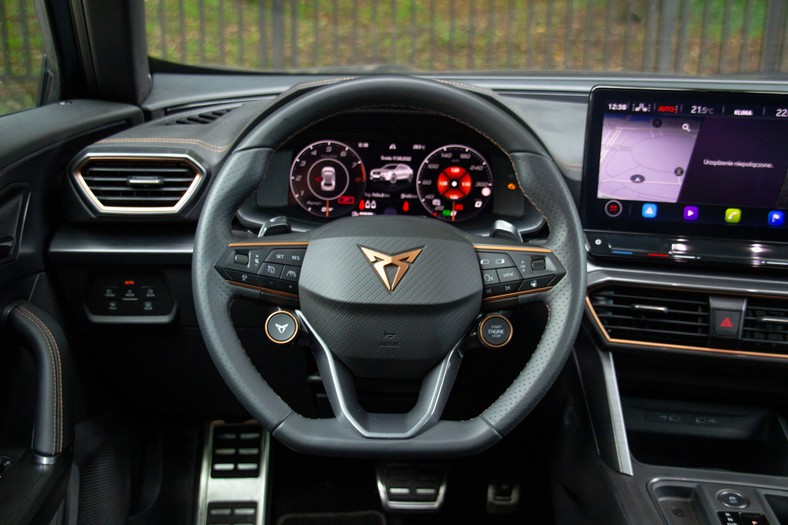 Photo: Mateusz Pokorzyński / Auto Świat
The interior is comfortable and driving is a pleasure. A starter on the steering wheel adds a sporty touch

Cupra Formentor VZ5 – can be practical

It is also comfortable in the back row of seats. There is enough legroom even for tall people, moreover, we also have USB-C sockets and a third zone of air conditioning.
The trunk measures 450 liters of capacity, in addition there is a 230 V socket. There is also a hook – this is useful when, returning from shopping, we would forget ourselves and use the power of the engine. These hooks will probably lay all the eggs when they get home.
However, in Comfort mode, Formentor is not a hot-headed savage looking for trouble. Of course, this is not a bed, the suspension settings are firm, but not excessive. So, every day this car should be as good as it is on the track.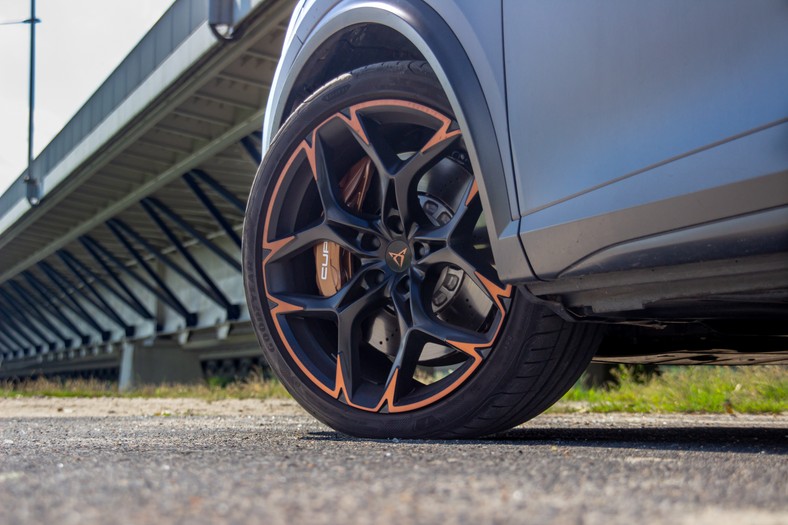 Photo: Mateusz Pokorzyński / Auto Świat
The 20-inch rims match the rest of the car very well. Even here there are brass elements

Cupra Formentor VZ5 – one button changes everything

And while we're on the subject of racing, the Cupra mode completely changes the car's character. The suspension is stiff, the engine maintains more than a thousand rpm at a standstill, and the transmission switches to Sport+ mode, which shifts up when really needed. Then each foot movement causes the passenger to "kick" back.
Once started, the aforementioned engine sounds good, although a different exhaust could improve the sound characteristics. On the other hand, the 4Drive four-wheel drive ensures that traction is good in all conditions. The car sticks to the road, and cornering is a real pleasure. The VZ5 drives very confidently and safely. It is difficult to get him in both understeer and oversteer.
Proof of this is driving the car in Drift mode, which is fun, but even then it is difficult to throw the car off balance. The feel is good, but not like in a car with only rear-wheel drive.
When driving hard, it is not even worth mentioning about fuel consumption, and it is best described by the phrase "the sky is the limit". However, it is different during normal driving, because normal use on the national road can result in a fuel consumption of about 8 l/100 km on the national road. In the city, on the other hand, it jumps to 11-12 liters. Is that much? Maybe for some it is, and for others it is not. Considering the power unit we have here, the burn is tolerable.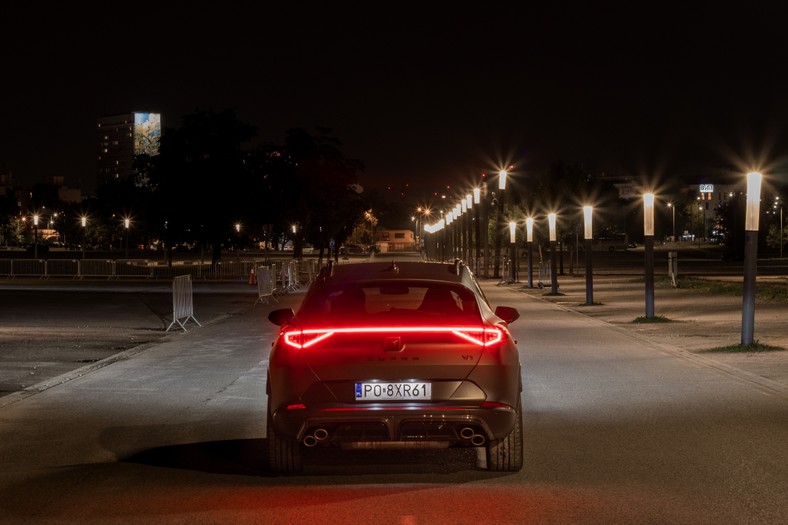 Photo: Mateusz Pokorzyński / Auto Świat
A long straight is a breeze for Formentor. Of course, only on closed roads

Cupra Formentor VZ5 – does "Lewy" have anything to regret? I don't think so

What would I say to Robert Lewandowski about this car? I would like to suggest that there is nothing to regret, Audi certainly offered a different driving experience, but the Cupra has character, it can be a friendly car every day and sharp on holidays. Since "Lewy" will have to travel to training in such a car, he can do it comfortably, and getting into it is much easier than in a flat like e-tron GT cake. It is also a big change, because the Polish footballer will change from an electric car to something that today would be considered by many to be an extinct species and certainly not very ecological. However, judging by the garage of our attacker, he likes powerful and big engines.
It's true that the VZ5 is unique because of its power unit, and it's for lovers of old-school engine building that this model is aimed at. Cupra also offers the Formentor with a 310-horsepower two-liter engine, which is enough. In addition, it is cheaper by more than 100,000. zlotys. However, it may also be tempting for some customers that this is the only 7,000 car. pieces. It is a unique off-road vehicle that is suitable for everyday use.
Cupra Formentor VZ5 – Dimensions

| | |
| --- | --- |
| Engine: type / cylinder / valves | t.benz./R5/20 |
| Engine layout | by crossing forward |
| Strong | direct injection |
| Stroke capacity | 2480 cm3 |
| Maximum power | 390 KM/5700 rpm |
| torque | 480 Nm/2250-5700 rpm |
| Infection/ | or. 7 |
| Drive | on four wheels |
| 0-100 km/h | 4, 2 ch |
| speed | 250 km/h |
| Average fuel consumption according to WLTP | 9.3l/100km |
| Co2 production | 230 g/km |
| Stem capacity | 410-1510 l |
| fuel tank | 55 l |
| The basic price of the test. version | 324 thousand PLN 600 |
| Tested car price | 341 thousand PLN 998 |
[ad_2]