Sebastian Vettel competed in his final Formula 1 race in Europe at Monza. Image: www.imago-images.de / image images
On the website
09/12/2022, 11:45 am09/12/2022, 11:49 am
Lukas Grybowski from Monza
Sebastian Vettel came full circle at the Autodromo Nazionale di Monza last weekend. On September 13, 2008, the star of Heppenheimer climbed the German racing sky on the traditional Italian track with his first pole position and his first race win.
And there, where his great career had taken off, his last race as a Formula 1 driver in Europe took place 14 years later.
Returning to Monza is always emotional for him, said the four-time world champion. Especially in his five years as a Ferrari driver, he was always celebrated at the Italian home track. It doesn't matter how good or bad his performance was.
His final race as a Formula 1 driver on European soil at Aston Martin was a quiet farewell. There was not much joy. Even if the team had only words to praise the world champion, the weekend was a sign of Vettel's previous years in the Formula 1 circus, where he was not always worried about the sport.
"It will be sad, but I will not miss a day like today."
Sebastian Vettel during the failed race weekend in Monza
Vettel teasing the Italian president
Since moving from Ferrari to the British carmaker in early 2021, things have settled down sportingly for the 35-year-old today. Vettel tends to make headlines with his commitment to environmental and climate protection.
After the race, he criticized the fact that fighter jets flew over the track before the start and sprayed the colors of the Italian flag into the sky.
"I hope this stops at some point," he said, joking with Italian President Sergio Mattarella. "But the Italian President probably insisted. It feels like he is 100 years old, so it is difficult to leave these ego numbers," he said in a press conference.
In the media circles at Monza, however, there were usually only a few German journalists on site to listen to the 35-year-old's assessment of the sessions. After all, ARD sent a team of journalists to the outskirts of Milan to keep an eye on Heppenheimer.
"Maybe he's rested a little."
Tom McCullough, performance manager at Aston Martin, on Sebastian Vettel
A few German fans also went to Italy. Among the many Ferrari flags of the nearly 200,000 spectators, a few German flags with the words "Thank you Seb" stood out.
Eileen Thung, who came all the way from Taiwan, probably had the longest journey. He came to the track with a huge German flag (with the words "Always believe in Sebastian Vettel" and four stars for his world name) and also gave him a handwritten letter.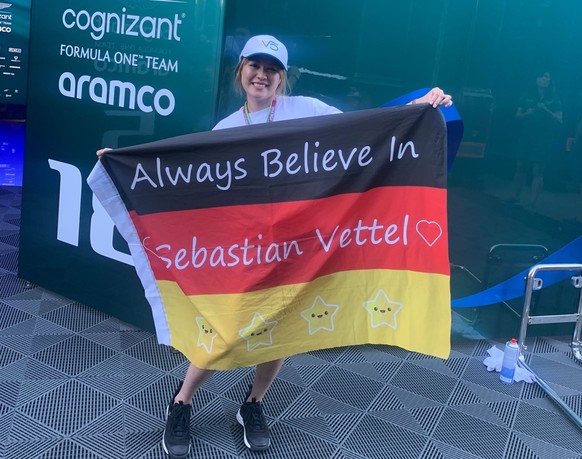 Vettel fan Eileen Thung from Taiwanphoto: watson/lukas grybowski
Vettel was disappointed with Aston Martin's performance
It was already clear to Vettel after practice on Friday afternoon that it would be a difficult weekend in terms of sport: "Our car is very difficult to tame. We still have homework to do all night."
However, they just couldn't do it without enough throughout the weekend. Physical problems quickly dampened his hopes of at least making the top ten in qualifying. He only finished 17th on the grid.
Due to the transfer of other drivers' penalties, however, he moved up to eleventh place. After a smart start to the race, he held this position for eleven laps, before he parked his car earlier.
In a press conference after the race, Aston team principal Mike Krack explained that the problem with the energy recovery system was the problem and they wanted to avoid major damage to the car.
Aston Martin team boss Mike KrackImage: www.imago-images.de / image images
The 50-year-old didn't want to get too emotional about Vettel's departure from European sport.
"We are not on a farewell tour thinking: This is the last time in Monza, this is the last time in Europe, this is the last time this or that. We will definitely say goodbye to Abu Dhabi. Until then we do not think of traveling the world and the stops will be our last", he said when asked by Watson.
Aston Martin's performance manager praises Vettel's influence
And while Vettel's time with Aston Martin is more average than Formula 1's top level, Tom McCullough, performance manager at Aston Martin, was satisfied with the way the German has driven the fledgling team forward over the past 18 months.
"He's very thoughtful, inquisitive and successful when it comes to engineering. His work ethic in general has given the team a lot and has helped a lot in how we see and approach certain things"Said McCullough when asked by Watson. He also praised the fact that Vettel had a good sense of morale in the team.
Performance Manager Tom McCulloughImage: www.imago-images.de / image images
The Englishman does not realize that his attitude towards sports has changed after announcing his retirement at the end of July. "Maybe he's more relaxed but he's a professional racer so he's still a workaholic in the way he interacts with the engineers and the way he drives."
At Monza 14 years ago he celebrated his first of 53 race wins. It is almost impossible that there will be another victory in the remaining six races – no matter how hard he shows.
Vettel is calm about the end of his career
The team was unable to develop the car further during the season. "I've never seen a team that was at the bottom at the beginning of the season and suddenly they're in front, if you can't spend more money, you can't catch up," said Vettel.
Apart from the big fans, he could not take the positive aspects with him from Italy for the remaining races in Singapore, Japan, USA, Mexico, Brazil and Abu Dhabi.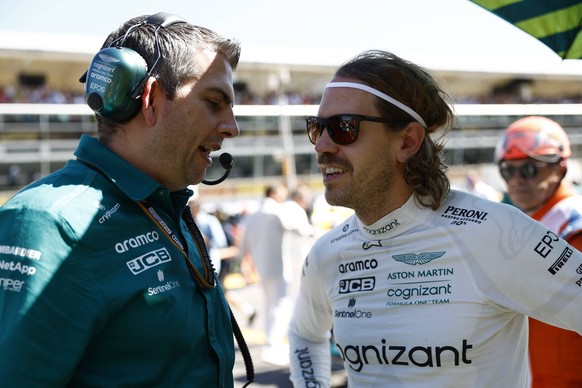 Sebastian Vettel (right) in conversation with his engineerImage: www.imago-images.de / image images
However, he knows that he can get better results under other conditions. And from time to time there are also positive swings up. Vettel is 12th in the overall standings with 20 points.
There was some disappointment in the performance throughout the weekend, but at the same time there was some fun that Tom McCullough was referring to.
"Finally the sun will rise again after my last run. It will be sad, but I won't miss a day like today," he said with a laugh after Saturday's failed playoff game.