The Cupra Formentor VZ5 is already being built in a smaller version, but the Spanish manufacturer is now announcing an unlimited additional version. He is known as Taiga Gray and goes out of line 999 times.
It was clear from the start that Cupra Formentor like VZ5 would not get out of line very often. The Spaniards would produce 7000 copies of a five-cylinder SUV. According to Wayne Griffiths, CEO of the brand, "keep VZ5 interesting." In fact, the availability of a five-liter 2.5-liter cylinder is related to it.
Audi RS 3
That source of power is provided by Audi for, among other things, RS 3† But because the Formentor VZ5 was introduced before the model, Audi decided to use the extra capabilities in its equipment to build 7,000 Cupra engines.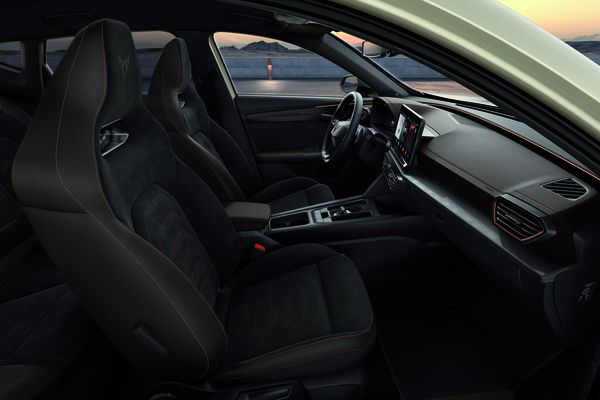 Now Cupra comes with an additional version of the VZ5 limit. Under the skin, nothing changes for example, because the 2.5-liter still produces 390 hp and 480 Nm. It is mainly about the appearance of this Taiga Gray.
Copper details
The name refers to the color of the special version, which according to Cupra fits perfectly with the interior of Dinamica Black. Of course, the bronze details, which we know from Cupra, also return to the interior and exterior of the Formentor VZ5.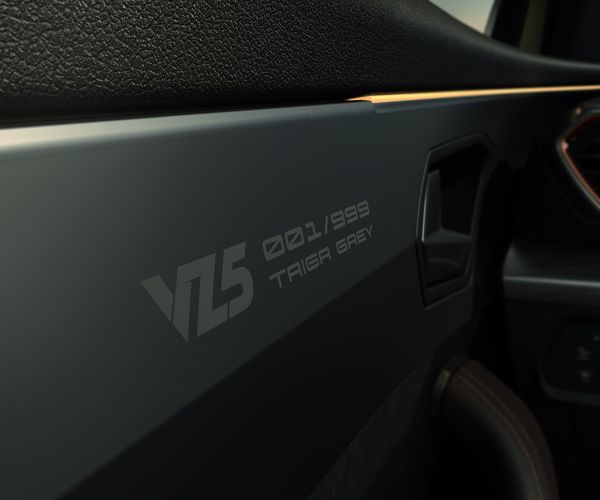 Cupra also chooses to put plaque with a production number on cars. Where many developers choose to do so on a dashboard or in the middle of a tunnel, Cupra puts it elsewhere. In the case of Formentor VZ5 you will find the production number on the door panels. The Spaniards now also offer the Cupra Formentor VZ5 a standard belly lamp with an automatic beam function.
VZ5 is not for the Netherlands
All that beauty will not be available to Dutch consumers. The importer in our country does not bring VZ5 here at all. Considering the increasing demand for electric trains due to lower CO2 taxes and thus reducing BPM penalties, the sales agency chooses to purchase only. hybrid power plug-ins and all sources of electrical energy. In a few years, the brand just wants to release electronic models.
First Cheap City EV: Cupra UrbanRebel (2025) | car vision
Did you notice the error? Email us. We thank you.
Half


May 14, 2022†

Unknown event: Cupra Formentor with five-cylinder Audi RS3

Information


May 11, 2022†

Volkswagen boss gives Seat a vague hope

Information

Leo†

Citroen plans upgraded electric train to C4

Information

Jana†

Lamborghini Huracán Tecnica: old screams

Information

Jana†

This helps Volvo create the only EV by 2030

Information

Jana†

Record: Bugatti Chiron 4 million euros on Dutch license number

Information

Jana†

ANWB predicts further traffic congestion and 'permanent traffic jam'

Information

Jana†

The latest version of the BMW i3 is very unique, but not special

Information

Jana†

The fourth model of the Lamborghini will be a GT cross of 2 doors

Information


June 30, 2022†

You want this event: Alpina B3 for less than 15,000 euros

Information


June 30, 2022†

This is the first Aston Martin Valkyrie in the Netherlands!

Information


June 30, 2022†

Lynk & Co increases monthly subscription fees by 01
var deniedConsent = tc_vars.didomiPurposesConsentDenied; if(deniedConsent.indexOf('cookies') == -1){
//SETTING VARIABLES var wpk_tags = dataLayer[0].Tags; if (wpk_tags != undefined) { var wpk_tags_array = wpk_tags.split(','); }else{ var wpk_tags_array = []; }
var sales_keywords = dataLayer[0].sales_keywords; if(sales_keywords == undefined){ sales_keywords=""; }else{ sales_keywords = sales_keywords.replace(/_/g, ''); sales_keywords = sales_keywords.replace(/&/g, '_'); sales_keywords = sales_keywords.replace(/&/g, '_'); }
if (typeof dataLayer[0].Site !== 'undefined') { var site_name = dataLayer[0].Site.toLowerCase(); }else{ var site_name=""; }
site_name = site_name.split(".");
//SETTING VARIABLES
var script = document.createElement("script"); script.src = "https://shared.mediahuis.be/cxense/cxense.autovisie.min.js"; script.type = "didomi/javascript"; script.setAttribute('data-vendor','iab:412');
console.log('ads: '+deniedConsent.indexOf('create_ads_profile')); console.log('content: '+deniedConsent.indexOf('select_personalized_content'));
if(deniedConsent.indexOf('create_ads_profile') < 0 && deniedConsent.indexOf('select_personalized_content') < 0){ document.head.appendChild(script); console.log('load cxense!!!'); }else{ console.log('NOT load cxense!!'); } if (dataLayer[0].show_banners == 1) { // console.log('fillSlots'); setTimeout(function(){ fillSlots(); }, 1000); } if(deniedConsent.indexOf('social_media') < 0){ var y = document.getElementsByClassName("social-media-no-consent-box"); var i; for (i = 0; i < y.length; i++) { y[i].style.display = "none"; } var x_fb_post = document.getElementsByClassName("fb-post-no-consent"); while(x_fb_post.length > 0) { x_fb_post[0].className = "fb-post"; }
var x_fb_video = document.getElementsByClassName("fb-video-no-consent"); var i; while(x_fb_video.length > 0) { x_fb_video[0].className = "fb-video"; }
var x_twitter = document.getElementsByClassName("twitter-tweet-no-consent"); while(x_twitter.length > 0) { x_twitter[0].className = "twitter-tweet"; }
var xi = document.getElementsByClassName("instagram-media-no-consent"); while(xi.length > 0) { xi[0].className = "instagram-media"; }
var script = document.createElement("script"); script.src = "https://platform.twitter.com/widgets.js"; document.head.appendChild(script);
var script = document.createElement("script"); script.src = "https://www.instagram.com/embed.js"; document.head.appendChild(script);
var script = document.createElement("script"); script.innerHTML = "window.instgrm.Embeds.process();"; document.head.appendChild(script);
var script = document.createElement("script"); script.src = "https://connect.facebook.net/nl_NL/sdk.js#xfbml=1&version=v8.0";
var facebookDiv = document.createElement('script'); facebookDiv.innerHTML =`window.fbAsyncInit = function() {FB.init({ xfbml : true, version : 'v5.0' });}; `; document.head.appendChild(facebookDiv);
var my_awesome_script = document.createElement('script'); my_awesome_script.setAttribute('src','https://connect.facebook.net/en_US/sdk.js'); my_awesome_script.async="true"; my_awesome_script.defer="true"; document.head.appendChild(my_awesome_script);
}
} }
if (navigator.userAgent.toLowerCase().indexOf('cxensebot') != -1) {
loadAllScripts();
}