Remedial State of Mind available for the Quality Line, Neo QLED, QLED, OLED series sets and for The Frame, The Serif and The Sero. A compatible smartphone is required for the procedure[1] and the SmartThings app[2]. Depending on the TV model, there are two tuning modes to choose from: Basic and Professional. The latter for models QN900B, QN800B, QN700B, QN95B, QN91B and QN90B.
How to use the smart repair function?
Smart Calibration is a feature included in the SmartThings mobile app available for Android and iOS smartphones. First, you need to connect your TV and smartphone to the same Wi-Fi network. Then register a new TV or launch a previously added screen using the app. After entering the product card, Smart Repair will appear as one of the available options.
In the next step – depending on the TV model – you will be able to choose basic or professional mode. The first is a quick and easy optimization of the image settings that takes about 15-30 seconds. The second is more extensive, and more parameters are analyzed and improved. It can take up to 15 minutes.
Samsung TV from the Quality Line series
In the next step, a white rectangle will be displayed on the screen, which is the measurement area. And this is where the smartphone comes in, and of course its rear camera.
Place the mobile device at a distance of 1 to 3 cm from the displayed white window and select the "Start" option on the smartphone. For a professional situation, it is recommended to put the smartphone on a tripod.
Finally, you can compare the before and after photos and then save the changes. The adjustment is made to the Movie mode, which will later be marked as Cinema (balanced).
If necessary, for example if the TV is moved to a different room in the house, the picture can be reset in the TV menu, then adjusted and changed to the new condition.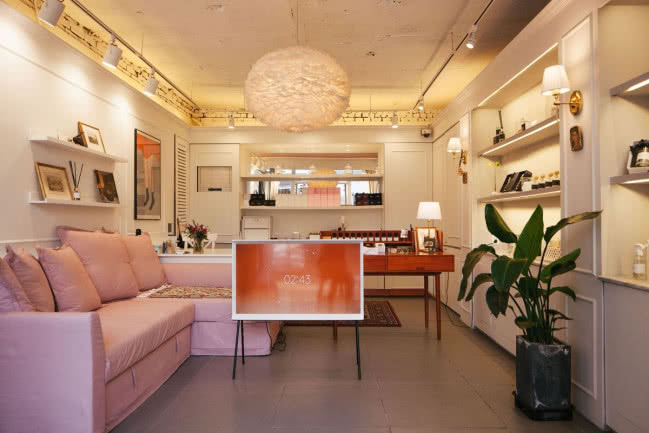 Samsung The Serif TV
[1] This feature requires you to download the SmartThings app. Available on devices manufactured after 2019 that have the Android operating system (Galaxy S, Note, Z Fold, Z Flip) or iOS using Face ID.
[3] Available technologies and features may vary by country, service provider, network environment or product. Updates happen without notice. Internet connection and device registration in the SmartThings app is required. Connected devices are sold separately.
Source: Samsung
(function(d, s, id){ var js, fjs = d.getElementsByTagName(s)[0]; if (d.getElementById(id)) {return;} js = d.createElement(s); js.id = id; js.src = "https://connect.facebook.net/pl_PL/sdk.js"; fjs.parentNode.insertBefore(js, fjs); }(document, 'script', 'facebook-jssdk'));