Toyota is embarking on a momentous endeavor to overhaul its hybrid sedan with a major facelift. The Camry model will undergo a comprehensive revamp to upgrade its design, technology, and mechanics. The debut of the new Camry has been captured in daylight, marking its first appearance on the market in 2024.
The Toyota Camry will undergo a renewal of epic proportions, as the Japanese automaker has mobilized all its machinery to execute this ambitious project. This globally marketed model will continue to be part of Toyota's lineup. The development process has commenced, as evidenced by these initial spy photos.
Captured in broad daylight, and heavily draped in camouflage, the new Camry has been caught in the wild by our stealthy photographers. A prototype of the reimagined Toyota sedan has been spotted cruising the roads of Michigan, USA. This sighting not only confirms the ongoing project but also reveals an advanced stage of completion.
The test vehicle seen in the photos features Toyota's distinctive camouflage vinyl, with additional tarpaulins employed to prevent any prying eyes from uncovering the new design elements of the upcoming Camry. These exciting novelties will be primarily concentrated on the front of the car, as Toyota endeavors to adapt its signature sedan to its fresh design language.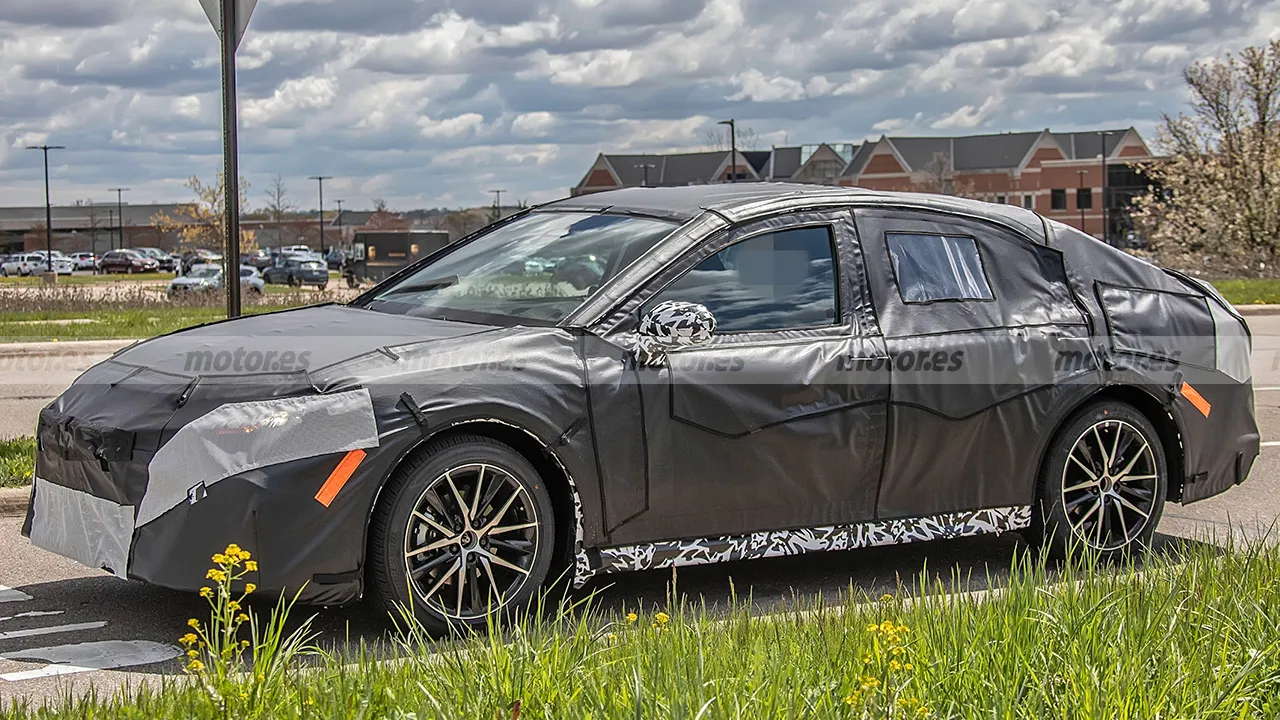 The heavily camouflaged interior also provides a glimpse of numerous cabin changes, signaling Toyota's dedicated investment in making the Camry a more digitally advanced and connected car. Furthermore, the brand intends to expand the list of comfort and safety-related features in this modernized model.
In the midst of the SUV craze, it is a reassuring development to witness a colossal industry player such as Toyota's continued commitment to hybrid sedans. The electrified model is expected to persist as the automaker forges ahead.
The upcoming Toyota Camry 2024 is a hybrid sedan, which will undergo changes in its internal workings, yet the composition of its mechanical offer remains the same. The novel Camry will be obtainable with gasoline engines and a self-recharging hybrid (HEV) version, with brand alterations that will enhance performance and efficiency.
As per current reports, the grand revelation of this automobile will take place later this year, alongside the 2023 Los Angeles Auto Show. However, it will be available in dealerships only in the first half of 2024.
The European market is inquisitive about the launch of the new Camry. It's noteworthy that the sedan is solely accessible with HEV technology in the European territory. Therefore, if it enters the Old Continent, it will only be available in a hybrid configuration. Although there is no official confirmation regarding its launch in Europe, it's imperative to remain open to the possibility.